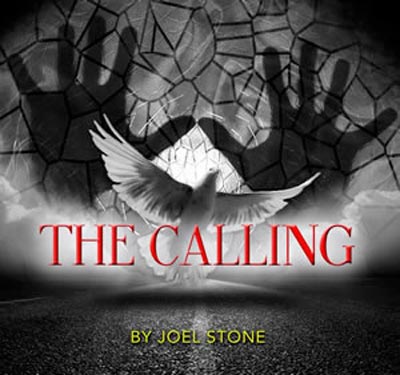 (LONG BRANCH, NJ) -- New Jersey Repertory Company will open its 2018 season of new plays with the world premiere of The Calling (January 4 – February 4, 2018), directed by Evan Bergman (Jericho) and starring Ames Adamson (Butler) and Jared Michael Delaney (Mad Love). Joel Stone's thought-provoking and delightfully quick-witted thriller was commissioned by Stage Exchange (Stage X), a partnership formed between NJPAC and the New Jersey Theatre Alliance to develop cutting-edge works by notable New Jersey playwrights. 
Father Dan is preparing to lock up after Mrs. Callahan's funeral. Having dispatched his parishioner's soul to its eternal reward and her mourners to their next stops, his work is done for the day. Or so he assumes, unaware that an epic and life-changing test of his faith and convictions lies ahead and, in fact, lies asleep at that moment in one of the pews.
Carl is an ICU nurse who cared for the deceased during her final days. He's burned out and desperately searching for something: answers, relief, absolution? Maybe even revenge on a God that would choose to be so cruel. The front-row seat on suffering that comes with Carl's job has put him at odds with Father Dan's more transcendent views on the subject. Each deeply devoted to his calling, a comfortable man of the cloth and a troubled man of medicine take on life's biggest questions in a heart-pounding, mind-bending battle of wits that arrives at a shocking conclusion.
Under the direction of Evan Bergman (Jericho, The Substance of Bliss), Ames Adamson returns to NJ Rep to play Father Dan. (Adamson originated the role of Civil War General Benjamin Butler in Butler that had its world premiere at NJ Rep and its subsequent Off-Broadway debut at 59E59 Theaters). Father Dan meets his match in Carl, played by another audience favorite, Jared Michael Delaney (seen last season in Mad Love and Multiple Family Dwelling). Joel Stone is an award-winning playwright (Horrors of Doctor Moreau, The Speck of Dust in Bugsy's Eye), former Artist Director of NYC's Theatre Asylum and current literary manager at NJ Rep.
Tickets, Subscriptions, Reservations
---
The article continues after this ad
---
---
The Calling runs January 4 through February 4, 2018. Previews are Thursday and Friday, January 4th and 5th at 8pm, and Saturday, January 6 at 3pm. Opening night with reception is Saturday, January 6 at 8pm. Performances are Thursdays and Fridays at 8pm; Saturdays at 3pm and 8pm; and Sundays at 2pm, through February 4, 2018. Tickets are $46 (opening night, $60; premium seating +$5). Annual subscriptions are $225 per person, and include unlimited attendance of all shows and staged readings. Reservations by phone: 732-229-3166 or online at njrep.org.
NJ Rep is located at 179 Broadway in Long Branch.