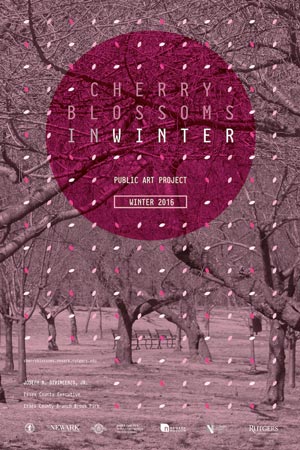 (NEWARK, NJ) -- On December 1, 2016 from 4:00pm - 6:00pm the long- awaited public art installations for Cherry Blossoms in Winter will open. Rutgers University-Newark is spearheading this free and open event to bring life back to many cherry blossom trees, through works of art, all over Newark's historic Essex County's Branch Brook Park. The park is famous for its collection of over 4000 flowering cherry trees that attract thousands of visitors in the spring. In winter, these trees are barren. Our project transforms this site.
Dozens of cherry trees in winter will be the site of art installations where trunks and branches are wrapped, lit and hung producing an unforgettable spectacle — people of the city, the region and country will be drawn to wander the park entranced, as they do during cherry blossom season.  This artistic endeavor will include professional and amateur artists working alongside Newark Public School K-12 students and their teachers, as well as Arts and Sciences undergraduates and faculty from Rutgers University-Newark. Materials used will be sustainable and recyclable —nothing is dispensable and the spirit of renewal marks the project vision.
This project closes the year of the 350th anniversary of the city of Newark. Cherry Blossoms in Winter ​brings renewed awareness to notions of art, environment, public space, and community engagement and encourages people to experience and see the city in a new way. This is a collaborative multimedia public art project engaging the artistic talents of people across the city and the region, bringing their creativity to produce this inspiring scene.
FEATURED ARTISTS
Rebecca Louise Law, Eirini Linardaki, Donna Bassin, Dimitri Reyes, Janis-Blayne Paul, Mary Bowe, Nina Kuo, Angela Kariotis, Rich Moore, Anna McKeown, Christine Rivera, Sophia Sobers, Jerry Gant, Amanda Thackray, Kelly Pinho, Jaime Kimack, William Oliwa, and Joseph Thomas, and Matt Gosser.
---
The article continues after this ad
---
---
FEATURED SCHOOLS
Ann Street School (Marilyn Richardson), Arts High School (Robert Richardson), Barringer STEAM (Darren Phillips, Richard Martin), ECVTS-West Caldwell (Cynthia Rubino), Kids Corp (Sophia Domeville/Kween), Newark Prep School (Nicole Zanetakos), Ridge Street School (Denise Vulpone), Science Park High School (Terry Brewin), Startist Art Club (Tai Hwa Goh), and Quitman Street School (Zeba Nayeem).
 The installations will be on for the entire month of the holiday season.