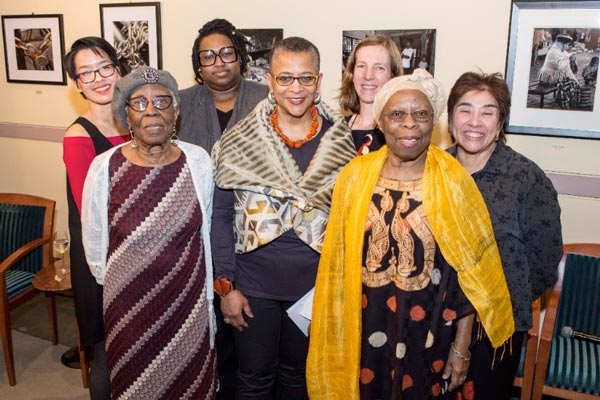 (NEWARK, NJ) -- Wine, nibbles, live jazz, conversation and visual art … For the second year, Women's History Month was launched at NJPAC with a creative mixer that drew nearly a hundred arts lovers to the Victoria Theater lobby. On view through March 31, Women in the World: A Visual Perspective, an exhibit of multi-media works by 14 women artists, was the centerpiece of the kick-off reception. Presented by Women in Media-Newark in partnership with NJPAC's Department of Community Engagement, the three-pronged exhibition includes displays at Monmouth University and the Paul Robeson Galleries at Rutgers-Newark, as well as NJPAC.
The selections were curated by longtime Newark art teacher Gladys B. Grauer and Adrienne Wheeler, both artists, and reflected the struggle of women around the globe to overcome adversity. The exhibiting artists – painters, photographers and printmakers – also mirrored the world by their ethnicities and countries of origin, from Colombia to Newark.
"Women in Media-Newark is a special organization that plays a unique part in our State by highlighting women's accomplishments," said Donna Walker-Kuhne, Senior Advisor for Community Engagement at NJPAC, noting that Grauer serves as a member of the Arts Center's Elders Advisory Committee. "Our collaboration has proven to be such a rewarding relationship for several years now."
Following a musical interlude by NJPAC's Wells Fargo Jazz for Teens, a panel discussed the responsibility of artists as "the gatekeepers of truth," a description coined by Jersey-born performer, athlete and scholar Paul Robeson. The Director and Chief Curator of the Paul Robeson Galleries at Rutgers-Newark, Anonda Bell, moderated the symposium; participants included Grauer; artist Caren King Choi, Associate Director of Programs at the Robeson Galleries; artist Dominique Duroseau; writer and poet Rashidah Ismaili; and Sonnet Takahisa, Deputy Director for Engagement and Innovation at the Newark Museum.
The role of art as a catalyst for social change, and as a vehicle for new insights on critical issues, was among the top-of-mind thoughts exchanged by the panelists and audience.
---
The article continues after this ad
---
---
"We have the arts so we can find truths in different perspectives. Otherwise, we would just see ourselves," remarked Choi.
Pamela Morgan, Executive Director and founder of Women in Media-Newark, was on hand to announce her organization's eighth annual Women's History Month Film Festival for independent filmmakers, also titled "Women in the World," beginning March 28. The nine-day festival includes screenings, conferences and jazz concerts, among other events.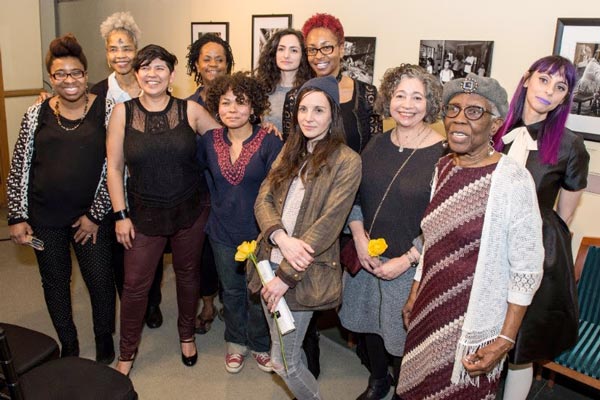 PHOTO (TOP) Panelists - From left, back row: Caren King Choi, Dominique Duroseau, Anonda Bell (Curator), Sonnet Takahisa.  From left, front row: Gladys Barker Grauer (panelist and curator), Pamela Morgan (Women in Media-Newark), Rashidah Ismaili.  Credit: Keith B. Bratcher, Jr.
(BOTTOM) Artists - From left, back row: Gwen Verner, Pamela Owens, Diana PalermoWincey Terry Bryant (honoree), Aileen Bassis, Ann-Marie Caruso.  From left, front row: Jennifer Mack Watkins, Luiza Pinzon, Danielle Scott, Colleen Gutwein, Gladys Barker Grauer (panelist and curator). Credit: Keith B. Bratcher, Jr.