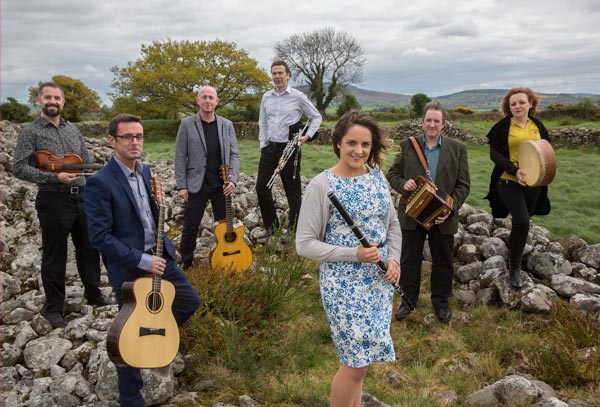 (WEST LONG BRANCH, NJ) -- The Center for the Arts at Monmouth University presents Danú on March 1 at 7:30pm. Held inside the Pollak Theatre, as part of the 2017-2018 Performing Arts Series, the concert event sounds the keynote to what's become something of an unofficial annual tradition on the Monmouth campus: a springtime celebration of Celtic culture and sounds that's brought the likes of Sean Tyrrell, Cherish the Ladies, Caladh Nua, and Switchback to the Pollak and Woods Theatre stages in recent seasons, in addition to the dynamic stage presentation known as "Rockin' Road to Dublin."
In their debut appearance at Monmouth's refurbished flagship venue for performing arts, the award-winning musicians of Danú usher in the emerald month of March in "lion" mode; bringing over two decades of experience as an international touring sensation, along with a celebrated catalog of recordings and an artist-audience rapport that the Washington Post described as "a vibrant mix of virtuosity, energy and empathy."
Having performed on North American stages that have ranged from the Hollywood Bowl to NYC's Symphony Space, the band that hails variously from Donegal, Dublin, Waterford and Cork comes to West Long Branch in the midst of an intensive tour of the eastern United States — one that will be introducing stateside fans to Nell Ní Chróinín, the award winning vocalist who joined the Danú fold in 2016.
Singing in Irish and English, the young specialist in traditional Celtic vocal music teams up with a veteran troupe of multi-instrumentalist masters who have amazed audiences with their skills on everything from flute and fiddle to button accordion and bouzouki. A set by Danú is more than just a tutorial in centuries-old musical styles — as befits the seasons-spanning month that hosts the day of Saint Patrick, it's a living, breathing experience that unites the leonine agility of rousing jigs, reels and hornpipes with the gentle lamb-like beauty of the most haunting folk ballads and country waltzes.
Tickets for the March 1, 2018 appearance by Danú are priced at $30 and $40, with a Gold Circle seating option of $55, and can be reserved through the Monmouth University Performing Arts Box Office at 732-263-6889, or online at www.monmouth.edu/mca. Tickets for other upcoming Performing Arts events — including an encore engagement of "Rockin' Road to Dublin" (March 24, 2018), and the return to the Monmouth campus of Roger McGuinn (April 25, 2018) — are also on sale now. 
PHOTO BY JOHN D KELLY
---