By Gary Wien
originally published: 10/21/2015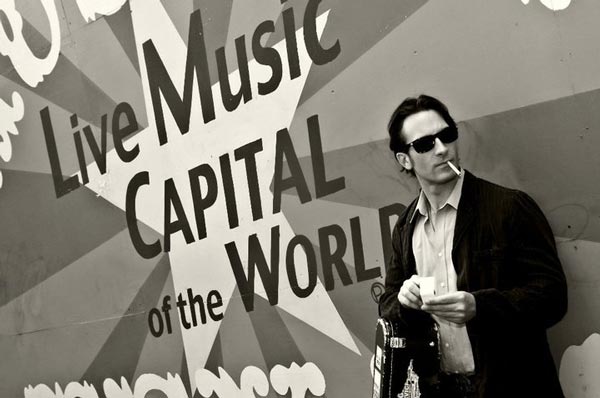 When Mike June left New Jersey for Austin about eight years ago, the move made perfect sense.  June's gritty Americana songs seemed as though they were born from a Texan landscape anyway.  Years of playing in the local scene helped him further develop his sound, culminating in a pair of brilliant records in 2012 (Exile On Wilson Street and Talkin' Revolution Blues).  His newest, Poor Man's Bible, will be released early in 2016.  It's one that builds on several themes in his recent records — spirituality, honesty, and a revolution he notices taking place across the globe.
Mike will likely be performing songs from the upcoming release on his current U.S. tour which includes a pair of shows in New Jersey and one in Philadelphia. The tour comes a few weeks after returning from a 16,000 mile round-trip journey of shows through Germany, France, England, Scotland, Holland, and Denmark.  In a letter to his mailing list sent in early October, the upcoming tour was dwarfed by two significant events.  The first bombshell was the announcement of his engagement to fellow musician Jess Klein.
"I had been thinking about it for a long time, but definitely didn't plan for it to happen on this tour," explained June.  "We were in this town in France for a few days; a 5th century city with a castle.  It was just beautiful.  We had a day off and she has a friend who lives in South Africa and was visiting Paris.  So, the wheels started spinning.  It was like this is more than perfect…"
"It wasn't as romantic as it sounds though," continued June.  "It's pretty funny because we were both so tired from all of the traveling, by the time we got to Paris we had driven about four hours, and I had to drag her down to the Eiffel Tower.  When we finally got there I was like, 'I know you're tired and I've been dragging you around every city in Europe for the past month, but this is why.'"
The couple has been thinking about moving out of Austin and starting somewhere new.  In the past decade, the rising cost of living in the city has made it difficult for many musicians to survive.  In addition, Austin's population has swelled in recent years, largely due to an influx of musicians arriving with a dream of making it big.  The influx has completely oversaturated the local music scene.
---
The article continues after this ad
---
---
"It's like Los Angeles," explained June.  "When you go to L.A., you can walk up to anyone in the city and ask, 'How's your screenplay going?' They'll be like, 'How did you know I was writing a screenplay?' Austin is kind of the same with songwriters."
June is originally from River Valle, NJ; his fiancee is from Rochester, NY, and they both have family in Florida.  They are considering a move to somewhere like Raleigh, NC, where they would be only a few hours away from the venues in the Northeast they've played for years.  The east coast would also be a better base for a touring musician than living in the middle of Texas, far away from everything else.
The second bombshell dropped in Mike's email to his fans was that this might be his last tour.  
"I've been working hard for the past couple of years," he said.  "It's a constant grind.  The good shows are few and far between and the money's not coming in.  I'm starting to feel the burn out.  It's one of those things you usually think about when you're on tour or in a hotel room by yourself after a crappy night.  I just want to sit back and wait and see what happens with this record, getting married, and moving."
"Being in the music industry these days is like a Catch 22," he added.  "I started touring so much because I couldn't buy the publicity you're supposed to get with a radio promotion.  I was hoping a tour would get me some attention, but that didn't turn out that way.  And you don't exactly make a lot of money when you're touring to pay for those things.  It becomes a vicious cycle."
The new record looks to be coming out at the right time.  Even though the songs were written long before guys like Bernie Sanders turned the presidential campaign upside down and Pope Francis emerged as a breath of fresh air for the Church, the message and themes of the songs largely sound as if they were written as a response to these developments.  As someone who has toured across the world, Mike's songs have not only struck a chord with people but show that people everywhere are facing the same problems.
"What I see is that people are starting to look within and realize that these material things are not as important as we used to make them out to be," said June.  "I think people are turning inward and saying to themselves, 'I need to be a better person and we need to be better people.  This world is too big not to share.'"
"When I started writing the songs on Poor Man's Bible two or three years ago, I was going through my own personal spiritual inventory," he continued.  "Then when I started singing these songs out loud, I thought nobody is going to give a crap about them because I was singing about myself.  But the more people you talk to, the more you get a sense that you're on the same page.  I was surprised when I started doing these songs in the South.  I thought I'd get run out of town, but people were like, 'I feel the same way.'  And I got a lot of the same responses over in Europe.  It was surprising."
Ironically, while June has scathing lyrics about religion in songs like the new record's title track, the emergence of Pope Francis has helped to renew June's faith in the Catholic Church.  He was raised a Catholic, but says he's been almost anti-Catholic since turning 17.  He sees Pope Francis as less of a revolutionary figure as one that simply speaks the Gospel of Jesus without the constraints put on by the Church for hundreds of years.
"He's not doing anything unexpected from him other than saying these are the words of Jesus and this is how we should be acting," said June.  "I think people got tired of the politics in America with people saying they are religious but with policies and belief systems that don't line up together. As opposed to pushing things like the sexual scandals under the rug, the Pope is genuine and represents the best parts of the religion and that is what people are responding to."
June may be political at heart, but he admits he has far too many skeletons in his closet to ever run for office.  As he gets older, he does feel a calling to do something greater though.  He's thinking about pursuing a law degree and ultimately representing and helping those who are too poor to generally afford legal protection. "I feel like I need to be doing more as far as being involved in society as opposed to just singing about it," he said.
One thing Mike won't give up is playing music.  He may be undecided about future tours, but he says he'll never stop playing live or making records.  But just in case this is his last tour, be sure to catch him in November.  He's got a little of everything coming up from a solo club date in Philadelphia at the World Cafe Live to a full band show at Mexicali Live in Teaneck to an intimate house concert as part of the popular Rosie's Café series in Brick. 
PHOTO BY Mikk Duncan at Third Man Images
---
Gary Wien has been covering the arts since 2001 and has had work published with Jersey Arts, Elmore Magazine, Princeton Magazine, Backstreets and other publications. He is a three-time winner of the Asbury Music Award for Top Music Journalist and the author of Beyond the Palace (the first book on the history of rock and roll in Asbury Park) and Are You Listening? The Top 100 Albums of 2001-2010 by New Jersey Artists. In addition, he runs New Jersey Stage and the online radio station The Penguin Rocks. He can be contacted at gary@newjerseystage.com.
---