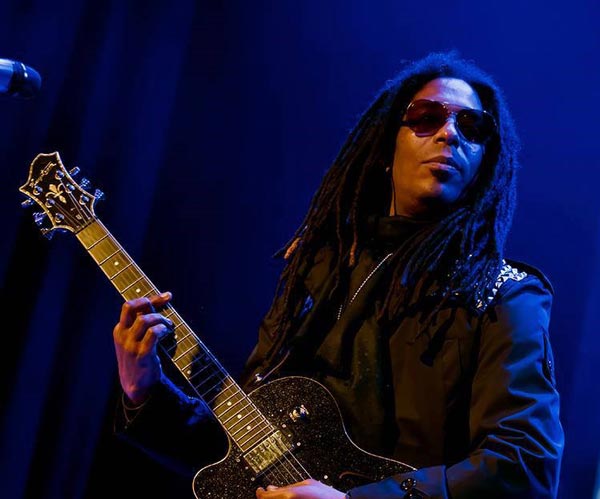 Having recorded and/or toured with the likes of John Legend, Kanye West and Alicia Keys, native New Brunswick rocker Sharief Hobley has returned home to play Hub City Sounds: ROCK New Brunswick 2017 on Sept. 10 in Boyd Park. Hobley got his start in the 1980s in such Hub City bands as Spy Godz and Rhythm Method.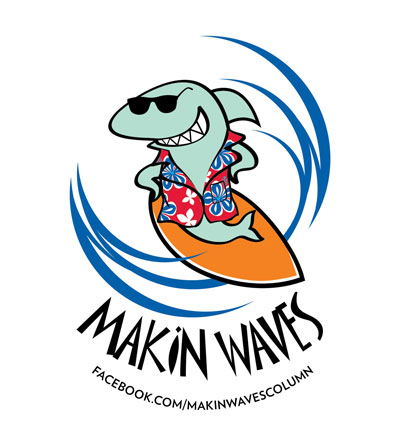 This week, Makin Waves features Hub City Sounds: ROCK New Brunswick 2017, New Jazz Directions, Shadow of the City, Kyle Brendle, Santa Ray, Joker's Republic, Slushii, North Jersey Indie Rock Festival, Party for Peace 2, Rent Party Family Picnic, Fun While You Wait, We're Ghosts Now and more.
Expanded to three days and five events to more greatly celebrate the cultural and artistic diversity of the City of New Brunswick, Hub City Sounds: ROCK New Brunswick 2017 will kick off 7 p.m. Friday, Sept. 8, with a free New Brunswick Music Scene Archive Panel Discussion. The event will take place at Rutgers University Alexander Library, 169 College Ave. I am honored to be on the panel with: 
Dennis Diken, drummer of Jersey legends The Smithereens, who got their start in New Brunswick in 1980 and put the local rock music scene on the national map with their 1986 major label debut, "Especially for You"
Sharief Hobley, who came to prominence within the local music scene in the mid-1980s with the funk-rock band Spy Godz and has had a successful career since with Amandla, John Legend, Alicia Keys, Kanye West, Cee Lo Green, Michael Jackson and more
Audrey Rose, poetess-rapper of the New Brunswick jazz-punk spoken-word outfit The Wichts and former programmer of a popular Hub City show house, The Blueberry Shire
Andrew Spina, owner of Hub City's only record store, Spina Records, an Easton Avenue shop that focuses on vinyl and collector's items
Moderator Frank Bridges, a Rutgers doctorate who is co-curator of the university's New Brunswick Music Scene Archive and host of WRSU 88.7 Rutgers Radio's "Overnight Sensations" show dedicated to the local music scene.
The expansion of the fourth annual Hub City Sounds: ROCK New Brunswick will include for the first time ever a DIY Market with 27 vendors and food trucks at the FREE main event from noon to 6 p.m. on Sept. 10 in Boyd Park on Memorial Parkway at Commercial Avenue. Vendors of music, clothing, jewelry, art, crafts, toys and more will include NJ Skateshop, Spina Records, Stitch Witch Me, Batty Boutique, Quest Complete, The Paper Cicada, Traces of Wonder, Crafters Quest, Red Hot Gals Boutique, The Fairy Odd Mother, Rustica Jewelry, Etched in Ember, Great Bowls of Fire, Szugar Skulls Etc. and more found at Hub City Sounds: ROCK New Brunswick 2017's event page here. 
Along with nine performers, including Hub City Stompers, The Anderson Council, Cook Thugless and Nalani & Sarina, the festival's main event also will feature delicious dishes and popular treats of five food trucks and vendors. Patrons can enjoy the gourmet grilled cheese of CheezeN, Italian-American favorites of Poppy's Kitchen, amazing Jamaican cuisine of Simply Jerk, refreshing shaved ice of Hawaiian Husky and ice cream of beloved Mr. Softee. 
Other performers in Boyd Park will include Killer Shrimp, Vertical Fixation, DJ Don Dazzo of Whirling Dervishes and Everlounge, Silent Knight & The Band Called FUSE, and Sharief in Burgundy, featuring Sharief Hobley. The festival also will feature several buskers who will help raise money for the Elijah's Promise food justice and empowerment program. Buskers will be announced soon at the Hub City Sounds: Rock New Brunswick 2017 event page.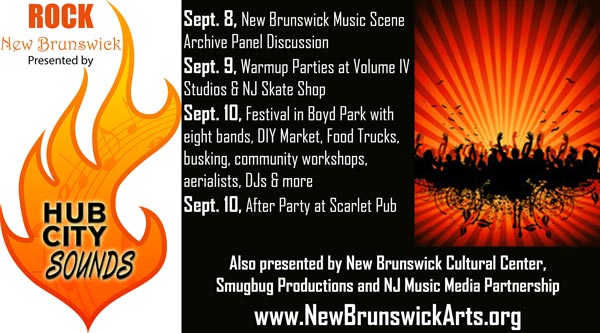 Organized and curated by New Brunswick Cultural Center's Hub City Sounds, Smugbug Productions and the unprecedented 18 member outlets of the NJ Music Media Partnership in association with Volume IV, NJ Skateshop, Caroline Romanelli Presents and Scarlet Pub, Hub City Sounds: ROCK New Brunswick 2017 also will feature:
Alcohol-free all-ages ROCK New Brunswick Warmup Party with Mr. Payday, Spowder, Glazer and Schwervon! from Kansas, 7 p.m. to midnight Saturday, Sept. 9, Volume IV, 120 Jersey Ave. $5
Alcohol-free all-ages ROCK New Brunswick Warmup Party with Neighborhood Watch DJ collective, 8 to 11 p.m. Saturday, Sept. 9, NJ Skateshop, 160 Easton Ave. (across the street from Scarlet Pub). FREE show
Free community workshops with Lower Raritan Watershed Partnership, LEGO Play, Boards for Bros NJ skateboard mentorship, and Brodsky Center for Innovative Print of Rutgers University's Mason Gross School of the Arts at the main event from noon to 6 p.m. Sunday, Sept. 10 in Boyd Park
ROCK New Brunswick After Party with Speed Queen, Experiment 34 , The Turnbucklers, and The Clydes, 8-11 p.m. Sunday, Sept. 10, Scarlet Pub. 21 and up. $5. 
Hub City Sounds: ROCK New Brunswick 2017 mainly was curated and is co-promoted by 18 music media outlets working with each other as the NJ Music Media Partnership. They are Carousel Arts, CoolDad Music, Danny Coleman's Rock On Radio, Garden State Hip Hop, Jersey Beat, Jersey Indie, Jersey Rock, Live from the Dining Room, Makin Waves, My Central Jersey, MikeroMedia, New Brunswick Music Scene Archive, NJ Arts, New Jersey Stage, The Pop Break, Speak into My Good Eye, WRAT 95.9 the Rat, and WRSU 88.7 Rutgers Radio. Other sponsors are Hub City Sounds, New Brunswick Cultural Center, Smugbug Productions, Volume IV, NJ Skateshop, Caroline Romanelli Presents, and Scarlet Pub … 
In a city that hosts 30,000 undergrads, The Yard at College Ave in New Brunswick is turning into a tasty all-ages venue. Surrounded by such restaurants as RU HUNGRY??, Surf Taco Rutgers, Bellas Burger Shack Rutgers, Krispy Pizza - The Yard at Rutgers University and more, the beautiful public green is overlooked by an enormous hi-def screen that often shows family films and sporting events. But on Sept. 2, The Yard will turn to the city's young jazz talent to put on its biggest concert to date, "New Jazz Directions," featuring Danielle Illario Band, johnnycola and Greg DeAngelis' New Brunswick Brass Band. They will get good and funky to welcome back Rutgers University students and welcome in freshmen from 5 to 8 p.m. with a free outdoor all-ages show …
The third annual Shadow Of The City will feature such fresh Jersey talent as Bleachers, Brian Fallon, Titus Andronicus, Brick + Mortar, and Nicole Atkins, plus edgy Texas troubadour Khalid and Swedish songstress Tove Styrke on Sept. 10 at Stone Pony Summerstage in Asbury Park. The mastermind of Jack Antonoff of Bleachers, the festival also will feature its world-famous charity dunk tank, food trucks, games and more. The Bergen County-raised Antonoff also is the Grammy-winning guitarist and songwriter of fun.'s 2011 No. 1 smash, "We Are Young" and a Grammy-winning collaborator with Taylor Swift. He also has composed the gay community anthem "Brave" with Sarah Bareilles as the title track to the same-named animated Disney film … 
Also happening at the Pony is a Sept. 16 benefit for its longtime house promoter Kyle Brendle, who recently racked up some painful medical bills after several spinal surgeries and physical therapy. Now back in action, Brendle will be supported by the talent of Colossal Street Jam, Karen Phillips, Secret Sound, Sandy Mack & Friends, Mad Kings and several special guests …
One of the Jersey Shore's most beloved musicians has died, "Santa" Ray Tiley of the Oakhurst section of Ocean Township. Known throughout the Shore as one of the most giving musicians on the scene, Tiley also was a spot-on Santa Claus who would delight children and the forever young at heart with his long white beard, spirited red suit and frequently worn Santa hat. The jolly old elf originally from Virginia also could rock blues and folk music with the best of them. 
Santa Ray will be sorely missed, yet remembered fondly at three upcoming memorial concerts at 4 p.m. on Sept. 1 at Colts Neck Inn Steak & Chop House with Strumberry Pie and special guests, 7 to 11 p.m. also on Sept. 1 at The Channel Club in Monmouth Beach with Moroccan Sheepherders, and Sept. 29 at The Chubby Pickle in Highlands with Shut Up Gus. Additional memorial concerts likely will be announced soon, particularly by his band, the Artic Blasters. Tiley also will be remembered at a memorial mass 10 a.m. Sept. 1 at Church of the Precious Blood, 72 Riverdale Ave., Monmouth Beach. May you enjoy Rock 'n' Roll Heaven Santa Ray because you were an angel on Earth …
Ska-bor Day Weekend will be a bunch of fun on Sept. 2 at Crossroads with Backyard Superheroes, Joker's Republic, The Ladrones, The Schwam, and The Penniless Loafers. The skankin' show was put together by Joker's Republic, a young band who recently released their debut EP, "Anti-Social Media," a fusion of ska, punk and '90s alternative rock influenced by Streetlight Manifesto, The Interrupters, Reel Big Fish and Green Day …
Twenty-year-old Burlington County-raised DJ Slushii, whose mom knows him as Julian Scanlan, will be among more than 100 artists featured in Electric Zoo, New York City's largest electronic music festival Sept. 1 to 3 at Randall's Island Park. Considered one of the world's most cutting-edge DJs, Slushii will be joined by DJ Snake, Above & Beyond, and deadmau5 & Eric Prydz, among dozens more … 
In support of "Vol. 3," their four-song EP soon-to-be-reissued by Sniffling Indie Kids, Professor Caveman will be among two dozen acts at the North Jersey Indie Rock Festival on Sept. 23 at Cathedral Hall in Jersey City. Professor Caveman will perform with label mates Adam and the Planets, Delicate Flowers, LKFFCT, Quality Living, Rocky & the Chapter, Shred Flinstone, Spowder, and Well Wisher. Mint 400 Records, Indie Fest co-founder with Sniffling Indie Kids, will present A Bird, The Brixton Riot, Cyclone Static, Don Kincaid & the Wait, The Duke of Norfolk, Kult of Mary, and The Skullers. Longtime Hoboken-based Bar None Records will offer up The Moms and Tom Barrett of Overlake, while Jersey City-based Killing Horse Records has on tap Cicada Radio, Desir Decir, and Spicy Girl. 
And Little Dickman will bring Dentist, Fruit & Flowers, Psychiatric Metaphors, and RocknRoll HiFives to the indie fest. Just back from a tourcation before school starts up again, that lovable, wacky family band RocknRoll HiFives have a new fun video for "Glass Towns" (watch above) from their Little Dickman debut EP, "the Beat the Sound the Dragon's Roar." RocknRoll HiFives also have a smokin' show coming up Sept. 8 at Monty Hall in Jersey City with A Giant Dog and Pat Byrne's They Live …
In other Little Dickman news, the Asbury Park-based label will release a limited edition 7-inch split single with High Waisted and The Coax on Sept. 15. A release party will be held on Sept. 14 at Berlin in New York City also with Max Pain & the Groovies and Astral Bodies. And Sharkmuffin have released a video for "Factory" (watch above) from "Tsuki," their latest Little Dickman EP …
In other Mint 400 News, Baltimore-based two-piece Underlined Passages have a new record out, "Tandi My Dicafi," on Sep 15 in the wake of a great tragedy. Drummer Jamaal Turner lost his wife in March in a car wreck that nearly ended the band. But they have soldiered on and have a release party coming up in their hometown of Baltimore that is sandwiched by dates at Connolly's Pub in New York City; Duncan's Garage, Columbia, Md.; Valley Cat, Winchester, Va., and Gussy's, Queens, N.Y. They also will appear on WRSU's "Overnight Sensations" on Sept. 29, as well as WFDU's "Signal to Noise" in the near future … 
You can get a little taste of the North Jersey Indie Rock Festival when co-sponsors Mint 400, Sniffling Indie Kids and You Don't Know Jersey present Indie Rock & Craft Beer, a free show on Sept. 8 at Stosh's in Fair Lawn with NGHTCRWLRS, Rob Jennings, Lowlight, The Vaughns, The Brixton Riot, and Fairmont. In addition to the tasty tunes, there'll be an array of craft beers on tap … 
North Jersey Indie Rock Festival's main co-sponsor, NJ Racket, which formed in the wake of last year's fest, also is busy with a preceding show: "Stand Up to Hate," Sept. 5 at The Meatlocker in Montclair with Smock, A Bird, Delicate Flowers, Subtitles, and John Cozz. Donations will be collected for the Charlottsville Victims Relief Fund …
Another great benefit coming up this week is the like-minded Party for Peace 2 on Sept. 9 at Pet Shop Bar in Jersey City. Organizers Crazy & The Brains will perform with Vincent, The Owl and other special guests and present Nizz Sentine, The Up Up Ups, Choked Up and DJ Sara Mowbray

in a second effort to raise funds for Jersey City Anti-Violence Coalition Movement, whose leadership will speak along with representatives of Jersey City Food Not Bombs. Raffles for prizes will be among the fun.
In other Crazy & the Brains news, the band are among the regional acts in the running to play on board Warped Rewind at Sea, a Warped Tour cruise from New Orleans to Cozumel, Mexico, Oct. 28 to Nov. 1. The winner of the online Soundcheck contest will appear with The Aquabats, Bowling for Soup, Cartel, Face to Face, Good Charlotte, Hawthorne Heights, The Juliana Theory, Less Than Jake, Lit, Mayday Parade, Reel Big Fish, Simple Plans, The Starting Line, Story of the Year and more. Vote for Crazy & the Brains at www.warpedrewindatsea.com/soundcheck/. And berths are still available if you wanna go. 
You also can check out Crazy & the Brains on Sept. 2 at El Cortez, Brooklyn, with The Dull Blue Lights, Vic Ruggiero of The Slackers, and a solo electric set by Brook Pridemore …
Another smokin' show for a worthy cause is Renty Party's fourth annual Family Picnic on Sept. 9 at Maplecrest Park in Maplewood with The Vaughns, The Anderson Council, Glenn Morrow's Cry for Help, Marco Ranieri Band, Shark Hat, Bern & the Brights, Elk City, The Transplendent, Rebecca Turner, The Campfire Flies, and The 4th Street NiteOwls. Started in 2009, Rent Party is a live music series in Maplewood and South Orange. Proceeds from shows fight hunger by supporting three local food pantries at Oheb Shalom, St. Joseph's, and Our Lady of Sorrows. Rent Party also built and maintain a large community garden on the front lawn of the South Orange Elks that raises fresh produce for the pantries. And their BackPack Pals program provides a weekend's worth of nutritious food each week during the school year to about 100 needy area kids. 
Like each monthly show, the family-friendly picnic also will feature a food drive for the pantries. 
Highlights also will include a playground, a skate park, food vendors, face painting, a community corridor showcasing civic groups, and a first-ever collaboration with Asbury Park Punk Rock Flea Market on a presentation of arts and crafts vendors ....
Having toured together a couple of times, Fun While You Wait and We're Ghosts Now will jointly celebrate the release of new EPs on Sept. 15 on the boardwalk at Asbury Park Yacht Club. The party will feature live performances from Fun While You Wait's "Of Course" and We're Ghosts Now's "Until Death." Look for a combo Record of the Week here on Sept. 14 … 
The new band Moreso have put together a slammin' show for a release party for their debut CD on Sept. 2 at The Court Tavern in New Brunswick. Eels Of Love, Death by Fiction, and Comb the Desert will perform and in between their sets, The Noir Follies will present their burlesque. Highlights also will include $1 shots with each beer purchase … 
East Brunswick-raised singer-songwriter Karen Hardy has headed to Nashville to shop her self-released EP, "Clouds," the title track of which could be a smash with its rich range of vocals; strong, touching lyrics; well-structured adult-contemporary arrangement, and solid, professional production. Listen to it above and check her out at https://soundcloud.com/karenannhardy and www.youtube.com/karenhardymusic. The lucky folks in Nashville will get to see her Sept. 7 at The Commodore Grill. Good luck, Karen! Let me know when you'll be home again … 
Green Knuckle Material have released a new video of a recent recording session at Hillsborough-based Bad Cat Records. The song "Lullaby" will be featured on their forthcoming EP, "Renaissance," expected out in early December. Upcoming shows include Sept. 10 at Kelly's Corner, New Brunswick; Sept. 16, a house show, also New Brunswick; Sept. 17, Lodi's second annual Food Truck Festival; Sept. 24, The Meat Locker, Montclair, and Sept. 30 at their own Green Knuckle Café in Garfield with Angelina Valente, Sam Wu, and Shred Flintstone …
Jaded Past have returned with a new CD, "Believe," produced by Trixter's Steve Brown for Melodicrock Records. The band are promoting the record with a video for "Good Bad Innocent" (watch above) and a release party on Sept. 15 at Roxy & Dukes in Dunellen with Jigs and The Pigs, Graveyard School, and Bad Ass Beauty. They also will perform Sept. 17 at Uncle Eddie's Oceanside Tavern in Salisbury, Mass. 
Bob Makin is the reporter for www.MyCentralJersey.com/entertainment and a former managing editor and still a contributor to The Aquarian Weekly, which launched this column in 1988. Contact him at makinwaves64@yahoo.com. Like Makin Waves at www.facebook.com/makinwavescolumn.