---
BIG NEWS! Here's the latest Issue of NJ Stage Magazine -- Click here
---
Makin Waves' Record of the Week: Green Knuckle Material's 'Renaissance'
originally published: 12/07/2017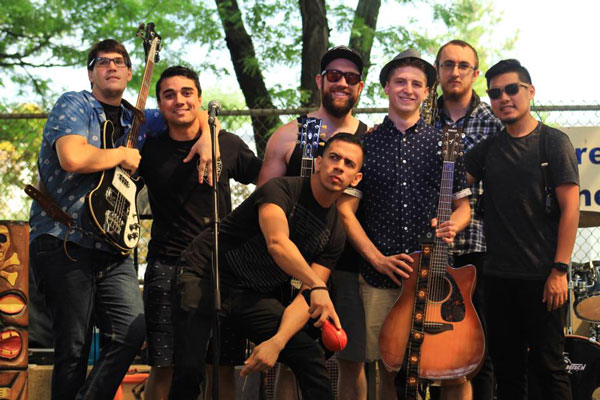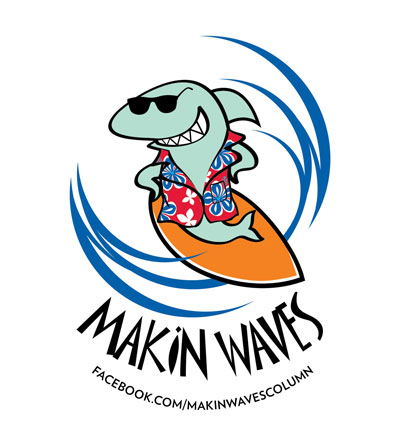 Bergen County-based Green Knuckle Material will celebrate the release of their sophomore EP, "Renaissance," on Dec. 9 at Sticks & Stones in Hawthorne with Pixel Face, Jean Pool, Offkey Lifestyle and The Dead Flowers.
Like The Beastie Boys, The Roots, Arrested development, 311, Black Eyed Peas, Rage Against the Machine and Lincoln Park, Bergen County-based Green Knuckle Material successively fuse rock and rap in a provocative and entertaining way. Yet, they don't sound like any of those bands, which is a good thing because it means they have their own thing going on "Renaissance," their sophomore EP and debut on Hillsborough indie Bad Cat Records.  
It's the nuances that make a record great, especially when they're unexpected, and that is the case on all five of the EP's tracks:



intricate drumming on the opening quasi-love song "Lullaby"




tasty bass intro, delicious horn lines and meaty sax solo of "Soon As"




piano runs at the end of "Hole," and the la la la's throughout that sound nothing like The Beatles, but more like Geronimo with a hatchet in his hand




quirky organ track on the anthemic "For the First Time"




jazz and drum flourishes on the closing "Pictures." 



Right from the get-go, Green Knuckle Material stay true to their acoustic take on rap music but go far beyond that this time out, especially with a fantastic use of horns that sometimes flirt with jazz. The whole record shines with varied, energetic musicianship; clever, bright arrangements; inspired, intricate vocal interplay, and rich, captivating lyrics, but I particularly love "For the First Time" because of its strong sense of hope in the face of great global despair. The insane fun of "Holes" also stands out. 
Throughout "Renaissance," Green Knuckle Material wax philosophic about life and issues in a way that is very entertaining with a diversity of music styles and approaches weaved together seamlessly by Michael Ravenda and Josh Gustin, co-producers and engineers. This is the way a local band should release a record: hire an experienced producer to lay down five great tracks that leave listeners thirsty for more. You can get a good taste of Green Knuckle Material, as well as some pretty decent food, at the release party for "Renaissance" on Dec. 9 at Sticks & Stones in Hawthorne with Pixel Face, Jean Pool, Offkey Lifestyle, and The Dead Flowers. The band also will play Bad Cat's Not Half Bad Fest 2018 on Jan. 6 at Blackburn Hall in Watchung also with Jean Pool and Offkey Lifestyle, as well as Hodera, WATERMEDOWN, Will Wood and the Tapeworms, Your Persona, Callout, Modern Chemistry, Coping Skills, Perennial, Goalkeepr, Fernway, Better Machines, half full, Greg Mendez, Jesse Barki, Calm Down, Paper Mache and Special Lady. 
Bob Makin is the reporter for www.MyCentralJersey.com/entertainment and a former managing editor and still a contributor to The Aquarian Weekly, which launched this column in 1988. Contact him at makinwaves64@yahoo.com. Like Makin Waves at www.facebook.com/makinwavescolumn.
---
For more by this author, click here
---


Idle Wave To Hold Record Release Party At Asbury Park Brewery
(ASBURY PARK, NJ) -- Pop-punks Idle Wave will celebrate the release of their self-titled EP on Saturday, December 1st at Asbury Park Brewery.  The record release show also includes performances by Skyeline, Roderick, and Pollyanna.
---
New Jersey Youth Symphony Chamber Music Concert In Chatham On November 18
(CHATHAM, NJ) -- The New Jersey Youth Symphony (NJYS) Chamber Music Program presents their final concert on Sunday, November 18 at 7:00pm at Chatham United Methodist Church located at 460 Main Street in Chatham. The concert is free and open to the public. Students will perform trios and quartets by Shostakovich, Dancla, Haydn, Beethoven, and Mozart. The concert will conclude with the NJYS Octet performing Allegro moderato ma con fuoco from Mendelssohn Octet in E-flat Major, Op. 20.
---
Backstreet Boys To Perform In Newark
(NEWARK, NJ) -- Backstreet Boys will release their new album, DNA, in January and head off in May on their biggest tour in 18 years.  The tour will take the band throughout Europe and North America with a stop at the Prudential Center in Newark on Sunday, September 15 at 8:00pm.
---
UCPAC Presents Father Alphonse Stephenson and Orchestra of St Peter by the Sea
(RAHWAY, NJ) -- On Saturday, December 1st at 8:00pm, the Orchestra of St. Peter by the Sea, led by accomplished conductor, Father Alphonse Stephenson, will be bringing holiday spirit and cheer once again to the Union County Performing Arts Center (UCPAC) in Rahway. This performance will be early on in the Orchestra's December tour of New Jersey, and it has become a yearly must-see show for dedicated fans at the center.
---
John Eddie To Perform A Free Concert At Hard Rock Casino & Hotel On Thanksgiving Eve
(ATLANTIC CITY, NJ) -- The Biggest Party Night of the Year is happening in Sound Waves at Hard Rock Hotel & Casino Atlantic City on Thanksgiving Eve, Wednesday, November 21 at 8:30pm featuring a FREE Concert with John Eddie.
---


Jazz Saxophonist Don Braden LIVE! at Toms River's Grunin Center
It's a breezy day for a new installment of the Jazz On a Sunday Afternoon concert series at Toms River, NJ's Grunin Center of the Arts this Sunday Oct. 27, 2018 afternoon. Today's special 3pm performance is entitled Earth, Wind and Wonder and is presented by jazz saxophonist Don Braden.
---
Charlie Thomas' Drifters, The Classics IV, and The Brooklyn Bridge LIVE! at The Strand, Lakewood
The stars are out this Saturday Oct. 26, 2018 evening in Lakewood, NJ for a "Golden Oldies" concert featuring Charlie Thomas' Drifters, The Classics IV, and The Brooklyn Bridge!
---
PODCAST: Grammy Winner Terri Lyne Carrington At TD James Moody Jazz Festival
Drummer, leader, and composer Terri Lyne Carrington made history as the first woman to win a Grammy for Best Instrumental Jazz for her album "Money Jungle: Provocative in Blue." Now, she brings her interpretation of Duke Ellington's "Money Jungle" to the TD James Moody Jazz Festival at NJPAC on November 11, 2018, as part of a program called "Jazz Vinyl Revisited." Producer Susan Wallner talks to Carrington about her connections to the jazz greats Clark Terry and Max Roach; her newest project, the Berklee Institute of Jazz and Gender Justice; and why she thinks drummers make natural leaders.
---
Sha Na Na LIVE! at the Newton Theatre
The audience is streaming into the Newton Theatre auditorium in Newton, NJ this Friday, Oct. 19, 2018 for a live concert starring Sha Na Na!
---
"Magical!" Poco LIVE! at SOPAC
Music fans are filing into the beautiful South Orange Performing Arts Center auditorium on this gorgeous Saturday, October 13, 2018 evening for a performance by a group that helped to define the genre of country rock — Poco!
---
Event calendar
Tuesday, Nov 13, 2018
---
MUSIC

---
---
---
---
---
---
---
---
THEATRE

---
Seeger

@ The Theatre at Raritan Valley Community College (RVCCArts), Branchburg - 1:00pm and 7:00pm
---
THE CHOIR OF MAN

@ Bergen Performing Arts Center (bergenPAC), Englewood - 8:00pm
---
---
---
View all events
---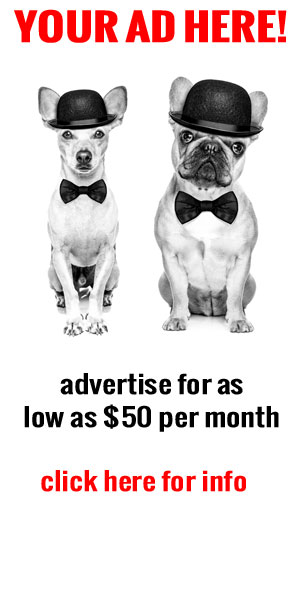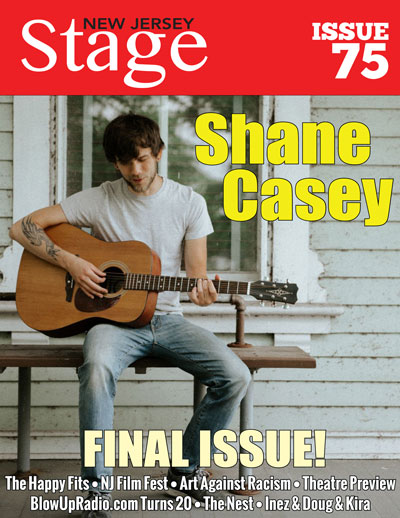 For more on our awards, click here