By Gary Wien
originally published: 07/18/2015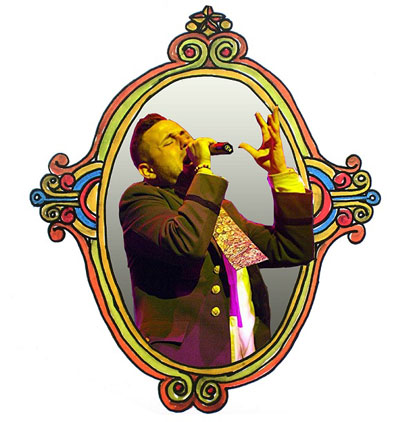 Anthony D'Amato tends to think big.  His band, Remember Jones, which is also his stage name these days, has 12 members but that's nothing compared to the lineups he puts together for his tribute shows.  He recently sold out Asbury Lanes in Asbury Park for a live performance of Amy Winehouse's Back to Black album with an orchestra of 25.  His latest show will recreate the legendary live album by Joe Cocker, Mad Dogs and Englishmen, on Thursday, August 27 at the Axelrod Performing Arts Center in Deal, NJ and this show is just as ambitious.
Mad Dogs and Englishmen was originally released in 1970. According to the album's liner notes, Joe Cocker arrived in Los Angeles in March 1970 with the goal of recuperating from several grueling months on the road.  His plans to form a new band for the summer were quickly dashed when his management told him they had set up a seven-week tour to begin in eight days.  Leon Russell offered to help Cocker put a band together and by March 13th, ten musicians had signed on and rehearsals had begun.  The numbers kept growing to where a rehearsal on March 17th featured an entourage (now known as Mad Dogs & Englishmen) of 36 "including the musicians, three sound men, two secretaries, three roadies, managers, wives, lovers, assorted children, and other animals."
The band's first performance took place on May 20th. One week later (May 27-28), the band performed the legendary shows at the Fillmore East in New York City where the live album was recorded. Remember Jones, a Brick native who currently lives in Asbury Park, first heard the record about 15 years ago and always wanted to perform it live.  "I had never heard horns sing like that until I heard that album," he recalled.  When Joe Cocker passed away last December, it seemed like the perfect show to do when the opportunity arose.
Both Jones and Cocker are known for their interpretations of songs more than their own originals.  While performing with his own band as well as in theatrical productions and Glen Burtnik's Summer of Love shows, Jones built up his own fanbase over the years — one that has become accustomed to hearing his booming voice take over stages and make songs his own.  
"The thought of taking a song and fitting it to what you feel is something I like," explained Jones.  "Joe Cocker is one of the most popular artists to do that.  Songwriting is not his number one thing, which is the same for me.  A lot of people over the years have told me they love my originals but when I sing someone else's songs, it's special and makes them want to listen again."  
---
The article continues after this ad
---
---
Jones has been singing Joe Cocker tunes as part of the Summer of Love shows for several years.  He began by just performing "With A Little Help From My Friends" and has built up his role to five or six tunes.  "We're doing the Mad Dogs and Englishmen versions because they're big and bombastic," he explained.
He has stacked his show at Axelrod with an all-star lineup of musicians that includes Constantine Maroulis (Tony-nominated actor for Rock of Ages), Tom Brislin (Yes, Spiraling, Meat Loaf), Brielle Von Hugel (a semi-finalist on American Idol's 11th season), Jaquita (a semi-finalist on Oprah's Pop Star Challenge), Emily Grove (Summer of Love shows), and Sarah Tomek (Steven Tyler, Maggie Rose). In addition the show will feature lighting by Marc Rubenstein's legendary Pig Light Show.
Jones never had any doubts about whether he would replicate the original album or the deluxe version that was released in 2005 to celebrate the record's 35th anniversary.  As usual, he went bigger.
"I want to make you feel like you did when you first heard these songs," said Jones.  "I wanted to be able to bring in some of the other songs that were not on the original.  'Let It Be' is not on the original album, but it's such a cool part of the deluxe edition."
Songs include classic rock staples like "Honky Tonk Women," "The Weight," and "Something."  Some of Joe Cocker's most recognized work like "The Letter," "Feelin' Alright" and "With A Little Help From My Friends" is also found on the release.
Thanks to his work with the Summer of Love shows and his previous tributes, Jones is used to working with large casts of musicians.  He says the experiences have made him a better director and he enjoys the way the larger rosters enhance the music and make the shows more of an experience in their own right.  Trust in the cast members is very important to a successful show.
"I like the collaboration between people," he explained.  "I like having a lot of people coming together and creating a sound.  I tell them, 'Here's what I feel and I want you do within that.'  It's never a micro-managing thing.  I bring people together that I want to see together; using people I vibe with is more important to me than using the best player.  I think it helps make for a successful night and that's why it feels so good when we're done.  If I can give the cast that sense of trust then everybody wants it a bit more and they're passionate about what's going on."
---
Gary Wien has been covering the arts since 2001 and has had work published with Jersey Arts, Elmore Magazine, Princeton Magazine, Backstreets and other publications. He is a three-time winner of the Asbury Music Award for Top Music Journalist and the author of Beyond the Palace (the first book on the history of rock and roll in Asbury Park) and Are You Listening? The Top 100 Albums of 2001-2010 by New Jersey Artists. In addition, he runs New Jersey Stage and the online radio station The Penguin Rocks. He can be contacted at gary@newjerseystage.com.
---