This article is from our magazine. To view it in its original format, click here
Light of Day Winterfest 2018 Photos
By John Posada
originally published: 01/24/2018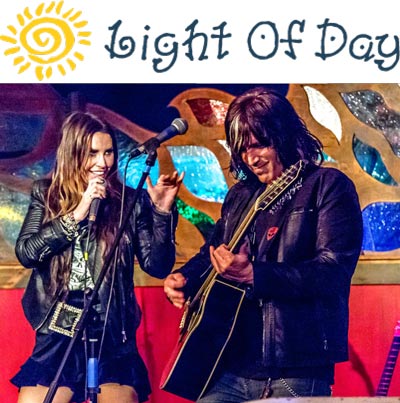 The Light of Day Foundation, Inc., utilizes the power of music to raise money and awareness in its continuing battle to defeat Parkinson's disease and related illnesses such as PSP and ALS.
Light of Day Concerts were held throughout Asbury Park in January and photographer John Posada was on hand to shoot many of them.  We gathered about 40 of his photos for a slideshow gallery across two pages in New Jersey Stage magazine.  Click here for the slideshow.
See here is Reagan Richards and Gordon Brown of the Nashville/Asbury Park based band Williams Honor.
The Foundation's mission is to fund research into possible cures, improved treatments and support for patients who suffer from those illnesses, their families and their caregivers to help improve their quality of life. The primary fundraising efforts are an annual series of concerts held in Asbury Park, NJ. Since its inception in 2000, Light of Day has raised over $4.5 million in the fight to find a cure for Parkinson's disease. What began as a single concert in New Jersey has grown into approximately seventy shows in thirteen countries on 3 continents including North America, Europe and Australia!

The concerts and the organization began as a birthday party in November 1998 at the Downtown Cafe in Red Bank, NJ to celebrate the 40th birthday of artist manager and music industry veteran Bob Benjamin. Benjamin had recently been diagnosed with Parkinson's disease, a degenerative disorder of the central nervous system, and in lieu of gifts, asked that donations be made to the Parkinson's Disease Foundation. Over $2,000 was raised that night. Spurred by the generosity and support, Benjamin reached out to friends, including concert promoter Tony Pallagrosi and musician Joe D'Urso, and formed the Light of Day charity, taking its name from a Bruce Springsteen song.

The first official Light of Day concert was held at Asbury Park, NJ's legendary Stone Pony in November 2000 and primarily featured local, unsigned artists. The critically acclaimed Pittsburgh-based band Joe Grushecky and the Houserockers (managed by Benjamin) headlined the show, which featured a surprise appearance by local hero Bruce Springsteen, who joined the Houserockers for a raucous hour-long set.

Over the years Light of Day has grown from a one-day event into a festival spanning 10 days in the New Jersey/New York metropolitan area. More significantly, Light of Day has expanded into an internationally recognized tour, through a true grassroots effort of musicians, music fans and benefactors. Light of Day shows take place around the world on 3 continents, including six shows in Canada, an 18 day late November into December trek through Europe, with stops in England, Wales, Ireland, Sweden, Belgium, Norway, Denmark, Italy, Switzerland, Germany, Spain, plus a brand new Light of Day event in Australia! Portions of the proceeds from each show are donated to a local Parkinson's organization.

Performers at Light of Day have included Bruce Springsteen (numerous appearances), Michael J. Fox, John Rzeznik (Goo Goo Dolls), Ed Kowalczyk (Live), Darlene Love, Southside Johnny, Jesse Malin, Alejandro Escovedo, Willie Nile, Garland Jeffreys, Jakob Dylan, Lucinda Williams, Badly Drawn Boy, Pete Yorn, Gary US Bonds, Joe D'Urso and Stone Caravan, John Eddie and many more local unsigned artists.

Light of Day also fields a team in the annual Parkinson's Unity Walk in New York's Central Park. Over the years the Light of Day team has raised $80,000, which helped the Walk raise over $3 million for Parkinson's research.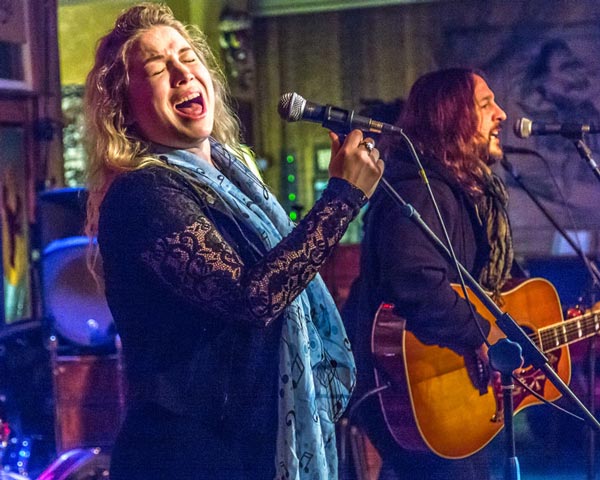 PHOTO: One of Jersey's power couples in rock and roll.  Eryn Shewell and her husband Matt O'Ree.  Photos by John Posada
---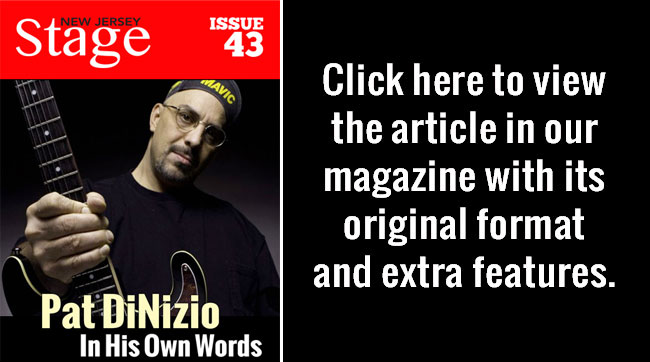 White Eagle Hall Presents Mason Jennings
(JERSEY CITY, NJ) -- White Eagle Hall presents Mason Jennings on Sunday, September 16 at 7:00pm. Jennings is touring in support of his latest album, Songs From When We Met, which was released earlier this year.  Tickets are $20.
---
Pioneer Productions Presents Wendy-Lane Bailey Women's Work
(DENVILLE, NJ) -- Pioneer Productions kicks off its new Living Room Series with Women's Work - an evening of songs by female songwriters on September 16 at 6:00pm at the Arthur Murray Studios in Denville. Conceived and performed by singer/storyteller Wendy-Lane Bailey & composer/pianist Michele Brourman it has a funny, sometimes challenging but always defiantly feminine viewpoint that brings the worlds of Broadway, pop, and country together in one show.
---
Stone Pony To Honor Butch Pielka
(ASBURY PARK, NJ) -- A special day of music to honor the legacy of the original Stone Pony co-owner and manager, Robert "Butch" Pielka, will be held Sunday, October 7, from 2:00 to 9:00pm at the Stone Pony in Asbury Park. The lineup includes reunions of Cats on a Smooth Surface and The Shakes, and Lance Larson.  More names are expected to be added.
---
Victor Wainwright & The Train To Perform At Lizzie Rose Music Room
(TUCKERTON, NJ) -- The Lizzie Rose Music Room presents Victor Wainwright and the Train on Wednesday, August 22 at 7:30pm. A 3 time BMA Piano Award winner,  BB KING Entertainer of the Year Award Winner, and Band of the Year Award winner, Victor Wainwright is at the top of his game right now.  The band is touring in support of their latest record, The Train, on Ruf Records. Tickets are 30 in advance and $35 at the door.
---
State Theatre presents Lost 80's Live
(NEW BRUNSWICK, NJ) -- State Theatre New Jersey presents Lost 80's Live on Saturday, September 20, 2018 at 8:00pm. The Lost 80's line-up features some of the most iconic bands from the 1980s including A Flock of Seagulls; Wang Chung; Bow Wow Wow; Farrington and Mann, Original Vocalists of When in Rome UK; Naked Eyes; and Animotion. Tickets range from $48-$98.
---


Let's Hang On's Tribute to Frankie Valli and The Four Seasons LIVE! at The Strand
Q: So what do four guys from Pennsylvania, Texas, Tennessee, and Massachusetts — and all currently based out of Florida — have in common with four guys from "Joisey" this summery August 3, 2018 evening at the Strand Theater in Lakewood, NJ?
---
80's Tribute Band Almost Journey Rocks iPlay America
I never in a million years would have thought about iPlay America in Freehold as being an event venue. To me, it's a place to ride bumper cars, have kids' birthday parties and play video games. Never been there.
---
The Great Rock N Roll Time Machine LIVE! at Toms River's Grunin Center
As we make our way inside the Grunin Center of the Arts located on the campus of Ocean County College in Toms River, NJ, this Saturday, July 28, 2018, we see music lovers of all ages. Some of them are wearing street clothes but some are decked out in outfits from the 1970s and '80s for tonight's concert by the '70s and '80s tribute band, The Great Rock N Roll Time Machine.
---
Classical Guitarists Alex and Wesley Park LIVE! at The Great Auditorium
The bucolic seashore town of Ocean Grove, NJ is a place designed for quiet reflection and spiritual renewal. An artist sketches in the lush green park off Pilgrim Pathway. Still others read or meditate in the heart of this picturesque village which features gingerbread houses and colorful gardens, all just steps away from the fresh salt air wafting off the blue Atlantic Ocean.
---
"Rock and Roll Icons!" Hippiefest LIVE! at BergenPAC
A light summer rain is falling outside Englewood, NJ's BergenPAC this Wednesday July 25, 2018, as music lovers decked out in peace signs, tie-dyed shirts, and bell-bottomed jeans arrive for tonight's Hippiefest concert event starring Vanilla Fudge, Rick Derringer, Mitch Ryder, and Badfingers' Joey Molland.
---