originally published: 04/26/2017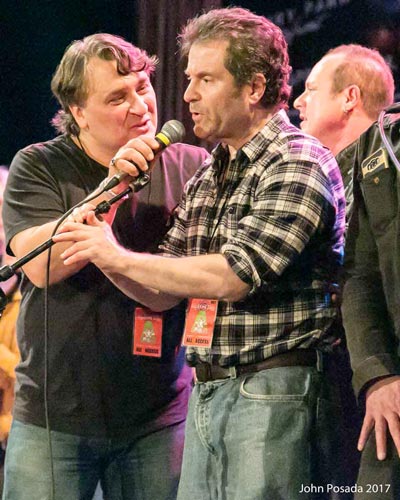 (ASBURY PARK, NJ) -- For the third year in a row, the Light of Day Foundation has raised over a half a million dollars through its annual WinterFest fund raiser, catapulting its 17-year cumulative total past the $4.5 million mark in the global battle to defeat Parkinson's Disease and the Parkinsonisms, ALS and PSP, through the awesome power of music.
Though Light of Day WinterFest has gained international notoriety for surprise performances by Bruce Springsteen in 11 of its 17 years, fundraising momentum continues to flourish despite his absence at the two most recent festivals. Light of Day WinterFest 2017: The Beat Goes On, attracted 12,000 patrons from around the world to witness over 150 acts at more than 50 shows over a 10-day stretch in New Jersey, New York, and Philadelphia. Light of Day WinterFest is the culmination of a worldwide series of shows that began as a one-day affair in Asbury Park, where it still is primarily based. Among the artists who performed in 2017 were Peter Asher, Albert Lee, Jake Clemons, Joe Grushecky & The Houserockers, Willie Nile, Chuck Prophet, Jesse Malin, Jeffrey Gaines, James Maddock, Joey Molland of Badfinger, and Joe D'Urso & Stone Caravan.
The Light of Day Foundation regrants money to organizations which fund specific research initiatives, including, the Michael J. Fox Foundation, CurePSP, the Parkinson's Foundation (formerly the Parkinson's Disease Foundation), and the Parkinson's Unity Walk. The Light of Day Foundation also supports "boots on the ground" programs designed to help people with these diseases live better lives on a daily basis, including Joan Dancy & PALS, with a mission to help New Jersey residents in nearby Monmouth and Ocean Counties afflicted with ALS by providing a better quality of life for them and their families.
"As Maya Angelou once said, 'People will forget what you said. They will forget what you did. But they will never forget how you made them feel.' I've always believed that at its essence Light of Day was a feeling," said Tony Pallagrosi, executive director of the Light of Day Foundation. "Every year that we produce Light of Day WinterFest, we hope folks come away with a feeling of community, joy, participation in something bigger than themselves, and the anticipation of and hope for what is to come. We utilize the awesome power of music to that end, to help us feel better and bring us together in the way that only music can as we battle to defeat Parkinson's, ALS and PSP in our lifetime."
Leading the Light of Day Foundation's 2017 agenda is the launch of a pair of new Parkinson's therapy programs, Boxing for Bob and the Parkinson Voice Project. Boxing for Bob, already underway in Forked River, NJ, is named for Bob Benjamin, the artist manager and music industry veteran who has been living with Parkinson's since 1996, two years before he co-founded Light of Day with Pallagrosi, whose mother, Dolores, died in 2002 from the effects of PSP.
---
The article continues after this ad
---
---
The Light of Day Foundation subsidizes Boxing for Bob, modeled after the Rock Steady program founded in Indiana a decade ago, to enable Parkinson's and PSP patients at the Jersey Shore to participate at no charge. The Foundation is looking to open at least two more locations by the fall.
The Parkinson Voice Project, based outside of Dallas, TX, preserves the voices of individuals with Parkinson's and related neurological disorders through intensive speech therapy, follow-up support, research, education, and community awareness. Its use of music as one therapy to increase the volume and clarity of patients' voices, which deteriorate as Parkinson's progresses, is a natural fit for the Light of Day Foundation. As such, the Foundation is working toward bringing the Parkinson Voice Project to the Jersey Shore by the end of the 2017.
Also in the Light of Foundation's sights is the establishment of a Light of Day storefront location as a resource center "to host seminars, boxing, lectures, films − all having to do with Parkinson's and PSP," says Pallagrosi. "We hope to have programs for caregivers, too, because they're the unsung heroes. In their own way, they've suffered a great deal." Additionally, the Light of Day Foundation is planning a "Park on the Beach," modeled after JT's Grommet Island Park in Virginia Beach, VA, an accessible beach playground and park for children and adults with disabilities that allows everyone to "have their day at the beach."
The next scheduled fundraising event is the Light of Day Mini Golf Classic, Saturday, June 10 from 1pm-8pm at Barnacle Bill's Amusements, Route 35 North, Ortley Beach, NJ (Rain Date: June 11).
The Light of Day Foundation also is presenting Happy Together 2017, starring The Turtles featuring Flo & Eddie, The Association, Chuck Negron formerly of Three Dog Night, The Box Tops, The Cowsills, and The Archies starring Ron Dante, Saturday, Aug. 5 at the Count Basie Theatre in Red Bank, NJ, with a portion of proceeds benefitting the Foundation. Tickets are on sale now at www.countbasietheatre.org.
More fundraising events for 2017 will be announced.
Complete information on all Light of Day activity can be found at www.lightofday.org. Donations to the Light of Day Foundation can be made through the website as well.
"Even though my heart breaks for every year that goes by without a cure, I am humbled by the fact that we have been doing what we do for almost 20 years and that Light of Day keeps growing, raising more awareness and money for research and support programs every year," adds Pallagrosi. "I want to thank our sponsors, the venues, the production teams, the great City of Asbury Park, the Light of Day Foundation Board, the wonderful musicians who 'bring it on' year after year after year, all of the amazing folks who attend and support our mission and I want to especially thank Bob Benjamin, our founder and guiding light, who when diagnosed with Parkinson's at the age of 38 had a feeling to try to do something about it, a feeling that I believe enriches us, energizes us and resides in all of us who participate."