By Gary Wien
originally published: 12/26/2017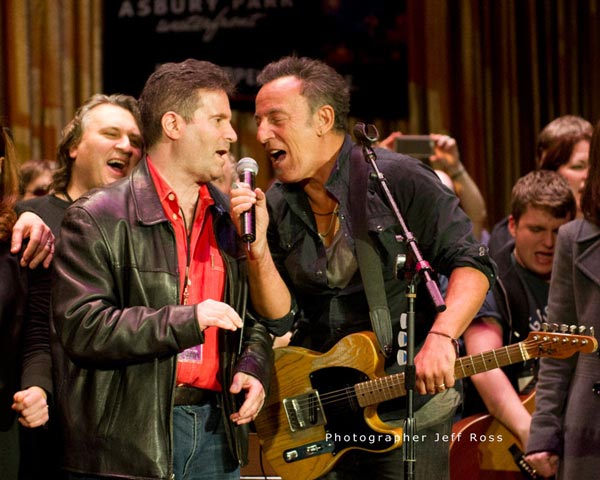 The annual Light of Day concerts roll into the tri-state area in January with shows in Montclair, Asbury Park, New York City, and Philadelphia. 
The concerts and the organization began as a birthday party in November 1998 at the Downtown Cafe in Red Bank, NJ to celebrate the 40th birthday of artist manager and music industry veteran Bob Benjami who had recently been diagnosed with Parkinson's disease, a degenerative disorder of the central nervous system. 
In lieu of gifts, asked that donations be made to the Parkinson's Disease Foundation. Over $2,000 was raised that night. Spurred by the generosity and support, Benjamin reached out to friends, including concert promoter Tony Pallagrosi and musician Joe D'Urso, and formed the Light of Day charity, taking its name from a Bruce Springsteen song.
Utilizing the power of music to raise money and awareness in its continuing battle to defeat Parkinson's disease and related illnesses such as PSP and ALS within our lifetime, Light of Day shows are now presented on 3 continents, including North America, Europe and Australia. 
---
The article continues after this ad
---
---
Here are some of our picks:
January 5 at Outpost In The Burbs, Montclair, NJ. This North Jersey Songwriters By The Sea show is billed as a tribute to Tom Petty, the lineup includes Willie Nile, James Maddock, Jeffrey Gaines, Joe D'Urso, and Emily Grove.
January 6 at World Cafe Live in Philadelphia, PA. The LOD Philly show includes performances upstairs and downstairs. 
Full bands are downstairs.  The lineup includesWillie Nile & Band, Joe Grushecky & The Houserockers, Remember Jones, Ben Arnold & Band, and Joe D'Urso & Stone Caravan) while solo artists perform upstairs.
The upstairs lineup includes Jim Boggia, Graham Alexander, John Byrne, Nalani & Sarina, Vini Lopez, and Lisa Bouchelle.
January 11 at House of Independents, Asbury Park, NJ.  The lineup for LOD Winterfest 2018 Kick-Off includes Dramarama, Joe D'Urso & Stone Caravan, Bobby Bandiera presenting a tribute to Tom Petty, and UK

artist Mark Wright presents "The King Sings the Boss" - an interesting look at what might have been if Elvis Presley had covered songs written by Bruce Springsteen.
January 13 at Wonder Bar in Asbury Park, NJ.  The Asbury Blues show features a strong lineup from 12:30 to 6:30pm including sets by Papa John Bug & The Jam Band, Stringbean, RB3, Joe Whyte, Norman Seldin, Pam McCoy, Chuck Lambert, James Dalton, Tony Tedesco & Full Fathom 5, Karen Phillips, and Billy Walton Band.
January 13 at House of Independents, Asbury Park, NJ.   The night opens with originals by Quincy Mumford and the Reason Why and then moves into a special tribute to Prince.
January 14 at Langosta Lounge, Asbury Park, NJ.  Songwriters By The Sea #2 includes sets by Jersey singer-songwriters including Bruce Tunkel, Karen Mansfield, Pat Guadagno, Sam Sims/Kyle Ward, Frank Lombardi, Joshua, and Scott Elk.
Stormin' Norman Seldin spoke with us about his set on January 13 during the Asbury Blues show.  He will be presenting a tribute to the legendary Fats Domino who passed away in October.
"Fats Domino changed my total outlook on piano, vocals, and his New Orleans happy style was infectious and I had to listen over and over," said Seldin.  "He was only heard on the black r&b stations while Pat Boone or Ricky Nelson were given the top spots on radio because they were white, leaving many people were uneducated on how great this New Orleans artist really was.  His first recording ever I believe was way back in 1951 with Dave Bartholomew (his life long friend, co-writer, and musician) it was called 'The Fat Man' and was simple rock/blues, but amazing to jam on piano with a great horn section which we'll have at the Light of Day show."
Seldin said he has done partial sets of Fats Domino in the past and younger audience members quickly fall in love with the music.
"Many of them were not born yet," continued Seldin.  "They say Fats sold something like 80 million records worldwide which for a time with no computers and online, which is pretty amazing!  If someone had never heard Fats Domino before there are 2-3 very telling recordings.  'Ain't That A Shame' (which has been recorded by many other groups),  'I'm Walkin' ( the great piano and in some versions that amazing New Orleans sax stuff,  and of course the one that started it all 'Blueberry Hill' which is identified immediately by the piano intro."
Stormin' Norman will have a full band for the show, including Gerry Gironda (bass), Ed Dougherty (drums), Ray Johnson (guitar), Vic Cappetta (sax), Rich Taskowitz (sax) and likely will have special guests adding a third sax, trump, and trombone for some songs.  In addition to celebrating the music of Fats Domino, they might include a song by some of his friends and contemporaries as well - artists like Little Richard and Jerry Lee Lewis.
"Fats Domino is in the Rock and Roll Hall of Fame, was a giant at getting it all started, and also broke a color barrier!" added Seldin.  "I have now been playing, performing, and still learning after 67 years and his simple happy style still drives me nuts!"
All of the Light of Day shows feature incredible artists helping to raise money for a good cause.  These selections are only a fraction of the great music taking place in January at LOD.  For more information on the shows or the organization visit www.lightofday.org
---
Gary Wien has been covering the arts since 2001 and has had work published with Jersey Arts, Elmore Magazine, Princeton Magazine, Backstreets and other publications. He is a three-time winner of the Asbury Music Award for Top Music Journalist and the author of Beyond the Palace (the first book on the history of rock and roll in Asbury Park) and Are You Listening? The Top 100 Albums of 2001-2010 by New Jersey Artists. In addition, he runs New Jersey Stage and the online radio station The Penguin Rocks. He can be contacted at gary@newjerseystage.com.
---