---
NJPAC Announces 7th Annual Sarah Vaughan International Jazz Vocal Competition Finalists Click here for the story!
---
Jennifer Valentine, Director of CASA, To Lead A Panel Discussion Following "The Shuck"
at Cape May Stage
originally published: 10/10/2018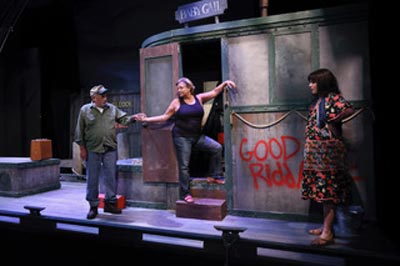 (CAPE MAY, NJ) -- Jennifer Valentine, Director of Program Services for Court Appointed Special Advocates, will attend the world premiere of Cape May Stage's The Shuck by Cape May County native Shawn Fisher and directed by award winning director Roy Steinberg on Saturday, October 20 at 7:30pm. Cape May Stage will donate one dollar from every ticket sold at this performance to CASA.
Ms. Valentine will lead a panel discussion immediately following the performance about family dynamics using the play as a catalyst for discussion about the one thousand children in foster care in Atlantic and Cape May Counties.  The entire audience is invited to attend. 
The word "shuck" can mean "to throw away" or "worthless" as well as to remove an oyster from its shell.  The characters in the play deal with a trouble child and a dysfunctional family yet it is very funny at the same time.
The Shuck features four time Emmy Award winner Kim Zimmer (Reva on "Guiding Light"), New York actor Bill Tatum, and Cape May City native Kyra Adams, a professional actress now living in New York.  They'll join the discussion as well.
Tickets can be purchased online at capemaystage.org or by calling the box office at 609-770-8311.  Special low prices are available for seniors, students and active military.  Cape May Stage is located at 405 Lafayette Street in the heart of the historic district of Cape May.
---


Centenary Stage Presents "Apples In Winter" - a National New Play Rolling World Premiere
(HACKETTSTOWN, NJ) -- Centenary Stage Company's 2018 – 19 theatrical season continues with the National New Play Network Rolling World Premiere of Jennifer Fawcett's award winning Apples in Winter. Limited performances will run November 8 through November 18 at the Centenary Stage Company Lackland Performing Arts Center at 715 Grand Ave. Hackettstown, NJ.
---
Trojan Women: JCTC Reinvents Classic Tragedy for Today's Times
(JERSEY CITY, NJ) -- Jersey City Theater Center (JCTC) presents Trojan Women, a multimedia and multilingual adaptation of the classic Greek tragedy reimagined for today's turbulent times. Trojan Women  opens Friday November 2nd for an 11-show run that closes on Sunday November 18 at Merseles Studios, 339 Newark Avenue, Jersey City. Tickets are $25 ($15/ Student and Senior Discount – must show valid ID).
---
Douglas Taurel To Perform "An American Soldier's Journey Home" On Veteran's Day
(HOBOKEN, NJ) -- On November 11, 2018 (Veterans Day), Douglas Taurel, actor and creator of the acclaimed solo show The American Soldier, will perform his new play An American Soldier's Journey Home at the Hoboken Museum in Hoboken, NJ at 4:00pm. The play was commissioned by the Library of Congress Veteran History Project. It was invited to performed at the Library of Congress both on Veterans Day and Memorial Day of 2017. The play will commemorate 100 years when the Great War ended and the last shot was fired.
---
Fair Moon Stages Presents "Wishes & Dreams: A Celebration of the Music that Animates our Lives"
(RAHWAY, NJ) -- Fair Moon Stages presents "Wishes & Dreams: A Celebration of the Music that Animates our Lives" on Sunday, November 4th at 3:00pm, at The Union County Performing Arts Center in Rahway, NJ. A 30-piece orchestra and 20 vocalists performing delightfully familiar songs from animated movies highlight the concert. The event is a benefit for the company, whose mission is to present accessible and professional theater at affordable prices. Their well-received inaugural season included Disney's High School Musical, Legally Blonde and the NJ premier of Mamma Mia.  
---
Menopause The Musical Comes To State Theatre
(NEW BRUNSWICK, NJ) --  GFour Productions, winner of 44 Tony Awards and 54 Drama Desk Awards,  brings the international hit show Menopause The Musical® to State Theatre in New Brunswick for two performances on Saturday, November 10 at 2:00pm and 8:00pm. This a groundbreaking celebration of women who are on the brink of, in the middle of, or have survived "The Change." 
---


Plant Yourself at Exit 82 Theatre Company's Little Shop of Horrors!
Little Shop of Horrors is a smash Broadway and Hollywood sci-fi musical that has devoured the hearts of theatergoers for over 30 years. Now, Toms River, NJ's Exit 82 Theatre Company has developed a unique rendition of the show created by Howard Ashman and Alan Menkin, which is currently running at their new Exit 82 Studio Theatre located on Main Street in downtown Toms River.
---
Playwright Walter Anderson Talks About "The Trial Of Donna Caine"
​​​​​​​The political climate in the United States—with its right and left, red and blue, conservative and liberal—prompts this question: Is reconciliation possible?
---
Assisted Living: The Musical LIVE! at Toms River's Grunin Center
The crowd is making it's way inside Toms River, NJ's Grunin Center of the Arts on this beautiful Saturday, Sept. 22, 2018 afternoon for the first of two sold-out performances of Assisted Living: The Musical!
---
Bram Stoker's Dracula
Long before we had Twilight and True Blood, one vampire ruled them all - Dracula.  Bram Stoker's classic horror novel brought Count Dracula from Transylvania to Victorian London.  In this blood thirsty tale of terror, the city seems helpless against his power, and only one man, Dr. Van Helsing, can stop the carnage.  But to do this, he must uncover the vampire's lair and pierce his heart with a wooden stake.  
---
House On Haunted Hill
House On Haunted Hill is a classic B-movie by William Castle that came out in 1959.  It starred Vincent Price as a millionaire who offers $10,000 to five people who agree to spend the night locked in a house he's rented on Haunted Hill.
---
Event calendar
Sunday, Oct 21, 2018
---
MUSIC

---
---
---
---
---
Suzzanne Douglas

@ South Orange Performing Arts Center (SOPAC), South Orange - 7:30pm
---
THEATRE

---
---
The Shuck

@ Cape May Stage, Cape May - 3:00pm
---
---
---
---
---
Almost, Maine

@ Jay & Linda Grunin Center For The Arts At Ocean County College, Toms River - 2:00pm
---
---
---
---
---
DANCE

---
---
FILM

---
---
KIDS

---
---
POETRY

---
---
MISC

---
---
---
View all events
---