By Gary Wien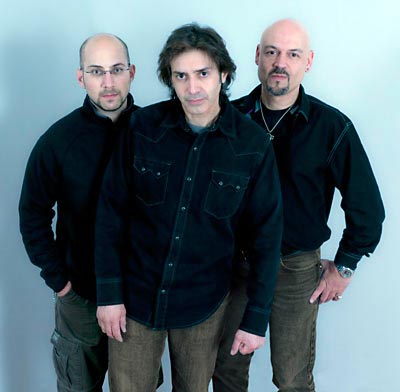 Kimon & the Prophets won the Jersey Shore Jazz & Blues Foundation battle of the bands and recently competed in Memphis, TN along with 110 other bands at the International Blues Challenge. Comprised of veteran musicians who have long since paid their dues in the NYC club circuit and beyond, the members of the Prophets have been in numerous bands with national releases. Early on Kimon (pronounced kéy-mon) survived a long stint as guitarist and co-writer with an over-the-top, edgy NYC garage band called The Wilsons, later joining Hoboken NJ favorites Fear of Falling as guitarist, there gaining much experience in making albums and performing via touring in Europe and the U.S. He went on to form Psonica, signing with the now defunct Navarre Entertainment. They released their national debut effort, but disbanded soon after due to internal disagreements, at which point, Kimon went on in the following five years to release 4 critically acclaimed solo albums, methodically cultivating his own brand of protest blues, while simultaneously developing an incendiary guitar technique.

Touring around as Kimon & the Prophets with various members, in February of 2008 Kimon was joined by long time friend and musical conspirator Marc Gambino on bass and vocals, to begin the creation of a solid band lineup. Marc enjoyed much European success as a member of the rock band Concrete Jungle and later a six year stint with Asbury Park favorites Maybe Pete. Quickly solidifying their own melodic blend of blues, funk, 70's rock, and hip-hop, joined by Jason Kronick on drums, they charted a musical homecoming back to their roots.

NewJerseyStage.com had the chance to catch up with Kimon to see how the Memphis trip went and talk about the upcoming release.


Think back about a decade ago, would you have ever imagined yourself playing in something like the International Blues Challenge?
I had played at SXSW and CMJ before (well, way before), but I hadn't heard of the IBC until I joined the Jersey Shore Jazz & Blues Foundation about two and a half years ago. It's a different vibe at the IBC than other conventions I've been to, everyone is a little older but much more down to earth. There are no promises of stardom, only reminders of why you started playing in the first place, meaning, you witness some unbelievable musicianship.


Winning the Jersey Shore Jazz & Blues competitions was a pretty impressive feat. Were you confident the Prophets would do well or was it simply taking a shot and seeing how it went, at first?
This was only our second time competing, but we really worked hard rehearsing and gigging as much as possible leading up to the competition; I don't know if we deserved to win, but we really tried our best to work out our set list, and how the songs worked together, which I think is what impressed upon the judges.


As the Jersey Shore Jazz & Blues Foundation representative, you got to play a couple of shows at The Historic Daisy on Beale Street. What were those shows like?
We had a great time; it's always hectic when you only have a couple of minutes of set up time, no musician ever gets used to that, but aside from that, the Historic Daisy was a beautiful room to play in and we got a very warm response. Some of the Jersey Shore jokes were even pretty funny!


Kimon & The Prophets plays rock and roll with a blues background. Were you up against similar bands or more traditional blues artists?
There were eight bands competing in our venue, they ranged from blues rock like us, to more of a Chicago sound, some jump blues, and even some southern rock flavors. All the bands in our venue were three piece bands, but somehow all very different.


How did you ever move from songs such as those on "Discorporated" to "Roadhouse Party"? Were you always a fan of the blues?
Long story, but here goes... My first guitar teacher was a blues fanatic, so the first things I learned were the 12 bar progressions, pentatonic scale, some turn-arounds, and I was off and running starting a blues band. Through the years I went through various phases all over the gamut as a songwriter that I think culminated with my political album Discorporated that you mentioned. But as a guitar player I was always rooted in Blues. A few years back I was spending a lot of time learning the craft of recording, but I had hit a plateau for quite a long time in terms of my guitar playing. So I went back to where I started and began taking blues and slide guitar lessons again with a guy called Poor Bob. That's what got me back to roots music. Roadhouse Party was basically a first step, but with the upcoming album, I'm trying to connect the two, the protest music that I think I was doing pretty well, with the blues; I believe they are compatible, and hopefully it works and I can carve out a little niche for myself.

Do long-time fans of yours still come up to you (as I think I did once) and say, "I never knew you could play guitar like that"?
When I first started the blues band, yes, a couple people asked me where that came from, but I feel like I'm plateau-ing again; I had a regular guitar practice regimen going until we started making the new album, which took over all my time, now that it's done, I feel the need to get back to the regular guitar practicing routine


What was the best part of the Memphis experience?
I think I met some of the nicest, most genuine people I've ever met there.


Finally, when can fans expect the next record? And will it be more power-blues-rock or veer in a different direction?
The new album was pretty much done and ready to be released. There a few different vibes on the album that all work together really well, blues rock, some traditional shuffles, slow blues, some funk. But we couldn't settle on a title. For the IBC, I also thought we needed one Texas Blues type number to round out our set, so I wrote a new one called Trenton Blues. It went over really well, so we decided to record it. The recording turned out so well that I think it will now be the lead off and title track. I think it was the missing piece and ties the whole album together. I also think when you'll hear it, beyond the title, it will drive home that we are Jersey blues, if there is such a thing. You'll know what I mean. Working towards an April 2011 release.

---
Gary Wien has been covering the arts since 2001 and has had work published with Jersey Arts, Elmore Magazine, Princeton Magazine, Backstreets and other publications. He is a three-time winner of the Asbury Music Award for Top Music Journalist and the author of Beyond the Palace (the first book on the history of rock and roll in Asbury Park) and Are You Listening? The Top 100 Albums of 2001-2010 by New Jersey Artists. In addition, he runs New Jersey Stage and the online radio station The Penguin Rocks. He can be contacted at gary@newjerseystage.com.
---