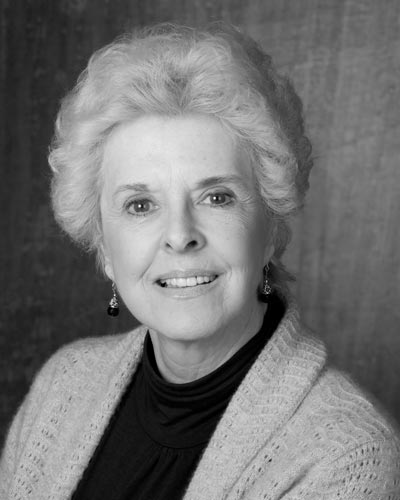 It's a long way from Saskatoon to Georgetown, and that doesn't mean only 1600 miles as the crow flies.
It's a long way culturally, too, and that was even more true in 1967, when Joanna McClelland Glass, a child of the prairie, became the personal assistant of Francis Biddle, an erudite and eminent former attorney and judge.
Her experience as the last of a series of aides to the often cranky Biddle was the basis for her two-character play, Trying, at the George Street Playhouse on the Rutgers campus in New Brunswick through April 8.
Broadway veteran Philip Goodwin plays Biddle, and Carly Zien plays Sarah, who represents Joanna Glass.
---
The article continues after this ad
---
---
The playwright's family—from Austria on her mother's side and Nova Scotia on her father's side—settled in Saskatchewan in the late 19th century and, although she is often cited now as a quintessential Canadian playwright, she came to the United States as a young adult, leaving behind an abusive father and a rugged environment.
Biddle's pedigree could not have contrasted more sharply.
By his account, his family were well-to-do Quakers living unhappily in England; after crossing the Atlantic they bought from William Penn four hundred thousand acres of what is now New Jersey.
That and the fact that Biddle was to be "ensconced in Philadelphia society" weighed against a smooth relationship between the scion of old money and tradition and the product of homesteading, trail-blazing pioneers.
"That was in his DNA," Glass said. "He couldn't relate to the Canadian prairie, so we couldn't relate. I was very young, but this wasn't only a clasH of ages; it was a clash of geographical differences."
Biddle was also a descendant of the first attorney-general of the United States and the son of a Philadelphia law professor.
He received his undergraduate and law degrees from Harvard and was a clerk to Justice Oliver Wendell Holmes; a federal judge; solicitor-general and attorney-general in the Franklin Roosevelt administration; and chief American judge at the Nuremberg trials.
But when Glass met him he was convinced, accurately, that he would die within a year, and he brooded over the fact that he had allowed himself, as attorney-general, to be goaded into sanctioning internment of Japanese Americans during World War II, and on a more personal level, the facts that he hadn't known his father, who died young, and that he and his wife had lost a son while he was still a child.
He was also done with moving on with the times, according to Glass:
"The modern world was beyond him. I think of the fact that kids are no longer being taught cursive. He was the kind of man who would like to go to the British Museum and to read some of the original manuscripts of, let's say, Charles Dickens. The Dictaphone was beyond him at 82."
The play portrays Biddle as losing some of the fine tuning on his faculties and that, too, was an irritant.
"He was really a very difficult man to be with," said Glass, who nonetheless developed both fondness and admiration for him.
"It was almost like a husband-and-wife situation," she said of their working relationship. "We weren't in the house. We were working in what had been the stable of a carriage house in Georgetown, sort of away from everybody.
"He would start to make a phone call and then not remember who he was calling. When that happened, my stomach would be full of dread, because then he would be angry for the rest of the day."
She said she mused at the time over whether Biddle's discomfiture was partly due to the fact that position and power were irrevocably behind him and intellectual prowess was deserting him.
"I used to go home most nights thinking, 'I wonder if he is this difficult because he has more to lose than the rest of us as far as mental capacity is concerned.' It must be all the more frustrating. The entire business of being 'emeritus' is very difficult."
In spite of Biddle's decline, Glass said, he and his wife, the poet Katherine Garrison Chapin, "led an active intellectual life right up to the end," including salons they hosted in Georgetown and at their home on Cape Cod. Their circle included personalities such as the poet Archibald MacLeish and the composer-critic Virgil Thomson.
Glass said she had been warned of the pitfalls of working with Biddle by his wife—an unseen character with whom "Sarah" consults by telephone in the play.
"Mrs. Biddle had warned me," Glass said, "you have to have spine, and you have to deal with him. Three others before me had caved and left.''
Biddle was aware of the effect he had on these women; when he pointed out the bathroom to Glass he told her that was where the others "went to cry."
But Glass, now a Florida resident, had prairie toughness, and she didn't cave. After Biddle's death in 1968, she said, she kept in touch with his widow and to this day is close to members of his family.
Trying had its premiere  in Chicago in 2004; Glass said there have been 150 productions of the play, including a BBC Radio presentation last summer.
Two of her one-act plays, Canadian Gothic and American Modern, are frequently performed together. 
Another, Play Memory, directed by Harold Prince, was nominated for a Tony Award for best play in 1984.
---
Trying is on stage now through April 8th at George Street Playhouse

103 College Farm Road, New Brunswick, NJ 08901
Box office: 732-246-7717

boxoffice@georgestplayhouse.org
---