By Gary Wien
originally published: 01/26/2012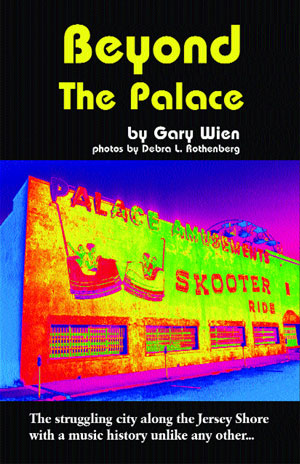 This is where it all began.  Musicians gathered each night at a club on the corner of Cookman Avenue and Bond Street that was set on top of a Thom McAn shoe store.  The Upstage brought the sights of San Francisco psychedelia and the sounds of Greenwich Village together in an endless array of all night jam sessions, which attracted the best young musicians in the area.
"There was no place anywhere like the Upstage," said David Mieras, a regular at the club who grew up in Ocean Grove.  "That place was totally in a league of its own.  It was very, very different.  It was a really avant-garde place, very art-oriented, individualized and where people found an identity.  It was like your club.  There was no liquor there, but you'd identify it as your club. 
"Most people had passes to get in.  It was no different than being part of a high school club.  In Neptune, the cool kids belonged to their club, which was called the Centaurs.  The Ocean Grove kids who had long hair and stuff like that and played music, they weren't cool enough for the Centaurs, but they had their own club called Upstage. That was the difference.  We identified with music and stuff like that.  We could care less about getting into a bar because we had the Upstage.  It was the greatest place.  I mean, we just had so much fun there it was incredible."
David Sancious, one of the original members of the E-Street Band remembers the Upstage well.  "You'd walk up this long flight of stairs and the next level was like a coffeehouse and they had folk acts in there, folk music, a small stage and some tables and a couple of coffee machines in the back.  You walk up another flight of stairs and it was all done like a psychedelic club, you know.  With a bigger stage, Day-Glo painting on the wall, no tables, no chairs, just a big open dance floor.  There used to be a lot of bands that would play there and a lot of jams got started.  In the early days, I used to go to Upstage to dance.  I had some friends of mine from Belmar that used to go and dance and just be a part of the whole scene."
According to Big Danny Gallagher, the origins of the Upstage arose from a series of parties that were held by Tom Potter.  "I had a job working at around four in the morning.  One night my boss says to me,  'Wanna go to a party?' I'm thinking a party at four in the morning, what the hell's up with this? He told me to go over to Tom Potter's house.  He lived over the top of Park Drugs, which was located two doors down from the Upstage.  It turns out that these parties got so big that he decided to rent the building next door, which eventually became the Upstage.
"He sold memberships for two dollars. So, if you came and you had a membership it was a dollar and if you didn't it cost two bucks to get in."
---
The article continues after this ad
---
---
"They opened this club, this two-story club above a Thom McAn shoe store in Asbury Park," explained Southside Johnny Lyon.  "Second floor was folk stage and a kitchen where they made coffee and sandwiches, and the third floor was the rock and roll hall where they had built-in amplifiers and drums.  All you had to do was bring your guitar or whatever.  It was great.  It was a college for us."
Third floor, or rock hall as it was sometimes called, was basically created for the purpose of jamming.  John Mulrenan, a local musician that would later play in Lord Gunner with Lance Larson describes how the built-in amplifiers came about.  "There was a hallway behind the stage that went into Tom Potter's office and the back of the stage was a plywood wall he had erected.  He had a bunch of used guitar ampheads that he'd buy from kids.  They'd tell him, 'I gotta sell my amp.'  He'd say, 'Ok, I'll give you 70 bucks kid.'  So he had about five of the old Fender guitar heads up there.  And then people would bring him a speaker, like an old car radio speaker or whatever they wanted to sell to make a couple of bucks.  He would take a saw and just saw a hole in the plywood, take wood screws, screw the speaker to the wall and then just jump it over to the other speakers with two wires. So you had this wall in back,  it was all random speakers wired up to these ampheads with no rhyme or reason.  And everybody would just come up and plug into the amps and play.  The amps were hooked up to the back speakers with just wood screwed into the back wall.  There was pieces of plywood just hanging there.  It was speakers not being enclosed in an actual enclosure.  All of these different weirdo speakers, half of them blown and stuff."
As haphazard as it may sound, there was a method to Tom Potter's madness and the sound, according to several sources, was excellent.  Some people have described it as the same sound quality you might hear at a contemporary movie theatre.  Although the sound would sometimes bleed from the harder sounding rock and roll from the third floor into the softer folk music of the second floor.
"There was this one time when Margaret had thrown a big spaghetti dinner," recalled Big Danny.  "It was 50s night so everybody went with their sleeves rolled up and cigarettes inside them.  And everybody was playing old rock and roll stuff.  I don't know who it was, but somebody hung these mikes up and made a tape.
"The sound was just God awful good.  Potter was like an artist that was way ahead of himself.  He was doing double and triple exposures and making collages.  I got a job working the door there and my whole life changed.  I mean, rock and roll as a lifestyle had never come in front of me before.  I saw it and said, 'Well, this is it!'"
The legendary jams at the Upstage Club involved many musicians that are well known around the world including many original members of the E-Street Band and the Asbury Jukes.  Guys like Bruce Springsteen, Southside Johnny, Garry Tallent, Billy Chinnock, Vini "Mad Dog" Lopez, Steven Van Zandt, Danny Federici, Kevin Kavanaugh and David Sancious all took their turns on stage.  Local legends like Rich DiSarno, Billy Hector, Big Danny Gallagher, Tony Amato and John Luraschi honed their craft each night there as well.
Jams at the Upstage Club started around nine o'clock and ran from nine to midnight. The early show was largely for the younger crowd.  Then, due to a zoning law at the time, everybody had to leave the building from midnight until one o'clock.  The entire place would then clear out.  Many people would head out to a bar and have a few drinks or buy a case or two and then return at one o'clock and resume jamming with the next show.
Southside Johnny grew up in Ocean Grove, the town that borders Asbury Park.  He was a regular member of the Upstage jams.  "I lived a half-mile away so I would go over there just about every night.  Sometimes I'd go over right from work if I worked late at the post office, which I did for ten months, and I'd still have my post office stuff on.  We used to do eight shows a night, eight sets a night, 40-45 minutes each.  We were making songs up because we ran out of material.  I mean, no matter how many songs you knew you'd do a week's worth of eight shows a night.  And you don't want to repeat yourself, do the same songs over and over again - screw that! So we would make stuff up."
"I used to go there and want to sort of get in a jam and play, but I didn't really know any of the musicians in Asbury Park," said Sancious, who lived in Belmar at the time and was much younger than the other musicians. "Actually I knew Garry Tallent.  We had some occasion to meet and work together.  We'd done some gigs, maybe with Bill Chinnock.  One weekend I was going to Upstage and I came in and Garry was standing at the top of the stairs next to Bruce Springsteen.  They were trying to organize a jam session for the next show, that one to five break.  I came walking up and saw Garry.  He introduced me to Bruce and he asked me if I was interested in jamming.  I said absolutely.  And that was kind of the start.
"I think we played for hours.  I think we went on forever.  It was this long, long jam.  People were coming up and coming off the stage.  One drummer would come on for a while, he'd play for a while, then somebody else would come up.  I guess it went on forever.  It was a lot of fun.  It was really, really fantastic."
Even back then, there was just something special about the guy from Freehold.  The Upstage had already been around for a while before Bruce Springsteen made his first appearance there. But when he walked up the stairs to the third floor, it was clear that he wasn't intimidated by the local musicians.  And, in short time, they would find themselves slightly intimidated by him.
"One night, I walked up and there's this long-haired guy with a gold Les Paul," explained Southside Johnny Lyon.  "He's telling this long involved story about going to Catholic school and how they mistreated him and all that stuff.  But one day they had music appreciation and Sister Mary brought in a B.B. King album and the hook was that the nuns at Saint Catherine taught me the blues or something like that.  He was just so charismatic and funny and good, playing great guitar and his lyrics were coming out and they were these tons of phrases.  I thought who the fuck is this guy? Immediately I felt territorial! But it was like wow, he's really good."
"I mean, I kind of considered it my hang out, my club, because I was there so much and I was kind of the singer.  Everybody wanted to be the guitar hero. Ricky DiSarno and all those other guys, they really didn't want to sing, they wanted to play.  So I got to sing all this stuff.  And I made a deal with a lot of them, I said I'll do all the Hendrix and Cream and that stuff as long as I get to do one blues song every night.  I'll make it simple, I'll give you the chords and we'll play them.  So it was good work for me.  I got to practice my chops too."
It's somewhat amazing that many of the musicians at the Upstage can still clearly remember the day they first saw Bruce Springsteen play.  He had that certain quality about him that made you know he was going to be a rock and roll star.  It was only a matter of when.
"I think I was about 15 when I met Bruce and started jamming and playing with him," added Sancious.  "I was like 19 for about five years, you know… I lied about my age to get into clubs.  I remember that for years anybody ever asked how old I was, I was 19.  I don't think anybody could have believed me.  No grown up could have believed me."
"Tom Potter introduced me to Bruce up at the Upstage," said John Mulrenan.  "The first time I sort of noticed him was when Southside Johnny was downstairs playing an out of tune 12-string guitar.  So, I'm watching Johnny play this song, but I'm hearing great guitar licks coming out - lead guitar, beautiful melodies.  I'm like what the hell is that? So, I walk around the back and Bruce is sitting on the steps, in back of the stage so nobody can see him, playing a Les Paul guitar.  I was like wow! This guy can really play."
"One time I saw him at the Upstage and he just blew the crowd away.  He had real long hair, half-way down his chest and no shirt on.  His hair was in front of his face so you couldn't even see his face and he looked like he weighed about 80 pounds or so.  I was in the audience watching him.  He was doing mostly Allman Brothers songs.  And then I saw what looked like heat waves coming off of him like energy.  Then I felt the crowd around me reacting to those waves.  They were reacting to him in a way I'd never seen anybody react to anybody on stage before.  That's when I really started paying attention to him."
Billy Chinnock was one of the musicians who was at the Upstage from day one.  In fact, he even helped paint the place with its infamous Day-Glo colors.  "I was there from the beginning.  It was just an incredible time.  It was kind of what Sam Phillips must have felt about Sun Records in the fifties.  It was just a time that was incredible for music.  People were just very open to it.  It fostered and nurtured creativity.  All of us nappy little kids growing up at the Jersey Shore were in an environment where there were tons of places to play.  There was a huge audience for it.  It was just a magical time. It enabled everyone to kind of develop their craft."
Most of the kids at the Upstage were from Asbury Park or nearby towns like Ocean Grove and Neptune.  David Mieras, and his friends from Ocean Grove, used to sit at a table in the corner, all the way in the back, in the dark with their sunglasses on.  As soon as they got to the club, they'd head straight for their usual table in the back. 
"It must have been cool or something.  We'd sit over in the corner in the dark like little wise guys.  I remember the first night Bruce came in.  He must have seen all of us kids from somewhere before because he came in and he had these dark sunglasses on.  It was so funny.  I'll never forget it.  He came up and his hair was real long, he had dark sunglasses on and he had like a fringe jacket, I believe.  I looked at him and said wow, who is that? He just came up to the top of the stairs and stood there. It was like who's this guy? Then, I realized I had seen him a while before playing somewhere like Hazlet.  He just kind of fit right in.
"The weird thing about it, and the cool thing about it, was that it was a place to get things organized.  Like any kind of activist type of event.  People would come from all over the place to Upstage and bring flyers, so you knew what was going on in New Brunswick.  Back then,  New Brunswick was the other music spot in New Jersey.  And it was strange, you'd have Black Panthers coming over there and dropping stuff off.  You know what's going on with them and things.  Organizations that were anti-establishment and stuff."
A major part of the personality of the club was due to its owners, Tom and Margaret Potter.  They were a pair of beauticians that owned a beauty salon next to the Upstage.  With a bohemian attitude and love of rock and roll music, they brought their vision to life.  Yet it's doubtful that they could have foreseen just how important their little coffeehouse would be to the history of the Jersey Shore music scene.  Many great artists got their start at the Upstage and few have forgotten those days. Both Tom and Margaret have since passed on, but they are remembered fondly by the club regulars and the musicians who played there.
"I remember they were all crazy," said Southside Johnny.  "We were crazy too.  He was this wacky, big, burly, bearded, larger-than-life, profane man who was a hair dresser and I hate to have to say it but he wasn't gay.  He was married to Margaret who was this gravel throated, chain smoking tough cookie guitar player.  And they were just a delightful pair.
"Margaret had her own band and she would recruit us to play in her band and we'd come up and jam. Occasionally she had her own band with John Luraschi, I guess.  He played bass with her, but if somebody wasn't there she'd come up and say, 'Can you play bass for me tonight?' It was standard material so we could do it.  She was a real black leather kind of rock and roller and Tom was just a force of nature."
Tom Potter was the type of guy who could put a scare in you until you got to know him.  Billy Hector, one of the best blues guitarists at the Jersey Shore recalls meeting Tom at the Upstage.  "I went there when I was thirteen.  I got up to play and was asked to leave.  They had an open mike thing there and I got up there and we played a little bit.  So I'm up on stage, tuning up, and he (Tom Potter) tells me to 'stop farting around and start playing some music or get out of here.'"
Skip McGrath, another regular at the club, remembers being with Greg Potter and meeting his parents, Tom and Margaret, for the first time.  "What a trip!" recalled Mcgrath.  "It was kind of like looking into a looking glass and seeing the future of what was gonna become Upstage. It was like Beatniks meet Hippies."
The second floor contained a life-size fluorescent green mermaid suspended from the ceiling along with a bunch of fish netting.  This led to some people referring to it as the Green Mermaid Cafe.  It was a typical 1960s coffee house.  The room was dark with candles on the tables and kids too young for the Upstage crowd could be found hanging out there. 
"In the beginning, the way it started out at the Upstage it was only the coffeehouse," said Mieras.  "There was no third floor.  No rock hall, that's what I called it.  It was just a little, small coffeehouse.
"They had a stage that was built with curtains, nice velvet curtains and little stairs you'd walk up to.  It was like a little stage that you would see in a school.  It was small.  And people would go up there and play folk music.  We'd even put on little plays and things like that.  You've got to understand, we were very, very young.  When they opened Upstage, I think I was 13 years old. It was all under 21, absolutely.  It was kids."
"Although a day-glo green mermaid hung from the ceiling, as some sort of gesture toward decoration, I don't know anybody who ever called the place the Green Mermaid Cafe," said Robert Lee Hefter, a guitarist who played at the coffeehouse.
"I was a solo guy, playing 20-25 sets per week on the second floor stage," said Hefter.  "I did only acoustic covers - Dylan, Simon & Garfunkel, Beatles of course and some lesser-known artists including Tom Rush and Fred Neil.  I never took part in the jams, but every now and then Bruce would take a break from upstairs and come down and back me up, taking leads and fills.  He gave me one of his songs, 'The War Is Over,' to arrange for solo 12-string and it went over really well.  It was obvious even then that he lived to play.  I had a wife and a day job.  Somebody once said that if you have something to fall back on you will, and I did.  Music was always something I did for myself and while I did have some vague dreams of someday achieving big things as a singer-songwriter, I never put them above all else as most of the great ones seem driven to do."
Hefter believes that he was the inspiration for the line "Some Hazard from Harvard was skunked on beer playing backyard bombardier" from Springsteen's "Blinded By The Light."  According to Hefter, he took a summer session course at Harvard in 1969.  "Backyard Bombardier" refers to the fact that he once told Bruce that he had no interest in going on the road, but was "content to wow the crowd at the Upstage."
Tom Matthews was a regular patron of the coffeehouse.  He remembers a unique dessert experience found there.  "They served what was called the Orgy," said Matthews.  "It was a sundae made with an entire gallon block of chocolate, vanilla, and strawberry ice cream.  Supposedly if you could finish one by yourself, it was free. They also served a smaller version called Half an Orgy."
Around the country, the popular music of the time largely centered around the heavy sound of guitar heroes.  The music at the Upstage reflected this as well and the jams included songs, which sometimes went on for as long as 30 minutes. One of the local musicians, Tony Amato, found his calling at the keyboard because it was one of the few instruments in demand at the Upstage.
"You'd go to Upstage and there was like three keyboard players," explained Amato.  "You had David Sancious, Danny Federici, and Kevin Kavanaugh, the original keyboardist from the Jukes.  That was the keyboard players.  Drummers you've got Bobby Williams, Vini Lopez, you had about fifteen drummers.  You know, a thousand guitar players, five hundred bass players.  Because at the time Led Zeppelin was big, Hendrix was big and power trios.  It was hard to find a keyboard player."
Tony Amato, or Baccilupe as he's known today is one of the few musicians of that era that can actually lay claim to being from Asbury Park.   He had a special relationship with the Potters' since his father was their accountant.  "It was kind of hard for me to hang out at the Upstage and not get caught.  It was like if you come home after twelve, I'm locking the door.  So he'd lock the door and we'd go to sleep under the Casino over there or something or we'd stay up in the Upstage."
"They used to call the Upstage the cheapest motel room in town because by the time you got out the sun would be coming up," added Big Danny.  "So, loads of people would come down from North Jersey, stay there all night and then go nod off on the beach all day."
"I used to do everything there," added Amato.  "During the daytime, sun comes out, everybody's got to leave.  They'd clean up and then you'd start all over again.  It was just one big jam session.  Most of the guys wouldn't show up until after their gigs were over.  Like Bruce and his band, they'd be out about 9 doing some stuff and then they'd be done and come rolling in.  Everybody gets to play.  You start out with your bands and the bands playing, then everybody starts mixing and mingling.  That's how we met each other.  That's how we met everybody.  Basically we created this, whatever you want to call it, sound of Asbury Park."
The Upstage had a very short but brilliant run.  After the race riots hit Asbury Park, many places were forced to close simply because people were afraid to be there and the Upstage was no different.
"In 1970, Tom (Potter) made really good money, a lot of money for the time," said Mieras.  "And the next year he went broke.  A lot of people won't admit that that was the downfall of Asbury Park, but there's no doubt in my mind.  We were the ones that were down here, we knew what was going on and what was happening.  All of our parents shopped there.  Suddenly, people just didn't go there anymore.  They were scared.  Who wants to go somewhere where they're scared?"
The Upstage lost its primary audience around the same time that the musicians and patrons were becoming of age to get into bars.  The musicians would move to higher paying gigs at clubs like the Student Prince and Sunshine In.  
"At the Upstage you didn't make any money," explained Chinnock.  "You made fifteen dollars a night and you played from 9 p.m. until 6 a.m.  It was a time when everyone could hone their craft."
The days of endless jamming were replaced with trying to make a living.  Just as the riots had signaled an end to innocence throughout the town, the closing of the Upstage marked the end of an era.  In the end, the Upstage will be forever remembered as a club unlike anything Asbury Park had ever seen and probably will ever see again.
"Everybody was there for the music," agreed Amato.  "You had the hippies, the beatniks and the greasers.  There was nobody better than this one or that one, or at least they weren't fighting about it.  There wasn't all this other bologna that goes along with it.  You know, like fighting for position."
David Sancious wishes there were more places like the Upstage where young musicians get a chance to work on their music.  "It was great to have a place like that to play and the challenge of being good enough to ask to be in a jam," said Sancious.  "It was a whole thing because back then it was all about practicing and getting better.  What I remember about everybody back then, Bruce and everybody, was that we were all very serious about the music, about wanting to be good and wanting to be better and really do it for real.  So there was a lot of work that went on just you in your bedroom at home, getting it together.  And then you'd come out and want to develop that with somebody.  You always wanted to be in a band or forming a band, jamming with somebody.  It really tremendously helped me.  It all helps.  I mean, that's part of your history."
For all of us who grew up long after the Upstage had closed its doors, we can only imagine what that period of time was like.  We walk past the building where the Upstage once stood and can only wonder what it was like to see these emerging artists at such a crucial stage of their development.  Music was everything to them and this club gave them a place to experiment and grow as musicians.  Who knows what their careers would have been like without such a place.  Maybe the constant battles to be the best molded them into who they are today.  To the

musicians who played there and the regulars who came every night, there will never be another place like the Upstage. 
---
From the book Are You Listening? The Top 100 Albums of 2001-2010 by New Jersey Artists by Gary Wien
---
---
Gary Wien has been covering the arts since 2001 and has had work published with Jersey Arts, Elmore Magazine, Princeton Magazine, Backstreets and other publications. He is a three-time winner of the Asbury Music Award for Top Music Journalist and the author of Beyond the Palace (the first book on the history of rock and roll in Asbury Park) and Are You Listening? The Top 100 Albums of 2001-2010 by New Jersey Artists. In addition, he runs New Jersey Stage and the online radio station The Penguin Rocks. He can be contacted at gary@newjerseystage.com.
---