By Gary Wien
originally published: 01/26/2012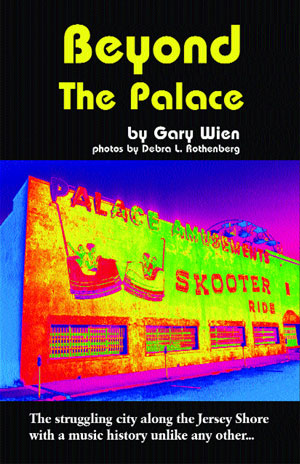 Historians and rock and roll fans will forever remember the Student Prince as the place where Bruce Springsteen and Clarence Clemons first met.  As the story goes, friends of Clarence had been telling him to check out Bruce's band and so he did on a very stormy night.  The wind was howling and blowing up and down the boardwalk.  When Clarence opened the door, a huge gust literally ripped the door off of its hinges.  Clarence saw Bruce on stage and yelled, "I want to be in your band."  Seeing the very large man standing in the  doorway that no longer had a door, Bruce replied something like, "Sure, you do whatever you want."
The Student Prince was located at 911 Kingsley Avenue.  It was a major part of the music scene at the time.  Many of the great Jersey Shore artists like Bruce Springsteen, Southside Johnny, Little Steven, Billy Chinnock and David Sancious were all known to play there. 
"It was small," recalls Billy Chinnock.  "The stage was on the right, and it was always jammed.  You'd squeeze through the door and it'd be all you could do to be able to make your way to watch the band.  The bandstand was really high like at the Fast Lane and the Pony in later years.  There were times when you couldn't even move when we played. Jammed!"
For artists like Southside Johnny and Steven Van Zandt, the Student Prince provided an opportunity and a venue where they could take some musical risks.  It was sort of a bridge between the free-form days of the Upstage and the Stone Pony.
"The Student Prince was great," said Southside Johnny. "The guy who ran the Student Prince was an interesting guy.  We could con him and he kind of went with the folly.  I remember Steven and I put together a band, but we wanted to do a lot of blues at that time.  I guess this was the late 60s.  Bruce was on the West Coast, I believe.  And we kind of formed a strategy that we wanted to do a lot of Elmore James and Muddy Waters, but he wanted to do reggae and we wanted to explore a lot of different things. And Ry Cooder was a big influence because he was exploring a lot of these kinds of music so we wanted to try some of that.
"Steven was the first guy I really knew that knew about reggae.  I really didn't know that much about it, but he had found a bunch of wacky compilation albums.  It was great! But we say we'll never get in anywhere.  So we learned two Rolling Stones songs.  I think it was 'Jumping Jack Flash' and 'Brown Sugar' or something like that.  And we went in one night and a band was playing and we said, 'Can we audition?' There was like two people in the club.  So he said, 'Sure, go play some songs.'  We played the two songs and people went nuts.  You know, Stones songs.  So he said, 'Great! You've got a two week booking.'"
---
The article continues after this ad
---
---
"We proceed to go in there and play all blues and these bizarre reggae and R&B things and we never did the two Stones songs," continued Southside.  "He came over to me one night said, 'What happened to those songs that people really liked?' I said, 'We don't do those any more.' But we ended up having a following there.  We started to draw fans from there, things like that.  It's just that was what I was into.  I forget what the name of the band was.  Funky, Dusty and the Soul Broom or one of those bizarre Steven names."
Many of the musicians that jammed or hung out at the Upstage would play at the Student Prince.  It was almost like a stepping stone for them into the world of playing in bars.   One such band was Sunfield with Skip McGrath, who frequented the Upstage often. His band had a regular gig at the Student Prince.   "We only played all original music and had five part harmonies, stuff like Crosby, Stills & Nash and America," said McGrath.  "I think we were the only ones around doing anything like that.  I remember times when Bruce and the E-Street or pre E-Street band would stop in for a cold one and listen to our band.  Boardwalk musician Kevin Conklin was a member of our band.  He was one of the best acoustic guitar players around. Unfortunately, he was killed by a car."
The most famous band to come from the Student Prince was, of course, the Bruce Springsteen Band.  This band featured many of the members which would ultimately back Bruce as the E-Street Band.   Robert Salzmann, who remembers seeing the band for the first time.
"My best friend, Bob Strusz, went to art school in Plainfield with Vini Lopez's then girlfriend Beth," said Salzmann. "Bob's car had some problems and I gave him a ride to school one day. We ran into "Mad Dog" (Vini Lopez) who was dogging Beth and we shot the shit and shared a joint. Vini raved about this band that he was playing in and carried on about the lead guitarist some Bruce fellow. Our musical tastes appeared to be similar and Vini was charming as well as very convincing so we agreed to drive down to the Student Prince in Asbury Park.
"The place was empty except for a couple of roaches. There must have been about 12-15 people, including groupies and friends of the band and the two of us.  We sat at the bar about 15 feet in front of Bruce and Steven. They were fantastic! We requested songs by Chuck Berry and the Rolling Stones and supplied the guys with beer during the breaks.  They were really good at covering the blues.  The next day we spread the word up north (Metuchen area) and made arrangements to return with another group of people for the Saturday and Sunday shows. The word continued to spread through New Jersey and in the following weeks the audience started to snowball."
Salzmann would make the trek from Metuchen to Asbury Park often to see the Bruce Springsteen Band play at the Student Prince.  He had a beat up old 1964 Mercedes Benz as his ride.  The car had once been used as a dealer's loaner car, but was still a pretty cool car in the early seventies.  Times being as they were, the smell of cannabis often replaced the smell of leather when you opened the car's door.  It was like a "hippy mobile" designed to bring Robert and his friends to the Shore.  Dressed like a bunch of rock and roll gypsies in their jeans, denim jackets and flannel shirts, seeing the Bruce Springsteen Band was one of their favorite ways to escape their daily lives.  It certainly was the more legal approach.
"One night my friend and I were invited by the drummer to see the Bruce Springsteen Band perform," said Salzmann.  "During the 30 minute drive down the Garden State Parkway, we got thoroughly buzzed.  At the show we had several beers.  During one of the intermissions we decided to step outside, walk around the block and get re-buzzed.  We invited the drummer to join us on this quest for 'fresh air.' He accepted the offer and commented positively on the wisdom of the proposal.  While sharing a joint outside the bar we were approached by Bruce Springsteen.  We invited him to join the gathering.  He looks over, smiles and gestures 'no thanks' by waving his hands back and forth.  We shrug, smile back at him and continue to pass the thing around..."
Tom Matthews remembers going to the Student Prince a lot during the summer of 1973.  That was the year New Jersey lowered the drinking age to 18.  Tom, like many other 18-year olds, suddenly was able to see the Asbury music scene in action.  He recalls seeing bands like the Bank Street Blues often at the Student Prince and watching guys like David Sancious take part in jams.  "It was like a smaller version of the Stone Pony," he said regarding the club.
"The Student Prince was like this real sleazy little bar," said Sonny Kenn.  "You went there because you could play there.  They didn't pay much money, but you could play."
In later years, the area where the Student Prince was located became known as Club Xanadu, a popular bar in the eighties that hosted local and national acts, and more recently as Seductions Go-Go.  It has not been in use for several years now, yet another abandoned building in Asbury Park hiding a wonderful musical history inside its walls.
---
From the book Beyond The Palace by Gary Wien
---
---
Gary Wien has been covering the arts since 2001 and has had work published with Jersey Arts, Elmore Magazine, Princeton Magazine, Backstreets and other publications. He is a three-time winner of the Asbury Music Award for Top Music Journalist and the author of Beyond the Palace (the first book on the history of rock and roll in Asbury Park) and Are You Listening? The Top 100 Albums of 2001-2010 by New Jersey Artists. In addition, he runs New Jersey Stage and the online radio station The Penguin Rocks. He can be contacted at gary@newjerseystage.com.
---