By Gary Wien
originally published: 01/26/2012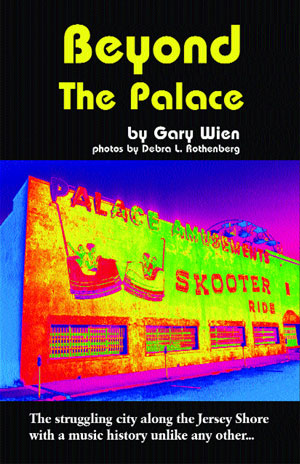 Red House was formed by a bunch of guys in Union County in the early 80s.  They became one of the most popular bands along the Jersey Shore and one of the leaders of the alternative scene taking place in clubs like the Green Parrot and the FastLane.
Success came quickly for Red House after the release of an independent record in 1987.  The band found themselves on the cover of the College Music Journal (CMJ), an unheard of feat for an unsigned band.  Record companies were soon bidding against each other to be the one to sign them. Red House ultimately signed with SBK and released a CD featuring the alternative hit "I Said A Prayer."
Unfortunately, problems with the label surfaced after the band's first tour.  A second record was recorded but never released.  The band ultimately called it quits and headed their separate ways.  I was able to conduct phone interviews with all four of the original band members of Red House, a band that always deserved a better fate.
The band started out as Toys.  How did that name come about?

We had some trouble coming up with a name back then, and it was a bunch of different names.  So that's how it started.  I think we didn't really start heading down to the Asbury area until, I guess, we got good enough to start playing at the Stone Pony and the Fast Lane.  I guess those were the kind of places that we always thought if we got there, we're really doing something.  You know, get on the stage of the Stone Pony.
There was something special with the Jersey Shore scene at the time with 106.3 and bands like Red House, Dramarama, Whirling Dervishes and the Blases and clubs like the Green Parrot.

Yeah, I think probably it was a combination of the live music scene between the Pony and the Green Parrot and the radio station, which was local to the area.  There were a lot of different bands that were around at that time doing a lot of good stuff.  So the whole combination really did make it feel like there was something special going on there besides Bruce Springsteen.
What do you remember about the Green Parrot?

At times, I felt that maybe other bands might have resented the fact that we had kind of taken over the Green Parrot in a sense.  It seemed to me the doors were open to anybody, but evidently I think it was just monetary because we could bring in more money than anybody else.
---
The article continues after this ad
---
---
And, it seemed like the DJs really liked you guys and the place was pretty much run by 106.3 employees.

Yeah, that's right. So, maybe some folks felt it was a little too incestuous and it wasn't fair to other bands.  I always felt that, on one hand, it was nice that we kind of had a shoo-in, but, on the other hand, I felt there might have been some resentment with other bands because of that because we were too comfortable there.
Could you notice a difference in the crowd between the Green Parrot and the Stone Pony?

There was a whole different crowd at the Green Parrot.  That was a younger crowd, maybe a more college-oriented crowd.  The music was more on edge, more fresh.  I mean, I saw the Ramones at the Stone Pony and more established bands like that.  There was a little more attitude there.  They didn't allow as much new music in there, and didn't experiment as much as the Green Parrot did.
The Stone Pony crowd was certainly... well, it wasn't as alternative.  I guess, at that point in 1988-1989, the definition of alternative music was really the Red House for lack of a better definition.  Because we weren't playing anything that you could hear on the radio in the area.  I don't know where REM was classified at the time, but the so-called alternative has turned into something that is completely different than what we were doing.  But, if I remember all the tags that were used to describe us, alternative was always used.  We were in the alternative press - CMJ was alternative.
Red House was from North Jersey.  Did the band feel like they were a part of the Jersey Shore scene?

Yeah, I think we did.  We'd been playing there so long and I don't think there was too many bands from that area.  I mean, the Smithereens were from up north and Dramarama was from up north too.  So there really weren't too many bands doing originals at that time in the area that were making any noise.  As far as I know, we were the first ones to really get an independent record on WHTG and Mike Marrone was the champion of that. 
When we put out our first LP, our first independent, that really started the ball rolling for us in that area.  Of course, we couldn't get on the radio anywhere else.  We did dabble with some college radio, but there was really no coverage as far as the college stations were concerned.  So WHTG was really the one that started everything.  They gave us a much wider audience than we would have gotten otherwise.
Did you notice anything right away when the CMJ report came out?

Oh yeah, that was a big thing.  We created that first album, which we recorded in the basement and then it wound up on the cover of the College Music Journal.  Partly due, I guess, to Mike Marrone being the champion there and party because, I hope, the merit of the music. 
I think it was maybe a week or two after, that we got mail from RCA Records and they wanted us to come in.  We were getting phone calls because they wanted to check it out, see what was happening, find out why we're on the cover.  So that was pretty exciting when it happened.  And it was all because of champions, people who really believed in the music like Mike Marrone and others.  I guess that was also the time when WHTG was new so they were able to take chances.  They didn't have the format or weren't as formatted as they are today.  I guess they weren't making as much money as they are today so that probably has a lot to do with it. 
I think we also sent our first record to WFMU, but it wasn't the right kind of music for WFMU.
Do you remember your first show in the Asbury Park area?

I would say that the very first place we ever played as a band in the Asbury Park area was probably the Stone Pony.  I think we were playing there before T-Birds was even open.  We played T-Birds a lot.   See, we used to play down in a place in Seaside called the Chatterbox.  We played there once, it was a battle of the bands.  It was in the dead of the winter, January or something, and we were all excited because we got to play down at the Chatterbox.  I bet that place burned down.  All the places we played burned down. 
The Green Parrot was our second home.  Our first home was a club called Mingles in South Amboy.  That one burned as well, and after that we had to find a new place.  So then, I think truly between '88 and '89, we really felt at home in the Green Parrot.  We were comfortable with the people who worked there and we pretty much had gigs whenever we wanted.  Because of our record coming out and the radio station, we started to sell out the club on a Saturday night.  So, because of that, it really did feel like something special.
How did you guys get involved with your manager Rich Stanley?

He was booking the bands there at the club and we didn't have a manager.  We figured we needed someone to handle that kind of work; the managerial, bookings and all that kind of stuff because nobody in the band wanted to do it.  So we met him there and asked him.  He refused for a while, but I guess as things started to progress he thought maybe it was a good opportunity. 
And we stuck with him all the way through, even in the demise years.  There was talk about maybe we should get a new manager, but I'm glad we didn't jump ship.  We stuck with everybody who was there from the beginning regardless and although we didn't turn out to be a big success, at least I'm confident that we did the right thing with everybody.
Was it disappointing that the record label didn't really seem to push you guys as much as they could have?

What happened was they claimed the single was doing okay, but it didn't perform as well for the money they were spending on it.  They've got some kind of mathematical ratio showing the money they should spend and the response they should get.  And they didn't get the response for the money.
The record label paid for everything: the videos, the albums, traveling... And that was nice.  It makes you feel kind of good.  We spent all those years in the Green Parrot moving all of our own equipment and now we were able to grow up a bit and go out on the national scene and we did that around 1990.
Adam Schlesinger from Fountains of Wayne, played keyboards with us for a while.  He recorded with us when we were recording our third album.  We recorded our third album, but it never got released.  They dropped us before they would release it.  That was a real toughie because things were going very poorly with the record company.  They had brought in people to write songs with Bruce.  They brought in this guy, Frankie Previtt, who wrote the big single off the Dirty Dancing soundtrack and then they brought in the guy who wrote "Eye of the Tiger" for Survivor.  As a result of the Memphis session, it was just a big mix of what we thought the record company wanted to hear and what we could tolerate. 
In hindsight, that was the beginning of the end when they started doing that.  For us, it was like a last gasp.  We tried to do what we wanted all of the time.  All through our career through Asbury through all the places we played and everything we did.  At that point, in our careers, when they started bringing in the songwriters everything fell apart because everybody started second guessing.  And that was the end. 
---
From the book Beyond The Palace by Gary Wien
---
---
Gary Wien has been covering the arts since 2001 and has had work published with Jersey Arts, Elmore Magazine, Princeton Magazine, Backstreets and other publications. He is a three-time winner of the Asbury Music Award for Top Music Journalist and the author of Beyond the Palace (the first book on the history of rock and roll in Asbury Park) and Are You Listening? The Top 100 Albums of 2001-2010 by New Jersey Artists. In addition, he runs New Jersey Stage and the online radio station The Penguin Rocks. He can be contacted at gary@newjerseystage.com.
---