By Gary Wien
originally published: 01/26/2012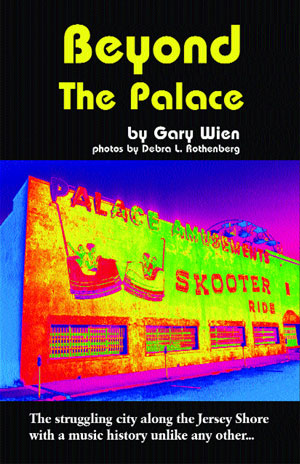 John Eddie may have been born in Richmond, Virginia but he's got Jersey Shore blood flowing in his veins.  A long-time favorite of local music fans from the Shore to Philadelphia and back down to Virginia, his live performances embody the definition of Jersey rock and roll music.
"It has that classic Jersey rock and roll sound I love," exclaims Kris a fan from Sewell, New Jersey.  "You can hear it in John, Bruce, Southside Johnny & the Asbury Jukes and Little Steven.  It just feels like home. It can be a ballad or balls out rock and roll and it's always perfect! These guys work harder in their live performances than anyone else and it shows in their music.  I never get tired of it."
One early fan of John Eddie's was Bruce Springsteen himself.  Bruce joined John on stage numerous times at places like the Stone Pony and Big Man's West.  The relationship between John and Bruce always seemed like a friendship based on a mutual love of music.  In 1984, John Eddie even cut short a show of his at the Stone Pony so Bruce Springsteen & the E-Street Band could kick off the start of the Born In The USA tour.  That's the kind of guy John is.
In the early 80s, the Jersey Shore music scene needed a kick in the pants.  The glory days, when bands like Southside Johnny & The Jukes, the Shakes and Cahoots lined crowds up along the block, had passed and Asbury Park was no longer seen as the place to be. John Eddie proved that Asbury Park still had plenty of life left in it.
John and his band the Front Runners became yet another Stone Pony house band to gain national attention.  And after several years on the club circuit, John released his self-titled debut album on Columbia Records in 1986. The album contained the hit song "Jungle Boy" which shot John into the spotlight.  Unfortunately, he was hyped up as the next Bruce Springsteen - a label that would stick with him throughout his career.  Later that year, John Eddie had the distinction of being the opening act at Amnesty International's show held at Giants Stadium in East Rutherford, New Jersey.  He went on tours supporting acts like Bob Seger and the Kinks and gained fans around the country. 
John Eddie released a second album on Columbia called The Hard Cold Truth which didn't sell as well as hoped.  After his contract with Columbia was finished he signed a new deal with Elektra Records.  He recorded his third album for Elektra but the label chose not to release it.  Ironically, a few years later, John would score a minor hit with his cover of the Cure's "In Between Days" which was released on Elektra's 40th anniversary compilation album Rubaiyat.  That cover remains a popular favorite of John Eddie fans.
---
The article continues after this ad
---
---
Even though John routinely packed the house in clubs throughout the East Coast he wasn't seen as a commercial success.  Some people feel he may have gotten lost in the comparisons to Bruce Springsteen.  Others feel he should have gone the country route.  Although his influences were similar to Springsteen's, his songwriting and vocals are very different.  But John never let anything slow him down or stop him from doing what he does best which is get up on stage and put on a great show.  He continues to tour regularly throughout the country with a heavy concentration on the New Jersey and Pennsylvania area.
"Probably the best show of John's I've seen would be the CD release party for Guy Walks Into A Bar on June 2nd, 2001 at the Stone Pony in Asbury Park," said Jeff from Westminster, Maryland.  "It was his first show after a break from touring, the crowd was unbelievable and the band was as good as I've ever seen them.  Lots of new songs which was a real treat. Not to mention the best version of 'Judy's Party' and 'No Surrender' I've ever heard.
"Truth be told," continued Jeff. "Probably the thing I like most about John's live shows is that he gives his all whether it's for a small crowd of less than 50 or when he's the opening act in front of an unfamiliar crowd that's never heard of him or playing before a packed house that's been waiting just for him.  Nothing is taken for granted and there's no better time to be had.  His sense of humor and great personality come across in his performances and I've never seen anyone be disappointed by his shows."
Kris from Sewell thinks all of the John Eddie shows are good but if any had to stand out it would be the two shows at Trump Marina in Atlantic City over the summer of 2002.  "These were both free shows and held outside," said Kris.  "The sound system there is perfect and it's a nice bar-deck on the marina.  The first show in June was awesome! The weather was perfect, the crowd was into it and the band was hot!  It's cool to see the younger kids and families all dig the music too, you don't get that in the bar.  The later show was in August and it rained most of the show but that didn't stop John or the 'faithful' from rocking it out.  It almost made the show a little special."
After his ups and downs in the music industry, John Eddie now appears more at peace on stage and his recent lyrics show a maturity from those on his first two records.  "He writes about topics that mean something to me, whether it's fun and light-hearted or serious," said Leslie from Hummelstown, Pennsylvania.  "I love his early stuff but musically the newer songs are more 'mature' and complex.  You can sing along, dance and genuinely feel the music.  I've seen a tremendous number of live artists in the last five years and nobody has hit it with me like John's music has."
A few years ago, John started his own record label called "Lost American Thrill Records."  Releases on this label include his own Seven Songs Since My Last Confession, Happily Never After and the live album called Guy Walks Into A Bar. The label also has acquired the rights to John Eddie's first two albums and now offers them as one double CD.
Recently John Eddie has been crisscrossing the country playing shows with such diverse acts as John Hiatt, Ryan Adams, the Jayhawks, Five For Fighting, John Mayer, Ian Hunter, Graham Parker and Big Head Todd and the Monsters.  His record label made a deal with Lost Highway Records of Nashville so his last record released in May, 2003 - was once again put out on a major label with distribution across the country.
As with many of the Jersey Shore artists there's a strong community of fans that have supported and continue to support John wherever he plays.  "The faithful" as they are called are sure to be found whenever John takes the stage at the Stone Pony in Asbury Park or the Conduit in Trenton or wherever John is up on stage performing his good old-fashioned rock and roll music.
"Yes, I would definitely consider myself one of the faithful," said Leslie from Hummelstown.  "I'd imagine I've topped 75 shows by now and John plays private parties for a group of us fairly often.  There's a song I think he told me he wrote when he was 17 called 'I Want A Kiss' - it's hysterical. He won't play it live except at the private parties."
John's humor has never been more apparent than in the song "Fuckin Forty" where he talks about surviving and growing old in the music business.  In the song John knows that he'll most likely never be the giant superstar he once might have hoped to be, but that no longer matters. Besides he's still ten years younger than Bruce Springsteen!
John Eddie likes to make fun of his lack of recognition with the slogan "Who the Hell is John Eddie?" Well, to fans of Jersey Shore music that question is pretty easy to answer.  We've known who he is for years and years. He's a great performer. And, above all, he's a great guy.
"I have to say that John Eddie is one of the nicest, funniest and most sincere performers I have ever had the pleasure of meeting," said Jeff from Westminster.  "He is genuinely concerned about what the fans want, humble to the point of almost being insecure and incredibly grounded.  Maybe part of this is due to being so close to grabbing the ring and then having it snatched away a couple of times, but I really think it comes from within him.  He is always willing to spend some time talking with fans, joking but also giving insight into the man and the music."
---
From the book Beyond The Palace by Gary Wien
---
---
Gary Wien has been covering the arts since 2001 and has had work published with Jersey Arts, Elmore Magazine, Princeton Magazine, Backstreets and other publications. He is a three-time winner of the Asbury Music Award for Top Music Journalist and the author of Beyond the Palace (the first book on the history of rock and roll in Asbury Park) and Are You Listening? The Top 100 Albums of 2001-2010 by New Jersey Artists. In addition, he runs New Jersey Stage and the online radio station The Penguin Rocks. He can be contacted at gary@newjerseystage.com.
---