By Gary Wien
originally published: 01/26/2012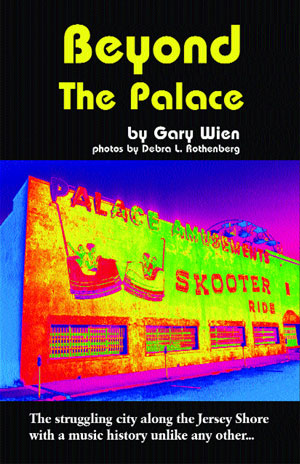 James Deely was born in Washington, DC, but he grew up in New Jersey.  After studying music in Los Angeles and a brief stint in the LA based pop-rock band the Palisades, Deely returned home and put together the Valiants.
James Deely & the Valiants was one of the few bands to bridge the gap between the alternative world of the Green Parrot and the "Asbury Sound" of the Stone Pony.  In the mid-80s, the band became known for great songwriting and raucous shows in clubs from Long Beach Island (LBI) to Asbury Park, including regular shows in Philadelphia and New York City.
The band released three albums (Beyond The Beaches, Set The Night On Fire and Custom Made) and had steady airplay on radio stations from Philadelphia to the Jersey Shore.  When the run was over, Deely joined the Disco Rejects led by Vini Lopez for a brief while.  He moved to Florida and formed the Big Show before heading out to California.  Deely currently lives in Los Angeles and continues to write and record songs.  His last record, El Corazon Negro, was released two years ago.  I spoke with James Deely via phone about his memories of playing along the Jersey Shore.
The first band I remember you from was James Deely & the Valiants.  Did you have any bands before that?

No, that was pretty much it.  That was the start of the show... the long journey. (laughs)  We started playing right around '84-85.  I had just come back from music school in California.  We were playing in the DC area, I was living with my folks down there.  Then we started to realize that to really get something going we had to go up to New York.  I had lived in New Jersey for a long time, so I moved back to Long Beach Island and that's when we started playing clubs.  We had a few newspaper articles written about us and then we did our first recording.
It all kind of came out of Long Beach Island.  There was Joe Pop's, the Tide, backyards... anything we could to play back then.  We had a kind of built-in audience, which was good.  And then we started making money and it was like what's the point in going anywhere? We can drive 4-5 blocks and make some cash here! Soon other bands figured it out and started going there.  LBI was a place to go in the summertime and make some money rather than just play.  I mean, you could actually make some real cash there.  It had a built-in audience and a built-in bar scene, we couldn't resist.  We loved playing there.  It was almost like we stumbled upon it.  But then we realized that we had to get in touch with people like Chris Barry and start playing the Pony.  We started going to Philadelphia and New York because we knew we had to.  Our first album was called Beyond The Beaches because we knew we had to get past LBI. 
We put that one out on cassette at Garry Tallent's studio, Shorefire.  The radio station said, "We'd love to play it, but we can't play a cassette." So we had it made into a vinyl and actually I've recently been in the studio transferring that vinyl into a CD.  The whole thing was like a bunch of kids running blind.  We didn't know what the hell we were doing.  Here we were after just starting out in these back yards in Beach Haven.  The next thing we know we're in Shorefire Studios and we did two albums there.  That was kind of neat.
---
The article continues after this ad
---
---
Your band was definitely a mainstay of the Long Beach Island scene, did you guys feel a part of that Asbury scene as well?

Yeah, they definitely opened their arms to us.  It felt great too because that whole scene with the Green Parrot was really cool.  They were just awesome and we had a blast over there.  There was this weird thing going on with bands - you either played the Green Parrot or you played the Pony.  Somehow, we managed to do both.  We kind of slipped in and out of both places, sort of flew under the radar.  There was the whole "are you with Springsteen or not with Springsteen" thing going on.  The Stone Pony was Springsteen and the Parrot was more of an alternative scene.
What was your first show at the Stone Pony like?

It was Chris Barry's World Beyond on a Tuesday night at midnight.  I remember when we got our first gig there we were all excited.  We didn't know then that there'd be about ten people there.  But then we ended up playing there later on and got a little thing going there.  It was one of the first places outside LBI where we started to get something going.
Then the Green Parrot came along and that was really nice for us because they had the radio station built-in and they would just coordinate the radio station and the club.  It worked out great! That one DJ there, Loretta (Windas), she was playing us all the time.  I think that they had to tell her to stop playing us.  The program director was like, "Are these guys paying you?"
One thing people always seem to remember is that your live shows didn't seem to transfer the same way as your records did.

Right, well we were heavy drinkers! There was a lot of things happening back then.  That's why it was kind of good to stay close to Long Beach Island because we couldn't get into too much trouble there.  If we got drunk we could just stumble home.  Those were some dangerous days.  I ended up getting an apartment in Asbury because I was spending so much time there.
I think looking back on the whole thing, I was really serious as a songwriter but as soon as you put me and these guys in the element of a bar with a lot of alcohol and a lot of women our attention span was very limited.  We started thinking more about the women and the booze than going out there and putting on a great performance.  I don't regret a thing that happened.  We had a lot of fun.  But as far as that place where commerce meets art, we kind of chose the bar over that.  We wanted to have fun and we wanted the people to have fun.  That didn't always involve a perfect sounding set.
The live stuff used to sound much harder than the records.

Yeah, we were all jacked up on some booze or something! We were really heavy drinkers.  As a matter of fact, that's why I had to stop playing.  I got a bit older and it became too hard on my body.  I got to that place where you either quit drinking or you calm down.  
Even with the inconsistent shows, lots of people were paying attention to the band.  How close were you to signing a deal?

We came close, but I think the word that came back to our manager was how people would see us one night and think we were the greatest fuckin' band in the world and then come back two nights later and we were all drunk and sounded terrible.  That was one of the things that plagued us.  There were bands like Red House that were really disciplined and had their shit together.  They got the record deal.  They approached it like a business where we really didn't.  We approached it like it was an opportunity to meet women.
That may have been our downfall as far as a long term way to make money in the music business.  But when I look back now, I think the way things happened really happened for the better.  I had a good time and everything... We did some great music and I didn't get killed.  I'm still alive to tell about it.  It's a little scary to think what would have happened if we actually had some money back then aside from the $80-90 bucks we made each night.  If we had some real cash rolling in we would have ended up in therapy or Alcoholics Anonymous.  It was out of hand.
We had a great time, we didn't get the big record deal but look at what we did do.  We were on the radio! I mean, not only was WHTG playing us but we were getting played on WMMR in Philadelphia and Y-107 in Long Branch.  We were getting played almost as if we had a record deal.  The band was recording in Garry Tallent's studio turning out 24-track masters.  It was like the only thing missing was the record deal.  We were just young and crazy and wild.  We wouldn't listen to anybody. 
Did you ever imagine doing this for a career?

Yeah, that was the intention.  It was kind of like a paradox.  We intended on doing it but we also lived by that credo of the Replacements and that whole Charles Bukowski drunken artist type thing where you think you need booze to be creative.  We lived in that kind of world.
It's kind of hard because you want to do the right thing with music.  You want to be a songwriter and stuff, but there's this element of the bar.  Lots of people have had to quit drinking.  It's part of the business.  You've got to be responsible.
Everybody knows this going in from when you're 15-years old and starting out that there's no guarantee no matter what you do that you're going to be on the cover of Rolling Stone.  You've got to take the good, hope for the best and play your ass off!
What did you think about the constant comparisons of your music to Bruce Springsteen?

That was fine, I guess.  The thing was by sneaking in through the Green Parrot we didn't get as much of that.  The other thing was that I had a pair of guitar players who played like Peter Buck of REM.  So when you contrast those two things against each other - me having that heavy Jersey influence and the REM sound - it kind of offset a little bit.  It worked out good for us.  I wanted to do everything, to write all sorts of songs not just Springsteen type stuff.  When people heard me singing and doing my writing it kind of came off like a Bruce thing, but it was a little different.
So the Bruce comparisons didn't really play a role in you moving away from the scene?

I think I went to Florida more or less because I thought I had kind of played my hand out in Jersey.  It was kind of hard to re-invent myself in Jersey because people had seen me for so many years.  It just didn't go over the top, didn't click into that big record deal.  So, I was trying to figure out a way to re-invent myself a little bit and I went to Florida.  I met up with this keyboardist and we started doing more keyboard-oriented arrangements.
In this business, there's that window of opportunity and the only guy I've seen that has really expanded it is John Eddie.  He's got another deal now with Lost Highways.  That guy's had more record deals than anybody I've ever seen! It's just amazing the longevity of that guy without ever really going over the top.  He came really close to exploding a bunch of times, but he never went to that next level where Southside and Bruce went.  But he's still around... still banging away.
What would you say was the highlight from those days?

Getting played on the radio and hearing yourself on the radio.  The first time I heard myself on the radio was down in Philly on WMMR.  Later on driving through Neptune or Asbury and hearing us on 106.3 or Y-107 you just felt like pulling the car over, turning the speakers up and dancing on the hood! It's incredible to think of being a songwriter and having a song go from my parents' house in Brant Beach to a little tape deck to a little studio to Garry's 24-track and then to the radio station.  It was really a great thing.  I knew that if we were gonna have any future at all our future was getting on the radio somehow.  And we did it.
You released your last record a few years ago.  What are your plans for the future?

Yeah, El Corezon was released about two years ago.  I did that one out here in California.  We did it all through the Internet and kind of networked through the Springsteen fanzines and sold a bunch of them.  I've got another one ready to go actually, in my little brain here, but the main thing I want to do before releasing another one is get my website organized.  I also have a whole bunch of outtakes that are pretty cool that I'd like to get together and put out somehow.  Just some recordings that are pretty good that never made it on any albums.
The first thing I want to do is try to get a whole multimedia thing going with the website.  I want to make it a place where people can go and look at the stuff I've done in the past, and then we'll move into the future.  I have another album called A Harder Road that I've already run through demos, but I really feel like I've got to get the stuff I did in the past organized first before I start pushing something new.
Any regrets at all about not making it to that next level?

We made it baby! Believe me... We did everything we set out to do except land the big record deal and all that stuff.  I have no regrets at all.  We had a hell of a time, met a lot of great people and had a blast.  See, I think that's where some people forget about things.  They look at what they didn't get as opposed to what they got.  What I set out to do was make some great rock and roll records.  If we got signed and made some money, whatever happened after that it was fine.  And, if we didn't get the big record deal we still had a blast.
---
From the book Beyond The Palace by Gary Wien
---
---
Gary Wien has been covering the arts since 2001 and has had work published with Jersey Arts, Elmore Magazine, Princeton Magazine, Backstreets and other publications. He is a three-time winner of the Asbury Music Award for Top Music Journalist and the author of Beyond the Palace (the first book on the history of rock and roll in Asbury Park) and Are You Listening? The Top 100 Albums of 2001-2010 by New Jersey Artists. In addition, he runs New Jersey Stage and the online radio station The Penguin Rocks. He can be contacted at gary@newjerseystage.com.
---