By Gary Wien
originally published: 01/26/2012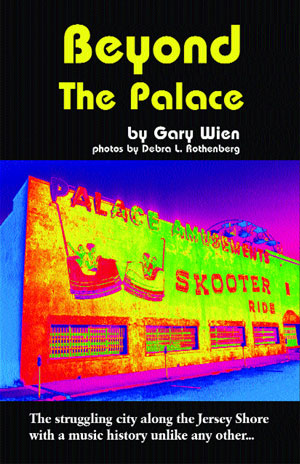 Danny White is proof that the Jersey Shore is still producing great singer-songwriters.  The Matawan-based artist writes songs filled with stories of people you feel as if you know.  His words capture their hopes and dreams like a modern street poet.  He has often been compared to Bruce Springsteen, a comparison not likely to go away

anytime soon.
White started out playing in clubs like the Brighton Bar in Long Branch and T-Birds Cafe in Asbury Park.  As his audience grew he moved up to where he became a regular for the Stone Pony crowd.  He has released a pair of critically acclaimed independent records and has received good reviews in publications like Billboard Magazine, the Aquarian, New York Times and the Asbury Park Press. 
Like many Jersey Shore musicians, he has been very involved in giving his time to benefit causes.  White has been part of such things as the Light of Day concerts,  Musicians On Call and Jersey Jams, Jersey Cares Organization.
I caught up with Danny White in Point Pleasant where he was playing a free show in a summer pavilion.  At the time he was just about to head back to the studio to work on his upcoming record due out in 2003.
When you first began playing clubs you started at the Brighton Bar in Long Branch, right?

The very first place I ever went out to with an acoustic guitar and just walked into and played was T-Birds in Asbury.  And then, like right after that, I found the Brighton down there on Sundays and it used to be packed every Sunday night.  There used to be open mikes. I guess they called it songwriters in the round or songwriters.  Anyway, it was an acoustic night on Sunday nights and that was the first time I ever really went out consistently and played acoustic - just solo guitar.  I guess it was probably right after high school.
Was it a paying gig?

No, these were just open mikes.  The cool thing about both of them was that they eventually turned into that.  We'd go down a couple of times, keep playing.  If they liked you they'd ask you back.  That was Jacko over at the Brighton.  He was really great with that. 
---
The article continues after this ad
---
---
I remember the first time I went out and played.  I played on a Sunday, I played three songs and I didn't get off the stage and he was like, "Hey, you gotta come back to this place.  You've got to come back and play a show with a couple other songs."  That was really the first place.  Jacko was a good guy.
When did you start moving to places like the Pony?

Pretty much when the Pony reopened. The last time we played the Saint it was sold out, luckily you graduate.
When the Pony reopened it seemed like they tried to get the old-timers as well as the new guys to play there.

Yeah, it was good that they actually gave younger bands a chance instead of just going with the guys who had played there for years.  They called you up and said, "Come on over."  That was cool.
That was around the time that you were put in the category as another guy from the Shore...  The next in line.

Yeah, yeah...
How do you feel about being thought of as the next in line?

Well, you know, I'm ready to take my turn.
Is that right?

The sooner the better, Gary.
Did you have many bands in high school?

Pretty much in high school I had one band, the same band and like anything else the same guys.   It was called a couple different things.  The longest incarnation was Parkway South.
So you had the Jersey thing from the beginning.

That was my drummer, he came up with it.  We couldn't think of anything better.  He was from Manasquan so whenever he drove home from Matawan he always saw the signs for Parkway South. It was actually not that bad looking back at it.  Better than anything I could come up with.
Did you have any gigs?

Yeah, we did a lot of friends' parties in high school.  We used to play the Deck House in Asbury Park.  It was two stories and you play on the second story with the window.  It's something else now.  They just redid it recently.  That was one of our good gigs in high school.
Were you writing songs then?

Yeah, we always did originals.  That's why our covers suck now.  Never had a cover band.  Well, everybody does Bob Dylan, but it was always originals - better or worse.
What would you prefer to be known as: a songwriter, a performer or what? What are you most proud of?

That's a good question.  If you don't have the songs... If you don't have good songs you can't - there's nothing to go out and play.  And if you don't have good songs they ain't going to want you back and no one's gonna buy your CD.  So, I guess, the songwriting aspect of it.  Because you're just sitting there with a guitar and there's nothing and hopefully a short time thereafter there's a whole new song, you know.  But it's two totally different things completely.  That one has nothing to do with the other.  
Who were some of the songwriters you liked while growing up?

I'm a big Tom Petty fan, Tom Petty & the Heartbreakers - always great, solid songwriting.  Always his songs to me made you feel like you kind of heard them but you didn't.  They're always comfortable and like your buddies.  Dylan is great.  U2 is a great, great band, I'm a big U2 fan.  Great songs, great sound. 
With newer guys there's a guy out there by the name Joseph Arthur. I don't know if you've ever heard of him but he deserves to be heard a lot more than he is.  He's on Virgin Records.  Two great records that he put out.  So I listen to him and that kind of stuff.  I like to hear a good song too.  That kind of stuff.
Now something like you did today, "Small Tattoos," is that something for the future? Is that this album? How quickly after you write it does it get to the studio?

I actually wrote that one a month ago or something.  If it's good, let's record it right away.  But a lot of times you come up with something after you have already done recording and you put it aside or you show the band.  If it sounds good then you play it while you're doing shows promoting that other CD.  I think you throw it in once and awhile just to keep up on it.  But this one, really we played so much after the last CD Beautifully Preserved Wrecks.  We played so much after that - like all over the places: Boston, North Carolina, South Carolina, DC, New York, New Jersey, Philadelphia - all over.  So we're playing so much that I didn't do a lot of writing actually. There was just too much other stuff to do. 
It just comes around naturally where you're like hey it's time for some new songs.  Like that one that you mentioned there, "Small Tattoos," that's like a month old.  We did it on a TV show in a different version just me and Jim acoustic on News12.  And, you know, we did it like that so that's one I would assume will be recorded.  It's getting a good reaction.  Will this upcoming record be an independent release? Do you have plans for it yet?
A full CD just really takes too much time.  Ten or twelve songs is a big undertaking to record.  It takes a few months and I've got the best band that I think I've had ever so I want to play as much with them as I can. We've had some opportunities with record labels.  We need better recordings.
Have you ever thought of putting the best tracks from the records you've released on one CD and then take it to record companies?

Yeah, well what we probably should have done the last time around instead of doing this whole CD, we should have taken three or four songs and had it done by a big time producer and went from there, had somebody big producing it and getting it in people's hands.  But, then again, I mean with that we got a nice feature in Billboard.  So maybe not.  Because you need those other things.  It all works into one.
When you had the write up in Billboard Magazine did that lead to a bunch of calls?

It opened up a lot of doors in other ways.  Opened a lot of doors to the producers that we're talking with now.  Everything leads to something else.  It's not like that anymore where you go out and play and so and so from Columbia Records just happens to be there and it's like alright you're in.  It's a lot of independent work.
How hard is it to get these indies sold?

Just as hard as it is to get a record deal.  It's all the same.  We do good selling them on the Internet.  Like on our own website and Amazon.com. There's a lot of others, we mainly stick with Amazon because people know if you buy your CD that they're going to get it.  And they're good in that they only take what you sell.  There's no up front fee.  That really helps an independent artist.  And everybody's heard of Amazon.  They're legitimate.  That's the most important thing.  You don't want someone buying your CD and then never getting it.
Tell me about the Millennium Rock and Roll Music Showcase that you guys played last year.  How did that turn out for you?

Oh God, how do you know about that? Man, you do your homework!  I don't remember that one.  It was in Harrisburg, Pennsylvania.  It was one of those indie-band showcases like CMJ or NEMA, any of those.  You go to have record company people, newspaper people, journalists, and stuff. 
It's in a hotel and you go and rub elbows with them.  You see what they can do for you and then you play a club in the area.  It's like the Boston, South by Southwest  - all of them it's all the same.  That's what they do. When we did the Boston one, we played a club in Cambridge.  When we did this one I think we played right in Harrisburg.  I couldn't remember the place at all, but it was cool.  The one up in Boston was the first one we did.  That's a bigger one.
You've been fortunate to land opening spots at the Garden State Arts Center in recent years.  Is that the biggest place you've played?

Yeah, definitely.  I think we've played with Journey, Foreigner, Chicago.  I think those were the bands.  It was cool, you know.
Definitely right in your backyard, huh? You could walk to the gig.

Yeah, it's easy to get to. Not a lot of gas money there...
What's your favorite place to play around the Jersey Shore?

Well, I have to say... Seriously, I don't have to say it, but the Stone Pony really is my favorite place to play.  The sound guys there John and John, they do excellent work.  The J & J Boys... Seriously, they do a great job and there's something about playing right in your area.  Right at home and stuff.  And Domenic did an incredible job putting money into it. 
That place was a disaster.  I didn't play there but I was there. It was a disaster.  He did a great job bringing it back.  It sounds great.  I think it's a great place to see a show.  It's a great place to come out and see a show.  It's clean, good sight lines for the most part, the sound is great.
Domenic's a good guy.  They're all good people there.  Tracey, of course, behind the bar.  It's not the Stone Pony without Tracey.  She's the "Princess of the Pony." That's what I call her.  But they're all cool people, you know.
The Bottom Line's a great place in the city.  Alan Tepper's  a great guy.  Real professional.  And, again, great history at that place.  But they're just pros.  He's a real professional.  You know whatever he says is gonna happen.  Same thing at the Stone Pony.  Another one of my favorite places is the 9:30 club in DC.  Same deal. Very professional again, and you don't get that a lot.  It's just how some of the places are.  It's the same thing like you were saying this band really means business.  They've really got their act together and when they're playing on stage it looks like they're doing what they want to do.  And you've got other bands who don't have their stuff together.  It's the same thing with clubs and owners.  Some of them don't care.
Where did you go when you first started going to see the bands?

You  know, the thing was that I was always so concerned with playing and having my own band that I really never went out to check bands out.  Because if I wasn't playing I was practicing.  So early on, I didn't see a lot of bands, like bands that were doing the same thing I was doing.  Or even today.  I really don't... the only time I see another band is when I'm playing with them.  If we're not playing around here than we're playing someplace else.  Or we're practicing or we're recording.
Well, is this everything? Is there a day job?

This is everything right now.
So you're trying to squeeze whatever you've got?

Yeah, if you're going to do it you've got to do it.  And that's that.  But, you know, like Matt Witte for example.  He was reading about us.  It was funny the first time we played together because obviously I'd heard about him a lot and he said the same thing.  He's like man I read about you all the time.  I see your name everyplace.  You'll play on a Friday night, I'll play on a Saturday.  I'll play on a Friday you'll play on Saturday.  I'm in the paper one week you're in the paper the next week.  But we didn't talk too much till a couple months ago.  Now we've played three or four shows together.  So that's what happens.
Now, you're from an area that obviously has a lot of commuters to New York and you wrote a song after September 11th.

Right.  "Freedom Come to All."
What was it like being in that area during the weeks after the attack took place?

Yeah, you know what? It's funny because I told this story before.  I was down - we were out in Cleveland and I went to the Rock and Roll Hall of Fame there.  I would say almost exactly a year before it happened.  Almost exactly because it was September that we were out there and it was that week of September too. 
We went to the Rock and Roll Hall of Fame, watching the induction things and it was Bob Marley's turn. Off in the distance, I noticed something spray painted on a wall behind the museum.  It was a soccer ball with the words "freedom come to all."  And I was like that's pretty cool.  Jotted it down, stuck it in my pocket.  So, I always had that title.  I had it written in my notebook or whatever.  I was like maybe that will be useful one day.  I thought it was kind of cool in a way.
And, in case you ever started doing reggae...

Right, I figured I'd be in!  And that happened on September 11th and I'd had that title and chord changes for it.  I guess that was why I had that title.
Where were you when the attack took place?

Sleeping! I'm a musician, Gary!  I was in Matawan, sleeping.  My girlfriend called me up and was like, "A plane just hit the World Trade Center."  I'm thinking like some guy had a heart attack and rammed into it.  That's awful.  And then she said another just hit it too and I was like alright I gotta get up, turn the TV on.  That was it for the next day and a half.  Sat in front of the TV.  What's gonna happen now? Don't know. 
I wrote that song that night and two weeks later we played at the Bottom Line.  That was a very, very strange night that was because usually that place is sold out. You can't get into it.  You do two shows there and the first show was like 1/2 to 3/4 full and the next show was not even half full.  The later it got the less people you saw walking around.  Still out there in the air, you know.  Going into the tunnel it was like the only time I never waited to get into the tunnel.  There was nobody in the city.  It was very eery.  Nobody walking around on the streets.  The smell still lingered in the air.  That was an intense show.  Definitely different.
Did you play "Freedom Come To All" there?

That was the first time I played it.
What was the crowd's reaction?

It was pretty intense, man.  They were listening to every word.  Hung on every word.  Got a great reaction after it.  I think it was a tough question.  Should I play the song? Shouldn't I play the song?  Do I just go out there and just play a rock show? Hit them with all upbeat songs to get their minds off it? But when you're there I was just like I gotta play it.  And the band didn't even know it at the time.   So I was like let's play it.  We played it and I think it went well.  I think they appreciated it.  Everybody knew what happened, you gotta do it.  It's there.
You've been very involved with benefit causes. That's one thing lots of Shore musicians seem to have in common.  

It's us New Jersey guys, Gary, who are very giving people.  You know, I don't really know what it is.  I've played around enough to know and to talk to other people and it's not like that in other places.  It's just not, you know.  I mean, Boston's a big town, but I don't see it as much anywhere but here man.  I really don't. I'm not saying that.

It definitely has to do with Bruce.  Definitely think that it's something he installed in all of the musicians around here, like musicians who do it full time.  I think that definitely comes right from him.  I don't think there's any question about it.
What was it like doing a show like the Light of Day benefit concert?

Great! And again, it's a great cause so why not take the time to do it?  And there you go.  He shows up and that's a great thing for guys like me and the other guys.  Whether you're fans or not.  There's living proof right there that he grew up in the same kind of town that you did and he did it. You know what I mean? It's a great inspiration.  And he's done it with class.  There's not a lot of guys that have hung around as long as him.
What was it like the first time Bruce jumped on stage with you?

Very cool.  It was great! More important than that he was just a genuine nice guy.  He could have been like yeah, nice meeting you see you later.  But he wasn't.  You just sit there and talk to him like a normal guy.  And that's it.  He doesn't have to get up and do anything but he does. 
I think when you see a guy that has gone to the highest level - yeah, he's got a lot of money and, which is the exact reason he doesn't have to get off his couch to do anything, but he does.  You see that and I think that's been installed.  That can definitely be traced right back to him.
Is it weird playing gigs like today or some fair in Freehold and thinking that Bruce played these gigs.  Are they meaningless gigs?

No gig is a meaningless gig.  If that's what it comes down to... if they start becoming meaningless gigs then don't play them.  It's that simple.  I mean, just tonight I'm sitting there playing and I'm like I'm pretty lucky to be standing here playing my songs and people are coming to hear them.  And you're out by the beach and fireworks are going off.  It's like alright!  What it does it give you that little bit of hope when you're out there in the middle of nowhere and you're playing to two people in some little town in Virginia or something and you're like, "What the hell am I doing at here? I could be home watching a Yankees game or whatever."
Do the Springsteen comparisons ever get to you? You're a singer-songwriter from the same area as him.  

That's a dangerous thing, you know.  Because his fans are so fanatical that to a certain degree it's good because maybe they'll come and check you out and maybe you'll get some new fans.  But if you're too closely linked it's never worked for anybody. 
But it's something you deal with. Well, you know, we're from the same area.  Playing roughly the same kind of music.  I mean, I don't necessary think that my songs are like his or the band sounds exactly like his. 
You're definitely going to get compared to them, especially somebody like me.  And, hey, as long as they're not - I guess I've been kind of lucky because they're not saying he's a Springsteen ripoff and that's important.
Did you ever consider doing anything else or was it music from early on?

From early on this is definitely what I wanted to do.  I'm really... I'm obviously not doing it for the money, man, because, you know, I don't have any.  There isn't a lot to be made at this level.  You're either way up there and you're making a lot or you're down at the bottom.  There's no middle ground really.  I'm sure I could.  It's a lot more - I'm not going to say easy to be a lawyer, but you know what you've got to do.  You go to school you do good, you go to college you do good, you go to law school you do good and more than likely you're going to have a job as lawyer. This... who knows? You've got to make your own breaks.
I think the only one who blatantly got that was John Cafferty and the Beaver Brown Band.  I think John Cafferty's career never made it because he was called a Springsteen ripoff.

No comment. (laughs)  I don't know.  At least they're not saying that and it's a lot better to me being compared in some ways to Bruce Springsteen than Poison, you know what I mean?
---
From the book Beyond The Palace by Gary Wien
---
---
Gary Wien has been covering the arts since 2001 and has had work published with Jersey Arts, Elmore Magazine, Princeton Magazine, Backstreets and other publications. He is a three-time winner of the Asbury Music Award for Top Music Journalist and the author of Beyond the Palace (the first book on the history of rock and roll in Asbury Park) and Are You Listening? The Top 100 Albums of 2001-2010 by New Jersey Artists. In addition, he runs New Jersey Stage and the online radio station The Penguin Rocks. He can be contacted at gary@newjerseystage.com.
---