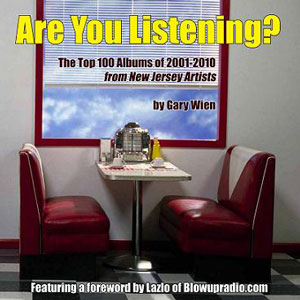 Down Wires comes firing out the gate with "Ballad Of The Undecided," a full-blown rocker that hints at an expansion of the folk-rock sounds Anthony D'Amato was gaining a reputation for.  But by the first few stanzas of "Holy War," he also hints that he is ready to serve as a major voice of his generation.
Musically, the album is a bold and imaginative leap from Anthony's previous releases. The one constant in his music remains creative and insightful lyrics. "Holy War" is a brilliant look at the absurdity of battle from someone who has spent the majority of his life watching America fight people on the other side of the globe who believe we're engaged in a holy war.  This is the album's masterpiece.  What makes it so brilliant is the simple genuineness and truth found within the song.   It's the type of truth that comes from someone who's of draft age rather than one looking back with the advantages (or disadvantages) of age.
I don't know what I'm fighting for

And I don't know what to feel no more

And I don't know why

They bother keeping score

'Cause there ain't no winners in a holy war

-- "Holy War"
There's a bit of John Lennon in his songwriting through songs that read like a personal diary.  Both have the ability to tear down walls and strip everything down to a bare skeleton that reveals one's true essence, warts and all.  Throughout Down Wires, we see Anthony pondering the meaning of adult relationships, the idea of growing old, and the thread of family.  Just as John did, Anthony is growing up within his lyrics.
Highlights include the brilliant trio that kicks off the record: "Ballad of the Undecided," "Holy War," and "Never Grow Old" as well as "Let Me Tell You Something," "Once," and "My Father's Son."
---
From the book
Are You Listening? The Top 100 Albums of 2001-2010 by New Jersey Artists
by Gary Wien
---
---