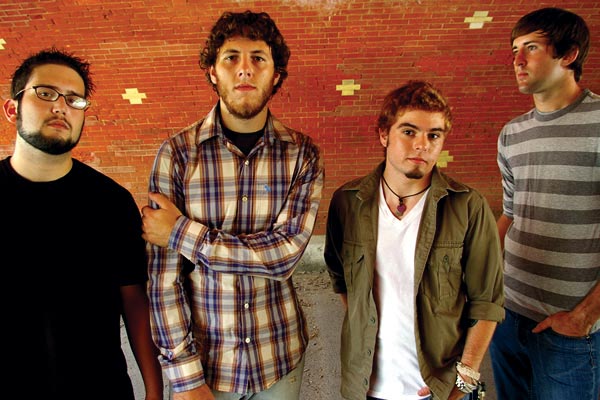 The pages of rock and roll history are filled with stories of bands like Echo Screen who wound up being a stone's throw away from greatness, yet just a footnote in the end.  Formed in 2003 by four guys who lived within a mile of each other in Brick, Echo Screen had an impressive ride during the decade, but could have been so much more.
The band originally consisted of  lead singer Shaune Scutellaro on guitar, Tim Sager on bass, Nick Singleton on guitar, and Mike Badders on drums and percussion.   Shortly after forming, the band released their debut An American Tale.
They gained a bit of a national following a few years later when their song "Rushmore" was featured on a Drive Thru Records collection called Bands You Love, Have Heard of, and Should Know and a cover of Blink 182's "First Date" appeared on A Tribute to Blink 182: Pacific Ridge Records Heroes of Pop-Punk Compilation in 2006.
Rockout Records signed the band that same year, and released Euphoria nationally.  Produced by Shep Goodman and Kenny Gioia, the album explodes with blazing guitars and shows a band that could write upbeat pop/punk songs as well as anyone.  They soon found themselves sharing stages with the top acts in the country through performances on Van's Warped Tour, The Bamboozle Festival, and South by Southwest.
Unfortunately, while recording Euphoria, Rockout Records was purchased by an Internet marketing firm who had a dream to revolutionize online music and Echo Screen got caught in the middle.  While the band benefited from Rockout's support,  financial battles loomed and led to the arrangement ending very badly for both sides.
---
The article continues after this ad
---
---
Highlights include "This Letter Bomb," "Everything After Bradford," "Gloria," "October," "Rushmore," and "Submitted For The Approval."
Photo by Eric Smith
---
From the book
Are You Listening? The Top 100 Albums of 2001-2010 by New Jersey Artists
by Gary Wien
---