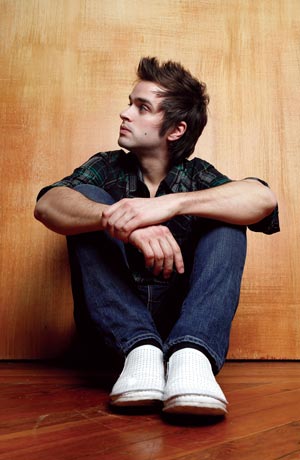 Val Emmich had a pretty amazing decade.  In addition to releasing seven critically acclaimed albums, appearing in major television shows like 30 Rock and Ugly Betty, shooting commercials for Macy's and Heineken,  being the lead in an independent film, and getting married, he still managed to find time to write a novel.  Along the way, he also became a star within the music scenes of Asbury Park, Hoboken, and New Brunswick.
Val, who grew up in Manalapan, took up the guitar after being diagnosed with Lyme Disease at the age of 15 and forced to limit his physical activities.  A few years later, he began acting in commercials to help raise money for college.  While acting came easy for Val, he continued to consider himself a musician first and foremost. 
A video for "Privacy Attracts A Crowd"  off of his debut album became the first by an independent artist to air on MTV's Total Request Live show;  a bidding war among the record industry quickly ensued.  A year later, Val's debut was rereleased nationally on Epic Records with a few song changes.
Unfortunately, life on the label didn't work out very well for either side and Val soon returned to life as an indie artist once again.  Rather than feel sorry for himself, Val's next release (Sunlight Searchparty) signaled a renewed sense of optimism, energy, and a sense of joy from his new found freedom.
Three releases by Val made this list of Top 100 Albums of the Decade and he nearly had even more make the cut.  After much soul searching, this album earned the top spot largely because his songwriting was reaching  new depths as a true "Val Emmich" sound began to emerge. This period was a creative zenith for Val and a great time for his fans.
---
The article continues after this ad
---
---
Highlights include "New Year's Resolution," "First Try," "This Ship's Going Down," "Absolutely Still," "Decadent Decline," and "Cover Up."
Photo by Dave Sgalambro
---
From the book
Are You Listening? The Top 100 Albums of 2001-2010 by New Jersey Artists
by Gary Wien
---