By Gary Wien
originally published: 03/19/2015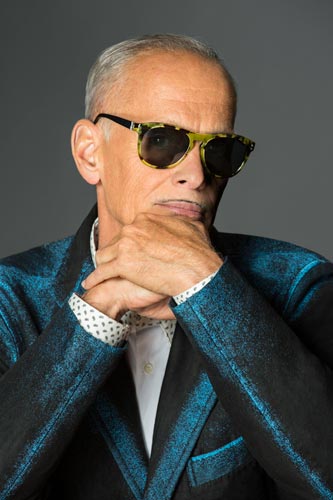 If a friend from college said he planned on hitchhiking across the country after graduation, you might not think much of it.  Chances are the thought has crossed your mind a time or two as well.  But if your 66-year-old grandfather said he wanted to hitchhike from Baltimore to San Francisco, you'd think he was crazy.
Yet that's exactly what legendary film director John Waters did a few years back.  Tales from his journey appear in Carsick, which comes out in paperback on May 19.  Waters will be performing at BergenPAC in Englewood on Sunday, April 12 with his spoken word show.  The event is billed as "An Evening with John Waters" but it's actually the "This Filthy World: Filthier and Dirtier" show that he has been doing for years with new content, as the show is continuously updated.
"I use the word 'filth' in more of a punk way than in an obscene way," explained Waters.  "Nobody ever gets mad about what I say anymore.  Times have changed.  I think when you come to hear me speak you want me to take you into a world you might feel uncomfortable in real life, but, with me as your guide, you feel safe."
Waters has been guiding people into worlds they never imagined since the 1960s.  His first film was Hag in a Black Leather Jacket, shot in 1964.  His next film introduced the world to Divine and Mink Stole, a pair of actors that helped Waters become a cult celebrity and gain nicknames like The Prince of Puke, The Duke of Dirt, The Sultan of Sleaze, and numerous others.
Whether you know him from cult classics like Pink Flamingos or mainstream hits like Crybaby or Hairspray, his spoken word show is not to be missed.  
---
The article continues after this ad
---
---
"I pride myself on being able to get along with everybody," says Waters.  "If you can make people laugh, they'll always listen.  Maybe they won't change their mind but they're not going to change my mind either.  I'm against separatism and always hanging around people that are exactly as you are.  I think doing that is a big mistake."
Waters' spoken word show is completely different from his best-selling books. He figures if you've read them you already know their stories and if you haven't you should buy them to find out.  His show focuses on topics such as his early negative artistic influences, his fascination with true crime, exploitation films, the extremes of the art world, and sexual deviancy.  Each show adds stories straight from the news of the day to keep it current and different from before.
"I am obsessed with the Boston Bomber's wife — the one that died," said Waters.  "She was never charged.  Did you know she has remarried and has had another child? I know people that don't have a boyfriend and yet she does! That's what fascinates me.  She has a boyfriend? Another one already? I guess good for her; she didn't waste any time."
Due to the changing nature of the film industry in which even independent films cost several million to make these days and compete against generations raised solely on the short videos found on the Internet, Waters hasn't made an original film in a decade since 2004's A Dirty Shame (although a film version of This Filthy World was shot in 2006).  Through his books, spoken word show, and appearances as an actor and voice actor in television and films, he has stayed in the public eye.   He doesn't bemoan the changes in the industry, noting that the industry has gone through changes like this time and time before.
"The way you watch TV is completely different and it's never going to go back," said Waters.  "It's like someone saying, 'I only like silent films' — it's a stupid thing to say, it's not going to go back.  Every time I go to an art movie theater everyone is over fifty.  They're crowded sometimes and you can have a hit, but it's old people.  Young people think all entertainment should be free.
"To me, I always have a way to tell stories," he added.  "Doing my spoken word show or doing the books or movies or art shows, it's all about telling stories.  And they're equally as much fun to me.  It's just a different form."
Waters has not only had several best selling books, but his last (Carsick) was basically pitched in just one or two sentences. His publisher jumped at the concept of a 66-year-old celebrity hitchhiking across the country.  Nothing more needed to be said.  His assistants and the people close to him thought he was crazy, however.
"Everybody was so uptight that I was doing it that it started to make me nervous," he admitted.  "I was worried no one would pick me up.  That was my worry.  There were days when you'd stand out for ten hours and you can't imagine how slowly those ten hours go.  I would always repeat, 'It only takes one car…' because that's true.
"Hitchhiking is a little bit of a scary thing for both the driver and the hitchhiker, but you take risks," continued Waters.  "To me, staying home is scary because nothing will happen to you.  So, to me, even a bad experience with hitchhiking means something happened.  And I'm interested in extreme situations, extreme people, and adventures.  As you get older you take less adventures.  This was definitely an adventure and my street cred did go up.  I'm still impressed I did it.  I can't believe I did it.  But I think it's important to take chances and continue to try something you haven't done, to test yourself, and have an adventure.  I like people.  I like meeting people and I have the belief in the goodness of people."
The goodness of people was certainly seen during his trip.  While a few people recognized him, more often than not he was seen as an elderly homeless man.  Many people gave him money (which he, in turn, gave to homeless people he encountered) and some even gave him rides.  There were times in which Waters worried no ride would come and nights he came close to sleeping in the woods.  Ironically, his nemesis in the book wasn't the police, it was the Holiday Inn — the worst of the hotel chains he found throughout the country.  In the book, he hopes he'll find a place to spend the night that isn't a Holiday Inn.  He despises the poor lighting in the rooms, the awful breakfasts in the morning, and the way everyone seems to be a zombie, never looking directly at him.
Carsick opens with visions of the best rides Waters could envision — a collection of stories that are simply hilarious and get better and better with each new tale.  He follows this section with a collection of stories detailing the worst rides.  After which, comes the reality.  
Reality was never as optimistic as finding a pot dealer offering to give him $5 million to make his next film or the excitement of jumping in a car with an escaped convict or having sex with aliens while hanging out with his favorite porn star. Nor was reality as bad as being forced to outrun insane fans quoting lines from his films or being bit by rabid raccoons in the ass or accidentally drinking someone's urine.  Reality was pretty much what you would expect it to be.  How often do you see hitchhikers in today's world? There aren't many and there aren't many who will pick up hitchhikers.  Those that do seem to live pretty ordinary lives.  But Waters didn't mind.  He said he wanted to hear their stories and was always grateful when he got a ride.  There were rides from people who hated his politics or his lifestyle, rides from people who loved his films and from those who only knew him from an appearance in a music video.
"I was stuck in Kansas and it was going to get dark and I almost had to spend the night in the woods for real," recalled Waters.  "I knew this was my last chance.  I'm talking to this guy and the story had already broken on the Internet about the Here We Go Magic rock group picking me up.  With my Blackberry I could show him things like that and then he recognized me from "The Creep" (a music video with Nicki Minaj).  It's funny, that was the only thing he knew about me.  That's why I do the Chucky movies and The Simpsons and do different things than you're known for.  It's all so you can get people to give you a ride when you're hitchhiking!"
Waters hitchhiked across I-70 to Denver and then down to California by standing by highway entrance ways with a sign.  It generally said "I-70 WEST / SAN FRANCISCO" but changed several times as he struggled to find the wording that was most successful.  One sign that clearly didn't work mentioned that he was writing a book.  That made people very nervous - too nervous to stop.  He tried other phrases including a sign that said, "I'm not psycho."
"I found the direct appeals were better," he noted.  "Signs about where you were going.  Humor didn't work.  Everyone laughed, but they never stopped.  I thought 'I'm not psycho' would work."
Waters had hitchhiked throughout his entire life, but rarely covered a distance even remotely as far as the cross-country trip.  It didn't take long for him to remember the tricks of the trade like avoid cities.  "The whole point of hitchhiking is to never go near a city," he said.  "You want to be picked up after a city, not before.  You never want to go into the city because local rides are your enemy.  They'll take you to a worst place that you already are."
One of the most amazing aspects of the trip is that Waters — a man known for living life with a rigid schedule for each day — was able to give up control of his schedule.  He says that giving up control was one of the reasons he did the trip in the first place.  Although technically he still had a schedule for the day (wake up, find a ride, find a motel, go to sleep, and repeat), he was basically flying blind.  
"The weird thing was I only gave myself two weeks and during the first couple of days I thought it could take a year!" he laughed  "I did hitchhike to San Francisco, but I flew back with a limousine both ways and a first-class air ticket to speak and give awards to Johnny Depp at the Fashion Oscars.  So, I came the lowest way and went back the highest. I am comfortable with either; it's the middle (coach) that I have trouble with.  I'd rather hitchhike!"
---
Gary Wien has been covering the arts since 2001 and has had work published with Jersey Arts, Elmore Magazine, Princeton Magazine, Backstreets and other publications. He is a three-time winner of the Asbury Music Award for Top Music Journalist and the author of Beyond the Palace (the first book on the history of rock and roll in Asbury Park) and Are You Listening? The Top 100 Albums of 2001-2010 by New Jersey Artists. In addition, he runs New Jersey Stage and the online radio station The Penguin Rocks. He can be contacted at gary@newjerseystage.com.
---