By Gary Wien
originally published: 03/23/2020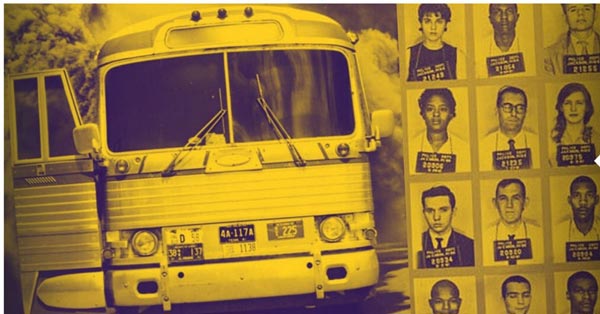 The historic journey of the Freedom Riders took place nearly 60 years ago. On May 4, 1961, a group of young people, black and white, from colleges and universities across the country, boarded two buses southbound from Washington, DC on a journey to prove that love and compassion could conquer hate and that what was a right for one American should be a right for all Americans. For them, it was a cause worth fighting for in spite of the dangers they knew they would have to face along the way.
Ricardo Khan thought the story would make for a great play.  He envisioned the play Freedom Rider as following four characters on their way to the historic trip. One of the most challenging aspects of creating a play that involves several main characters like this is providing each with a unique voice and backstory.  Khan solved that problem by incorporating four different writers to each create their own character - each following the journey of a Freedom Rider from a different university, city, and background.  The play was written by Murray Horwitz, Nathan Louis Jackson, Kathleen McGhee- Anderson, Ricardo Khan, and Nikkole Salter.
Freedom Rider was scheduled to have its World Premiere by Crossroads Theatre Company in New Brunswick in April, but the production was rescheduled to September due to COVID-19 pandemic closures.  
NJ Stage debated about running this story at a later date, closer to the production, but feel it is a play that deserves attention now.  
While there are no productions currently being presented in the Garden State, it's nice knowing that plays like this will be receiving their first productions down the line. The following is an interview with Ricardo Khan who co-founded Crossroads Theatre Company with L. Kenneth Richardson in 1978. The company was the proud recipient of the 1999 Tony Award(R) for Outstanding Regional Theatre in the United States, becoming the first African American theater to receive this honor in doing so.
---
The article continues after this ad
---
---
One of the things which caught my eye was the way the play had characters written by different writers.  Was that something you had in mind from the beginning?
No, not at all.  I was actually working on the piece for about a year and I was developing the characters and the structure.  It just occurred to me that what was important was that the characters had to have a distinct voice.  Yes, they all have a lot in common in terms of their goals, but I was curious about their backgrounds.  As I started thinking about them and wanting to make the characters distinct, I started thinking: what would it be like if each character was written by a different writer.  I guess you could say I cast the writers.
That's such an interesting concept!
I cast the writers, but I gave them each the basic character structure.  The character Phillip Brode was this guy I had in my head. He's a young Jewish guy who loves black music.  The more I thought about it the more I thought of Murray Horwitz who is a playwright who wrote the book for Ain't Misbehavin' and was Barnum & Bailey's first Jewish clown.  He has a pretty amazing comedic sense.
Kathleen McGhee-Anderson is a person I've known for a while.  I've worked with her as a writer and I knew she was raised in Detroit.  I thought she'd be perfect for the role of Jennifer Allen.
It just went on from there.  I thought of the people I knew and felt wouldn't it be amazing if we did this grand experiment? And that's what it was - an experiment. It was like 'why not?'
Was it difficult to blend the voices into a single play?
Well I was very specific about the story structure and I gave them all the same structure.  I told them I need you to write this as though your character was the central character we were following the entire journey.  Write it as if it's a full-length and that's what they did.
I wanted to keep them as distinct voices, so I didn't even introduce them to each other until maybe six months into the process.  I brought them all together in Kansas City to meet for the first time and it was the first time they shared their writing.  I was a visiting professor at University of Missouri-Kansas City and I was able to make use of the acting studios.  
It's been a glorious time ever since.  I was able to weave the stories together because they all followed the same structure.
Were these characters all fictitious? People from history? Based on people you knew?
I was at home one day and I heard that Oprah Winfrey was going to have the Freedom Riders as special guests on her tv show.  I think it was for their 50th anniversary.  I was watching and glued to it because I was interested in who they are now and how it matches what they did.  One of the things that I found out was that a book called Breach of Peace: Portraits of the 1961 Mississippi Freedom Riders had just been put out.  I bought it and it was very much a picture book where on every page there was an original Freedom Rider with a picture of them then and one of them now, and information on what they did back then and what they're doing now.  That's what got me thinking about them as people and not just figures in history.
That was probably one of the biggest inspirations and why the title is singular - not plural.  Each of these people was important as a person and I didn't want this to be a history lesson, I wanted it to be a play about people.
What is it about this play that makes it an important story for people today?
The fact that we too often forget that we're stronger together than apart.  It's been said, "the ways in which we are different are far outweighed by the ways we share commonalities." I don't think young people are taught these glorious moments we have in our history.  They're taught about Harriet Tubman, Martin Luther King, and might touch on the Freedom Riders or the women's suffrage movement, but they aren't done in a way that allows young people to know who they were as people.
I think that during this play, our aim is to connect young people today to young people of the past and get them to see their own reflection in these figures.  That's the goal and, of course, mobilization in the community on every level.  However you vote and whatever you believe in - to know that these rights that we enjoy today are because of the blood, sweat, and tears people put in years ago.  Not to say you owe them, but to say you are them.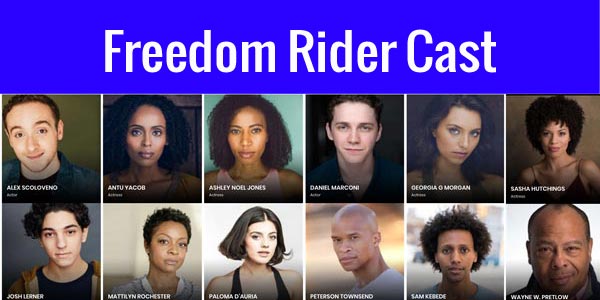 What does the story of the Freedom Riders mean to you personally?
Well, I'm always dismayed by the divisiveness that exists in this country - sometimes from our own leaders.  I'm concerned, of course, by the current occupier of the White House and his divisive nature.  At the same time, there have been challenges as an African-American. We're faced with trying to reclaim our sense of identity while not becoming culturally territorial.  It's caused riffs along the way, not only in society but also in theatre - especially black theatre.  Who can tell these stories? Who can tell that story? Who can tell women stories? Personally, I came up at a time when none of these stories were being told by the mainstream theatre, so we had to create our own theatre and have our own voices do that.
As the years went on, people started to realize that there is an audience out there for diverse stories and that it would be good to present these in mainstream theatres.  That's what mainstream theatres do now - everybody tells all of the stories.  I've personally liked being to be able to tell stories that come from my perspectives through a cultural prism that is very specific to people who are represented through my mother and also through my father who was from Trinidad and African American people who have global roots.  We need to understand that.
I feel that Freedom Rider helps us along our journey.  It's not just about a story, it's personally about our own discoveries as we tell the story - about ourselves, our past, and our ancestors.  These are our ancestors who fought so we could be free today.  They had a dream back then and I applaud the dreamers of the past who saw a day that we could celebrate.  Personally, for me, Freedom Rider is the connecting of an arc that starts with my ancestors that goes forward to my children and, at the center, is our present with all the responsibilities we have.
There's a completed sequel to Freedom Rider, right?
Yes, the opening night of the workshop production of Freedom Rider in Kansas City was so extraordinary, I was blown away.  I just loved it.  I was at the party and I'm thinking, 'God, I'm going to miss these characters.' That was when I decided to do a sequel.
The central characters in Freedom Rider are college students.  Who are they three or four years later? I was interested because a similar movement happened in 1964 with what was called Freedom Summer.  Its focus was on voter registration in Mississippi, which was a stronghold of segregation and Jim Crow laws that intimidated blacks from voting.  Yet it was college students again who came.
Where Freedom Rider was organized primarily by older people but propelled by younger people, the Freedom Summer young people became more involved in the architecture of the movement and leading it through students.  So you actually saw the rise of the younger generation's role in the Civil Rights Movement.  That's what Letters From Freedom Summer does.
Was that written in the same way with multiple writers?  
It was a similar thing.  The more and more I worked on what this could be, the more I realized that maybe all of the characters can't come back.  I tried real hard, but I couldn't get them to come back.  So, as I talked to the original writers of Freedom Rider, some were busy or couldn't approach the project right away.  Some said let me know how things are going, but as things progressed things shifted a little bit.
What I did was work with two other writers who were new.  One was Denise Nicholas who was in Freedom Summer - she was one of the students in Mississippi. Another was Sibusiso Mamba who was a writer I met in Johannesburg where I have a writer's lab.  We actualy did a show together at Crossroads called Train to 2010.
We have a couple of characters who return, but the others are new.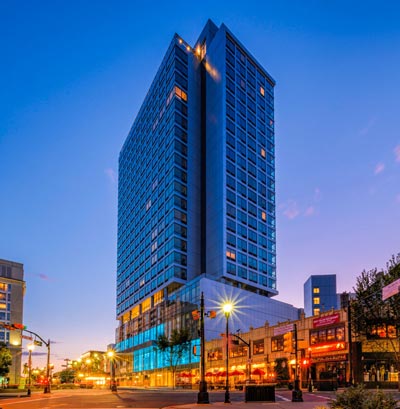 How proud does it make you personally that the theatre company you founded 40 years ago is still going strong and now is part of a complex that clearly says New Brunswick has embraced the arts for good?
I think the complex is a bold and vivid statement of how the town, in my mind, has always embraced the arts. It's just that what they put up there is backing up everything that they've always said.  I applaud Chris Paladino and Devco and the Mayor for following through with convictions they've always expressed.
The belief that a rising tide raises all ships is what always propelled us with the support of all these entities (Johnson & Johnson, Rutgers University, etc.) to stay in New Brunswick; to commit our work to New Brunswick; and to bring national artists to New Brunswick.  They kept coming because what New Brunswick had was extraordinary.  We're not able to work in a facility that states boldly what I believe the people in New Brunswick have always wanted to see.
We built the Crossroads space and opened it in 1991.  Crossroads actually purchased all of that equipment (the lighting, sound, and projection equipment) with grants.  We owned all of the equipment, but that was 1991.  Keeping the equipment up to date is a very hard thing to do.  Where we are now is a facility that allows us to make use of state of the art equipment.  It is taking us leaps and bounds in terms of what we are able to do from a production point of view.  It's leaps and bounds.
Marshall Jones III (Artistic Director at Crossroads Theatre Company) did the first two shows of the season and says it's so much easier to work with the equipment.  It's easier because the equipment works! 1991 was thirty years ago.We're jumping as a theatre from 1991 equipment to 2020 equipment and that's something we appreciate so much.
Essentially what happens all across the country is when you start a theatre company you start it where you can afford rent.  It's normally a run down area, but if you do your work well and people start to take note, restaurants, antique stores, and hotels will take note.  All of these start to gather and what happens? The rent goes up.  Then it becomes a high rent district that the arts can't afford.
New Brunswick is a city that made a commitment through the arts organizations, recognizing what they have done to appreciate the value of the neighborhoods. And they're also well aware of the economic impact of the arts.  There was a study that said for every dollar spent in the arts there is a $51 impact. It makes sense when you think that the arts employs people who shop and eat in town, bringing that money back.  It also goes to lumber yards for building the sets and printing companies.  The economic impact is huge when it comes to the arts even before you think of the people coming to shows who spend their money in town.
Of course we continue to have this major fight with the federal government for the support of the arts.  It's not that money that makes the theatres, dance companies, and operas happen - but it's the seal of approval.  It's a way of saying as a country and a nation that we care about the arts and we appreciate the role that the arts plays.  It's easier in other countries where arts organizations get so much more funding from the government, but because we don't we're constantly under siege and we constantly have to fight.  But we also win and we win because the people are behind us and that's what matters.
---
Gary Wien has been covering the arts since 2001 and has had work published with Jersey Arts, Elmore Magazine, Princeton Magazine, Backstreets and other publications. He is a three-time winner of the Asbury Music Award for Top Music Journalist and the author of Beyond the Palace (the first book on the history of rock and roll in Asbury Park) and Are You Listening? The Top 100 Albums of 2001-2010 by New Jersey Artists. In addition, he runs New Jersey Stage and the online radio station The Penguin Rocks. He can be contacted at gary@newjerseystage.com.
---