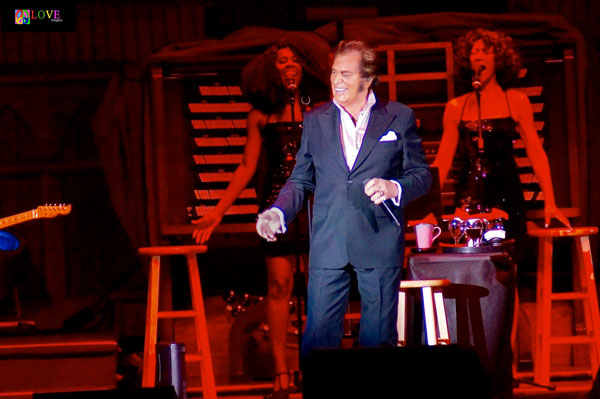 It's August 6, 2016 — just a typical summer evening in the quaint Victorian town of Ocean Grove, NJ. With the long daylight hours, people are still out enjoying the beach, customers are strolling on Main browsing in the various stores, and there's even a line at the corner ice cream shop.
But just around the corner, as fans pour into the Great Auditorium for tonight's live performance, it feels as though somehow, this is not going to end up being your typical Saturday evening at the Shore.
As audience members stream down the aisles of this magnificent 122-year old wooden structure, one can see an eclectic mixture of men and women as they turn to get a quick glimpse of the gleaming stage set with its array of stations for rhythm, horn, and percussion players, along with two microphones on stands in the rear, evidently set up for a pair of back-up vocalists.
One thing that is difficult to overlook, however, is the single microphone on a stand, center stage, which has obviously been oh-so-carefully placed for the icon everyone is here to see tonight — the legendary singer, Engelbert Humperdinck.
In the crowd are fans who have come from near and far to see their idol.
---
The article continues after this ad
---
---
For instance, Dave and his wife, Ann, hail from the Shore. Dave is here to support Ann who skipped out on her 40th high school reunion tonight to see this performance. Behind them, is a couple who traveled all the way from Sri Lanka to New Jersey to be able to experience the show.
There are several folks in attendance from England, happy to cheer on one of their fellow countrymen, in addition to so many of the self-proclaimed "Humperdinckers" — the devoted fans who've followed Engelbert's career for nearly 50 years now. According to several in the crowd, one item still on their "bucket list" is to receive one of the famous red handkerchiefs Humperdinck is known for distributing during the course of his live performances.
Lastly, there's also a fellow named Jim who proudly says that, since the 1990s, he's seen Mr. Humperdinck perform "over 60 times." Jim even brought his wife, Holly, to the Great Auditorium from their home outside Philadelphia so they could experience the music of his favorite entertainer together in this unique performance center.
The lights dim and band members take their places as large screens on either side of the stage fill with images taken of Engelbert through the years. The montage of photographs and videos take the crowd on a sentimental journey of highlights of the "King of Romance's" 49-year career, reminding the audience of so many of Humperdinck's solid gold hits along with various tidbits of trivia about his incredible life in show business.
And, suddenly, as the video goes dark, the fans rise to their feet cheering and clapping to greet the legend in person as he graces the stage. Opening with Frank Sinatra's hit, "That's Life," the man, the myth, the legend — Engelbert Humperdinck — sings his heart out, backed by a world-class nine-piece band.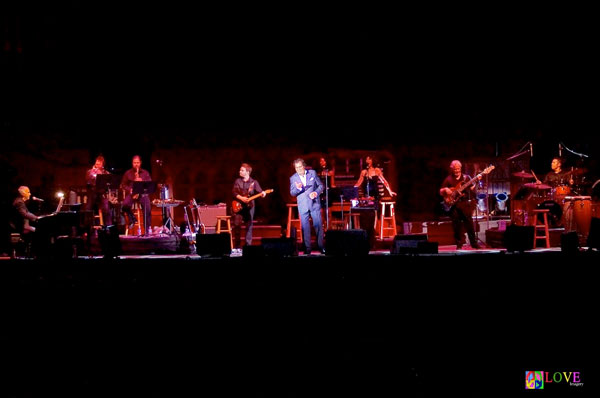 The first thing one notices is the man! He's a very tall guy, and in great shape, too!
And the second thing one notices is the sound! It's a big sound, and perfectly balanced for this incredible venue which can hold 7000+ music lovers.
The band is swinging with a young sound that's fresh and alive!
And Humperdinck's voice sounds incredibly rich… warm… full…
…and fabulous!
After enthusiastic applause, Humperdinck greets the crowd with a warm "Hello," and invites the audience to please say "Hello" back to him.
Of course, they happily oblige, after which Humperdinck replies, "See? Now, I feel more relaxed."
Humperdinck's friendly banter puts everyone in the Great Auditorium at ease, as he makes a personal connection with his audience, laughing and joking. He even does some impersonations of some of the notable show business colleagues he's shared the stage with over the years — notably Dean Martin and Jerry Lewis — which light up the entire venue with smiles.
But it is Engelbert's singing voice and musicianship that completely steal the hearts of everyone in the theater tonight. Whether he is demonstrating the vocal prowess of his three-and-a-half-octave range on such powerhouse hits as 1968's "A Man Without Love" or just singing along as his crackerjack Swiss guitarist, Johann Frank, accompanies him on 1977's "After The Lovin'" — Englebert does not disappoint.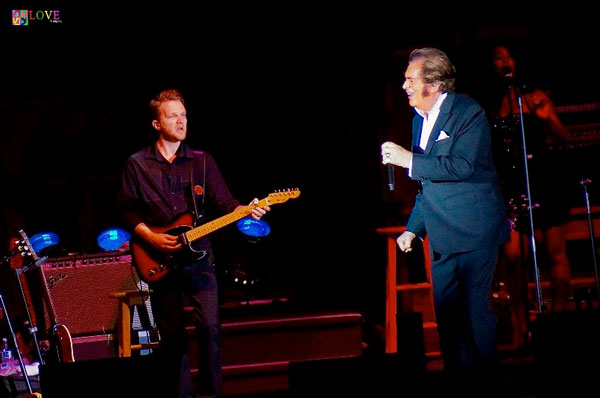 Upon experiencing his music live and in person, most listeners in the house tonight probably feel more like they've never quite heard the real Engelbert Humperdinck before! His voice is so big and commanding that it simply cannot be fully captured in a recording, putting him in the company of such other incredible live vocalists as Phil Spector's "He's a Rebel" diva, Darlene Love, or the one-of-a kind Queen of Soul, Aretha Franklin.
Humperdinck's command of the stage is also noteworthy as he sings hit after hit along with unique versions of other artists' songs, notably Boz Scaggs' "Look What You've Done to Me" and Bruce Springsteen's "I'm On Fire," much to the delight of his adoring fans. Humperdinck line dances, two-steps, and congas with his back-up singers and shows his versatility singing a wide variety of musical styles as the crowd joyfully sings along on many of his engaging song selections.
Ever the gentleman, Humperdinck introduces and features each of his band members on a show-stopping version of Ray Charles' "I Can't Stop Loving You," pausing, like a proud papa, to watch each musician solo. Taking their turns in the spotlight are: Jimmy Emerzian on sax, Ron King on trumpet, Melissa Sommers on keyboard, Adam Cohen on bass, Johann Frank on guitar, Ric Roccapriore on drums, Aisha Humphrey and Nancy Buche on background vocals, and musical director, David Arana, on grand piano. After the solos, Humperdinck comes back and blows the roof off the place, communicating with his voice and talent just how much he loves performing with his band, and, beyond that, just how much he loves that this audience appreciates them, too.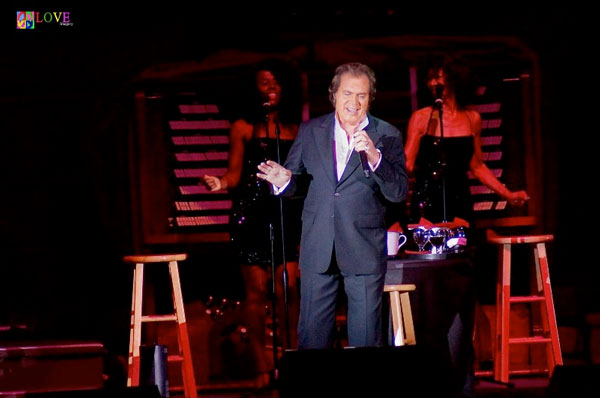 Over the course of the evening, the good times continue as Mr. Humperdink and his musicians express their joy playing a captivating set of new songs and classics too, which they fill with new life and energy. For most in attendance, it seems truly difficult to comprehend that many of the tunes they are hearing are nearly 50 years old or, for that matter, that Mr. Humperdinck, himself, is 80 years of age!
Highlights include Humperdinck's 1979 #1 Easy Listening hit, "This Moment in Time," his US Top 40 hit, "Bicyclettes de Belsize," and his perennial 60s-era audience favorite, "Spanish Eyes," perfectly accompanied on the bottom by expert electric bassist, Adam Cohen.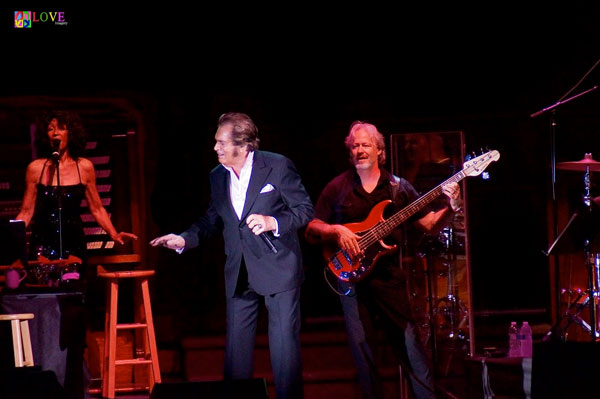 Other numbers which Humperdinck performs include "Save the Last Dance for Me" and a song from his recent "duet" album, Engelbert Calling — which features such singers as Willie Nelson, Smokey Robinson, and Kiss' Gene Simmons — "There's Something About the Way You Look Tonight," with Engelbert singing live with a pre-recorded vocal track done by Sir Elton John.
Lifting the audience to its feet, however, is Humperdinck's majestic performance of Paul Simon's "Bridge Over Troubled Water," a gem which he says is one his late friend, Elvis Presley, liked to perform in concert and one which Engelbert is now eager to include in his shows as well.
Rapidly approaching the end of a magical evening, Humperdinck sings his #1 UK million seller, "The Last Waltz," the audience wishing that — like the song says — this concert could "last forever," and 1968's #1 Easy Listening hit, "Am I That Easy to Forget?," surely prompting some in the audience to reply, "No! You're unforgettable!"
Finally, Mr Humperdinck introduces a song which everyone in the Great Auditorium has been patiently waiting for this evening — his enormous 1967 hit which had the distinction in the United Kingdom of preventing The Beatles brilliant "Penny Lane"/"Strawberry Fields Forever" single from reaching #1 and which also became one of the biggest selling singles of all time, "Release Me."
Exclaims Humperdinck, "I can't believe this song is 49 years old!," going on to add, "and, next year, we'll have a special tour celebrating its 50th anniversary!," to which the audience mightily applauds.
As Humperdinck sings this classic tune, the crowd joyfully joins in. And when the song modulates up into a new key, the crowd cheers as many begin to rush the stage.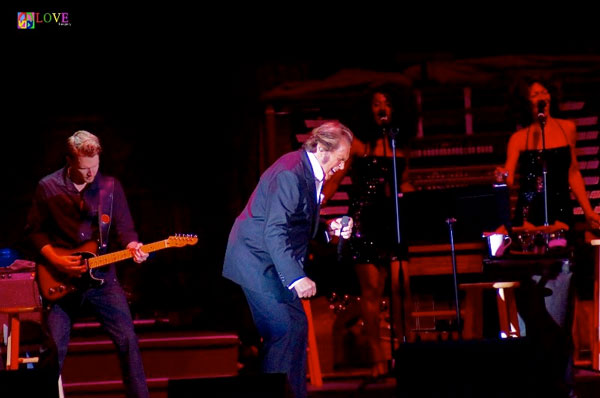 Following the conclusion of the number — audience members on their feet — Engelbert looks out over the crowd, looking both truly humbled and surprised at the incredible reaction he's getting from his enthusiastic throng of fans.
"Applause is the food of the artist," he says. "Thank you for not starving me tonight."
And, in appreciation for their efforts, Humperdinck reciprocates with one last song: "For The Good Times."
Audience members, hands held high, sway together and sing along as Engelbert sits at the edge of the stage and vocalizes, not only with his gorgeous deep baritone filling up the Great Auditorium, but with his spirit filling up his devoted fans' hearts.
As the audience continues to stand and clap, Engelbert smiles as he exits the stage and, with a twinkle in his eye, simply says, "I've had a good time."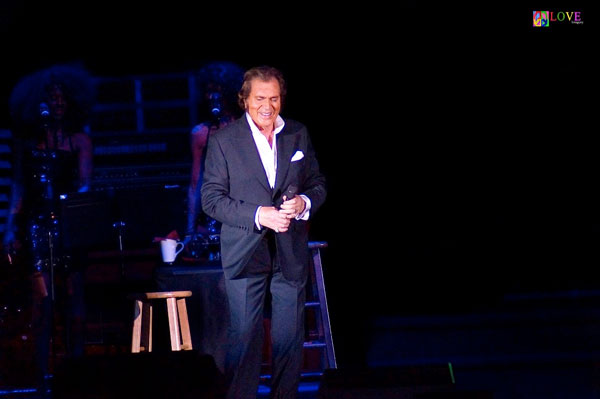 Although the musical portion of the evening has now concluded, Engelbert surprises everyone and makes his way back onto the stage to throw several of his famous red handkerchiefs to the multitude of fans gathered at the front of the theater.
One excited devotee hands him a pile of "Jersey Shore" T-shirts, which he gratefully accepts, and in exchange, he personally hands her a red handkerchief.
Ever the showman, he then dons a red terry robe, returning as the champ he truly is, air-boxing and throwing one last handkerchief into the crowd before waving "goodnight," his hands and fingers flashing double "peace signs" — or, maybe, perhaps, "victory" signs?
Exiting into the sweet summer night, audience members can be overheard commenting to one another, revealing things like, "I can't believe I remembered the words to every song," "The lyrics take on a new meaning for me now that I'm older and more experienced at life," and "I just love hearing these great melodies."
Others make statements like, "Englebert sounds amazing; what a powerhouse! Did you see how far away he held that mike?," and "I haven't heard or sung these songs in years, but it was great!"
And what about Jim, our 60-show Engelbert Humperdinck veteran, who along with his wife, Holly, came to spend an evening listening to his favorite octogenarian performer?
"He's never sounded better," asserts Jim, while Holly agrees, exclaiming, "Just an incredible show!"
Also chiming in together, "This venue is great…" "… and the sound is great in here, too," Jim nicely sums things up for many in the house this evening when he declares, "This show makes me want to come back and see the same concert tomorrow."
And why, might he want do that, you ask?
Of course, as Jim — or as anyone else in the audience at this extraordinary August 6, 2016, Engelbert Humperdinck concert — could tell you:
"For the Good Times!"
For information on Engelbert Humperdinck's upcoming world tour dates please go to engelbert.com. For more on upcoming concerts at Ocean Grove's Great Auditorium — including Michael Bolton on Aug. 13; The Orchestra, featuring former members of ELO, on Aug. 20; and the Doo Wop Extravaganza starring The Duprees, Shirley Alston Reeves, The Belmonts, and The Toys on Sept. 3 — please go to oceangrove.org.
Photos by Love Imagery
Spotlight Central. Your source for Jersey entertainment news and reviews
Love Imagery Fine Art Photography. all you need. peace/love/flower/power