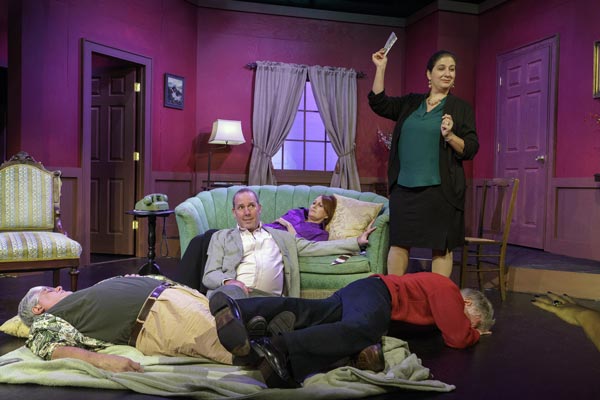 (SOMERS POINT, NJ) -- Fool Moon Theatre Company. presents Neil Simon's London Suite in November. America's premier comic playwright crosses the Atlantic for a suite of hilarious comedies set in a deluxe London hotel, a sedate place until these characters check in.  Performances are November 2-4 and November 9-11 at the Gateway Playhouse in Somers Point. The performance on November 10 will be a benefit for Habitat for Humanity of Atlantic County.
In Settling Accounts, the suite is occupied by an inebriated Welsh writer who is holding his long time business manager, caught absconding with the writer's money, at gun point. The villian concocts increasingly farfetched explanations of what he was doing at Heathrow with the cash.
An American widow and her daughter, in England to buy shoes, take over the suite in Going Home. At the daughter's insistence, mother spends her last evening in London with a rich Scotsman.
We see another chapter in the lives of two characters from California Suite. Diana, the Oscar-winning actress, and Sidney, her bisexual husband, who are now divorced and are seeing each other for the first time in years. He needs money for his lover who is dying of cancer. 
The Fool Moon Theatre production stars numerous local talent including Victoria Biron last seen in Our Town, and Grey Le Cuyer, and Alissa Dirato, last seen in June's production of Sylvia. The rest of the cast include Tom Egan, Karen Randazzo, Sherry Hoffman, William Link, Nina Quickmire Meron (also in Love, Loss and What I Wore), Christine Piper (also in Our Town), Matt Powals (also in Our Town), and Paul Herron.
---
The article continues after this ad
---
---
"Fool Moon Theatre is very pleased to perform one of Neil Simon's most hilarious and bittersweet plays. The theater community will miss his great wit and humanity. We hope that this production will remind audiences why his work was and is so important," said Patricia Herron, co-founder of Fool Moon, and one of the show's directors.
The 1995 New York production of London Suite received great reviews-- "Makes laughter easy!" - The New York Times; "You'll leave this bright comedy with a smile on your face." - NBC TV; "Booked solid with merciful laughter." - Newark Star-Ledger
Performances take place on November 2, 3, 4, 9, 10 & 11 at the Gateway Playhouse, 738 Bay Ave, Somers Point, New Jersey. All tickets are $35 and can be purchased at the Gateway Playhouse by calling 609-653-0553 or by going online at www.gatewaybythebay.org . Friday and Saturday performances will be at 7:30pm, and Sunday matinees will be at 2:00pm.
Photo by Bill Horin-ArtC