By Gary Wien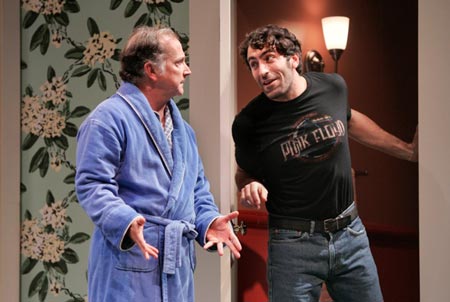 (NEW BRUNSWICK, NJ -- OCTOBER 5, 2012) -- It's rare to say that a play has a killer soundtrack, but a great 80s playlist is one of the many joys of Lewis Black's play and helps set the tone for "One Slight Hitch". The play, which opened on October 2nd and runs until October 28, is the season opener for George Street Playhouse.

Set in 1981, the play takes place on the day Courtney (the eldest sister of three) is set to marry Harper. The family has largely questioned what she sees in Harper, but her mother (Delia) is determined to give her the wonderful wedding day she never had. In the hours before the wedding is set to begin, Courtney's ex-boyfriend Ryan makes an unannounced visit, a missing florist is found in jail, valiums are taken, tons of booze is inhaled, and shrimp boats are put outside in the summer heat long before they were supposed to.

The play stars Mark Linn-Baker as the father; Lizbeth Mackay as Delia, the mother; Lauren Ashley Carter as PB; Christopher Tocco as Ryan; Rosie Benton as Courtney; Clea Alsip as Melanie; and Scott Drummond as Harper. It is directed by Joe Grifasi.

The first half of the play is like Neil Simon on speed with a healthy dose of Lewis Black's "Back In Black" monologues from The Daily Show. Fans of that show or of Lewis' comedy, will not be disappointed in this insanely hilarious 80's fairy tale.

The play begins with a look at PB, the youngest daughter. She's looking back as an adult at how the wedding day unveiled when she was just 16. When PB reveals in the opening that she's a Republican, I couldn't help but be reminded of Alex P. Keaton on the 80s hit TV show, "Family Ties". For whatever reason, the simple musical interludes on her Walkman and the mention of being a Republican did an outstanding job of setting the time period for me.

"One Slight Hitch" has one of the best openings I've seen in a while. You know it's going to be a good play when the simple introduction of the parents brings down the house with roaring laughter. Within two or three minutes, the idea that this is a Republican household becomes even more clear.

"The photographers are lesbians," said Delia.

"Lesbians? I can't even tell and I'm a doctor," said Doc, the father.

"Well, I'm sure it makes them better photographers," Delia replied.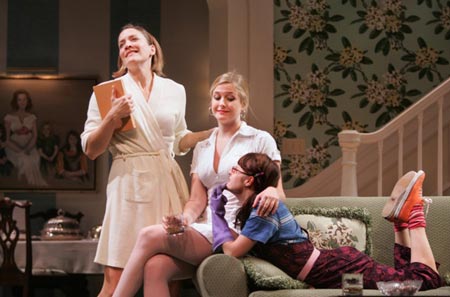 While Delia is busy with wedding arrangements, Courtney's ex-boyfriend Ryan shows up at the house. Courtney had broken things off with Ryan about six months ago and met Harper. Both Courtney and Ryan are writers and Courtney had been able to write often while she was dating Ryan, but has been unable to since living with Harper (who is studying to be a psychologist). Despite this, she's convinced herself that she's happier now than ever and is willing to live a content - if uneventful - life with him. Meanwhile, Ryan is on a quest to write a modern version of "On The Road". His visit comes after hitchhiking from New York City to their house in Cincinnati, Ohio. He was completely unaware that today was Courtney's wedding day. In fact, he can't believe she would ever get married.
The father and PB frantically try to get Ryan to leave, but when his clothes are placed in the washer by mistake, he's forced to stay until they're done. He spends most of his time hiding in the bathroom leaving the audience to wonder when the inevitable meeting between him and his ex will occur. The moment of truth closes out the first act with tremendous laughter.
As the mother attempts to stay calm with the aid of modern medicine and the father begins to crumble after meeting Harper's parents, the second act morphs from non-stop jokes to more of a dramatic manner. While many powerful dramas often include comedy to diffuse the tension, this was one of the first times I've ever seen it in reverse -- a comedy that uses drama to reinforce how funny the play is. The combination works surprisingly well -- probably due to the setting. A wedding day is the perfect opportunity to show the dark secrets held in each family. Between the stress and importance of the day and the hopes and dreams involved with marriage, Lewis Black is able to use comedy to mask a truly interesting and poignant tale.
While the cast is fantastic, Mark Linn-Baker, one of the stars of the 80s hit show "Perfect Strangers", steals the show as Doc Coleman, the father. Maybe it's a role that reaches the men more, but you could really feel for a guy that desperately wanted a son yet wound up with three daughters instead. His performance is simply wonderful -- from the physical comedy of racing to hide Ryan to the scene involving his first cigarette in 25 years (a scene in which he goes from cigarette to booze, back and forth non-stop for about two minutes!) to a short skit involving him and the cake's bride and groom to the incredibly subtle way he showed how drunk he was with a near fall -- something that was done so well you'd swear he wasn't acting, but nearly fell on his own. The father also managed to have some of the best one-liners in the play: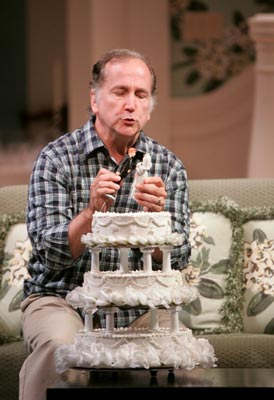 While trying to avoid Ryan's parents who are at the front door, the doctor says, "Where is the emergency call when I really need it?"
As his wife scrambles to fix the catering situation, he finds himself alone, "The shrimp boats are sinking and I'm alone on the deck."
And when the situation seems to be completely out of hand, he returns to the mini-bar, "One more drink and everything should be clear."
This was one of the funniest plays I've ever seen, largely thanks to Mark's performance. In a fine ensemble cast, he was the glue that kept everything together. If this play was on Broadway, he would probably garner talk for a Tony nomination for his brilliant portrayal. Between his performance and Black's stellar writing, this play is a must see!
---
Photos by Frank Wojciechowski

---
Gary Wien has been covering the arts since 2001 and has had work published with Jersey Arts, Elmore Magazine, Princeton Magazine, Backstreets and other publications. He is a three-time winner of the Asbury Music Award for Top Music Journalist and the author of Beyond the Palace (the first book on the history of rock and roll in Asbury Park) and Are You Listening? The Top 100 Albums of 2001-2010 by New Jersey Artists. In addition, he runs New Jersey Stage and the online radio station The Penguin Rocks. He can be contacted at gary@newjerseystage.com.
---