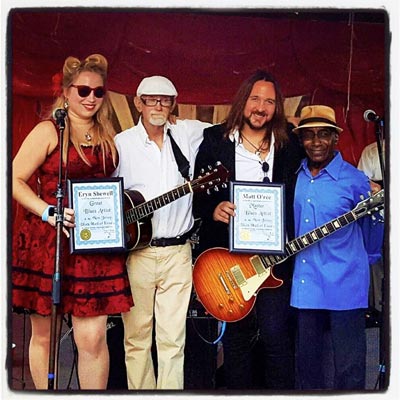 (STATEN ISLAND, NY) -- Eryn Shewell and Matt O'Ree -- two of the finest blues artists in New Jersey -- were inducted into the New York/New Jersey Blues Hall of Fame on Sunday, September 11, 2016. They were inducted along with Peter Veleska, Lee Delray, Joe Maer, John "Big Daddy" O'donnell, The Brooklyn Horns, Phil Stone, Tommy Pezz, Joe 'Joey Crown' Kaminski, Ernest Johnson, and Lefty Guitar Randy.  The ceremony took place at Killmeyer's in Staten Island, NY.
In addition to being two great artists, Shewell and O'Ree are also in a relationship, which made being inducted together even more special.  New Jersey Stage caught up with Eryn after the event.
What did you think when you first got the news that you and Matt were going to be inducted?
I was extremely excited and honored that they would even consider me.  Humbled to be considered as one of the great blues artists amongst so many people I have looked up to and admired over the years.  Also, thrilled that Matt and I would be getting inducted on the same day.  That is pretty cool!

What was the entire experience like for you?
I have to say I was so excited about it at first that It wasn't until I got there and saw all the people from the blues community that I have ever performed with, danced with, or just enjoyed the music with over the years that it really hit me.  I became a little bit overwhelmed when Michael Packer was telling the story of how we met so long ago at Orphan Annies when I was a much younger girl. Big Nancy was there that day and she sorta took me under her wing and gave me advice.  I listened!  So when he handed me the award, I couldn't hold the tears back.  

Did you get to play a live set?  If so, was there a jam with other HOF members/inductees?
So after we received our awards we would each perform a small set.  Matt came up and played guitar with me and Michael Packer's band.  I did a few of my standard blues tunes plus my version of "Ain't No Sunshine" .  Then for Matt's set (which was over an hour later as another artist was inducted in-between us) he had me sing backup for him while he sang and then passed it back to me for.  All of the inductees were fantastic that day!  It was great getting to meet all of them and see them all perform.  
---
The article continues after this ad
---
---

Finally, it's always rough being an artist (and likely rougher in today's music world) but does this sort of accomplishment make all of the years and efforts worth it in the end?
Yes absolutely!  Something like this and being recognized by your peers lets me know that what I have been doing and working towards for so long has reached and touched other people. THAT Is the definition of successful!  The Blues community always accepted me and made a home for me musically when no one else would.  I will always love them for that.  
Today someone pointed out to me that I may be the youngest person ever inducted and only 1 out of 2 female artists in NJ!  I don't have any evidence of truth on this but I'd love to find out for sure because if it's true that would be pretty incredible!
I am incredibly honored and humbled to be chosen as an inductee into the NY/NJ Blues Hall of Fame. To share this honor amongst so many incredibly talented musicians is almost overwhelming. I owe so much to the blues community for always supporting me through years on my long musical path. Thank you all so much!
For more information on Eryn visit erynshewell.com  - for more on Matt visit mattoree.com
PHOTO BY LISA STOLLER