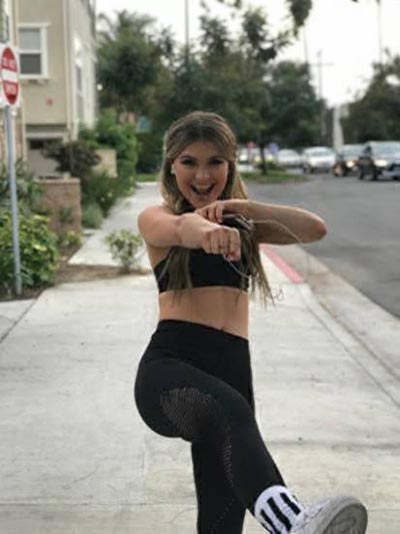 (JACKSON, NJ) -- Elle Winter, an 18-year old singer-songwriter and actor from New York City will perform at Six Flags Great Adventure in Jackson, NJ on Wednesday, June 20 at 6:30pm in the park's Northern Star Arena facility before the headliner Why Don't We. The show is sponsored by Coca-Cola and is included with theme park admission.
Since being discovered by Radio Disney at age 12, Elle's music has regularly been featured on the station and she is now ready to begin the next chapter of her musical career.
Winter released her debut single "One More" on April 11, 2018.  The video was directed by Monsee (Travis Barker &Yelawolf amongst others), and was filmed in Hollywood. "One More" was co-written by Elle Winter and David Stewart and was produced by Matt Schwartz, a multi-intrumentalist record producer, songwriter, artist and DJ based in the UK. "One More" was recorded in London.
Elle recently sang "One More" on The Today show as part of Elvis Duran's Artist Of The Month segment and also completed the first part of her promo tour in support of the single, visiting radio stations in New York, Los Angeles, Philadelphia, Boston, Providence and Buffalo, among others.
Elle was inspired by her sister to write her new single "One More" when she shared the feeling of meeting someone special on a first date. "The song is about the hope and excitement you get and the idea that things happen for a reason," Elle explains. "Those sliding door moments that occur in our lives turn out to affect our destinies."
---
The article continues after this ad
---
---
Spending most of last year in the studio, Elle worked with such high-profile producers as Dave Katz (Katy Perry, Train, and Gym Class Heroes), Metrophonic (Britney Spears, James Bay, Cher), The Orphanage (Demi Lovato, Alessia Cara and Khelani) and NOTD for her upcoming album. She is now managed by industry veteran David Nathan, whose resume includes working with Taylor Swift, Florida Georgia Line, The Weeknd and Ariana Grande.
Elle's recent musical collaborations include a featured appearance on DJ/producer Andrelli's "Always You," which has garnered 1.3 million streams on Spotify and over 1.5 million YouTube views.
Meanwhile, the 18-year-old landed a supporting role in the feature film Three Generations with Susan Sarandon, Elle Fanning and Naomi Watts, and most recently secured a role in the upcoming Netflix film,The After Party, set to premiere later this summer.
Elle devotes whatever spare time she has left to social causes near and dear to her, such as The Ryan Seacrest Foundation and Music is Medicine, which brings music to hospitalized children across the country.
"It's important I use my platform as an entertainer to help those less fortunate," she says.
The headliner for the June 20th show, Why Don't We, formed in October 2016 and has been climbing the charts and rising to fame through social media. That strong audience engagement has undoubtedly fueled the group's rapid rise. Why Don't We has released three EPs, their 2016 debut Only The Beginning and this year's Something Different and Why Don't We Just — the latter peaking at No. 1 on Billboard's Emerging Artist chart and No. 2 on its Heatseekers and Next Big Sound charts. The group's music has racked up over 50 million YouTube views and over 35 million Spotify streams, and they've hit Spotify's USA Viral Top 50 Artists chart. "Something Different," an ode to individuality, has more than seven million Spotify streams alone. Plus, a comedic music video Why Don't We appeared in with Logan Paul, "Help Me Help You," has earned more than 87 million YouTube views. The activity led to major-label interest, with Why Don't We recently signing to Atlantic Records. 
Six Flags Great Adventure is located at 1 Six Flags Boulevard in Jackson, New Jersey.