By Gary Wien
originally published: 09/29/2016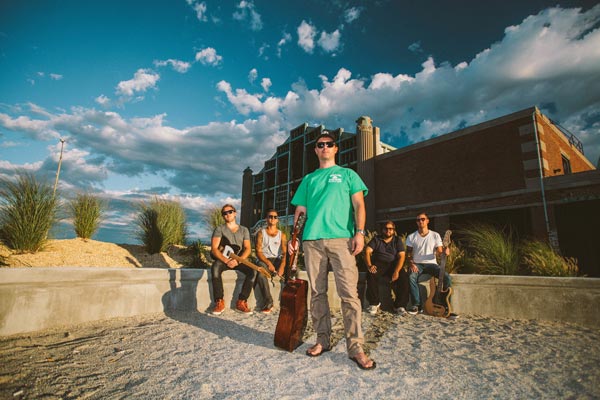 The latest album by Ed Tang & the Chops, Magic Tricks and Rolling Stone, was released over the summer.  It's another brilliant collection mixing Americana, folk, and punk rock songs from a band that always seemed to be caught somewhere between being the next big thing from New Jersey and a footnote in history.  That's the line you walk when your lead singer and writer is in the Navy.
Ed Tang, a Belmar native, is a Navy Supply Corps Officer who does logistics, contracting, and finance work — it all depends on what they need and where they have him deployed.  He's currently stationed in Monterey, California where his family just had their second child.  In 2017, they will be moving to Japan.  Each stop is generally a two year stint.
"I never in a million years thought that I'd be in the military," admitted Tang.  "But looking at the possibility, I thought I'd give it a shot for a couple of years.  And then a couple of years went by and I was having a good time, so I thought I'd stick it out a little longer.  Before you know it, I've been in about 10 years already.  It's been a crazy adventure.  At this point, I'll stick it out to 20 years to get the retirement package and get back to the Shore and do something I really want to do."
In addition to Tang, the band includes Brad Harrison, Geoffrey Myers, Nick Bock, and Vic Fraternale.  The latest album was produced and engineered by Paul Ritchie (The Parlor Mob) at Insidious Sound in Neptune, NJ.

While being in the Navy offers Tang the opportunity to see the world and even perform some solo gigs from time to time, it can make touring and recording albums with the band rather difficult.  In fact, the entire band was only together in the studio one time during the making of Magic Tricks and Rolling Stone.  It was sort of like having a band full of session players record an album.
"It was in the back of my mind because we were getting towards the end of the album and I thought we might never be all here together," recalled Tang.  "It was nuts.  I'm not going to say it was the best way to operate, but it got the job done and we got an album out of it.  It's just fun to hear it all come together.  I was there every time for the most part until I moved out west.  A guy would walk in and do his piece and he wouldn't come back for another month.  Then he'd come back and he'd hear this song that he's on, but all the lines are now colored in.  It was pretty neat."
---
The article continues after this ad
---
---
The band describes the album as a storyteller's effort. The characters in the songs are instruments, played to convey universal sentiments and entertain. A runaway, a murderer, a transgender love reversal, and a sentence of solitary domestic confinement, come together to make Magic Tricks and Rolling Stone a compelling allegorical indulgence.  In the midst of a collection of fictitious stories, the title track tells a very personal one about Tang's uncle.
"I was in deployment with the Navy, so I was out to sea and got word that he had passed," said Tang.  "He had been sick on and off throughout his life, but no one - except maybe my mother - had suspected it.  I was kind of blindsided by it and I didn't have closure, not being able to be with the family during the funeral."
You were a good soul and you left too soon.

You were the one who taught me what it meant to be cool
Now you're gone but you're not forgotten.

You'll live on through me
Tang said his uncle was a huge influence on him and his brothers, sisters, and cousins.  He was the guy that was very much into music and introduced them to Rolling Stone and magic tricks.  The song is a perfect ode to him — a blistering rocker that sounds influenced by Gaslight Anthem.
Magic Tricks and Rolling Stone glides across the musical landscape from blazing alternative rock drinking songs like "Fish Fry" to more traditional Americana tunes like "Kerouac's Curse"; from dark stories like "The 7 Stages of Murder" to "Orlando Bloom," which offers a new twist on the love song.  Excellent lyrics and stories fill the album from start to finish. The album also contains nods to two other great Jersey acts.  In addition to the title track and its Gaslight Anthem vibe,"The Chops" sounds like an ode to The Bouncing Souls, and the band pays respect to Bruce Springsteen with a jangly Chops' punk/folk version of "Does This Bus Stop At 82nd Street?" from his debut album.
The mixture of styles apparently caught one UK music reviewer by surprise. The blogger said, "It's rare to find a UK based band who can successfully create a sound based on distinctly US styles such as Rock n Roll, Americana and country."  The blogger not only had the wrong country of origin for the band, but didn't realize the band had covered Springsteen with the "82nd Street" song.  Tang admitted he felt compelled to tell the writer the truth, thanking him for the review but that he wasn't British and didn't write that song.
It's regrettable that there isn't a tour to support the new album — especially for a band known for great live shows — but Tang says he is trying to deal with what is likely the new norm for him.
"I'm trying to be comfortable with simply the creative process, creating something and putting it out," said Tang.  "That said, with this album, because I've been away and been preoccupied with school (he's in a grad school program) and family, it was such a hurdle to get everything together - to create it and put it out into the world.  But now I wish I could carry it on further and actually play it live and do more with it."
"It is a stumbling block," he continued.  "Ideally, I could do it, but I'm trying to be more comfortable with the process as it is because that's why I'm doing it.  I'd rather record and create albums all day, every day rather than play live, but playing live is important.  You've got to introduce the music to people for them to know about it and to enjoy it."
There was talk online about this being the last album by The Chops and even the official bandcamp page describes it as "The Chops's posthumous new album" but Tang thinks the band will definitely have more.  Whether he's in California or across the world, Tang is always in constant contact with the band members via a text chat where someone will generally be cracking a joke.  He also knows that his future is back at the Shore.  He's been so busy with work, school, and the kids that he hasn't even been able to get in the water in Monterey, much less worry about music.  When the time is right, the band will be back - whether Tang is in New Jersey or somewhere else.
"I think right now it's not so much of me being away, but more so that all of us need to take a step back and appreciate what we've done and created these past few years," said Tang.  "And do what we need to do individually before we start writing and creating music again.  It is 2016 and distance and time doesn't really matter with the recording process and the internet and whatever. There's no need to put a hard boundary on anything that doesn't need it.  I think it's definitely in the future for us, for sure."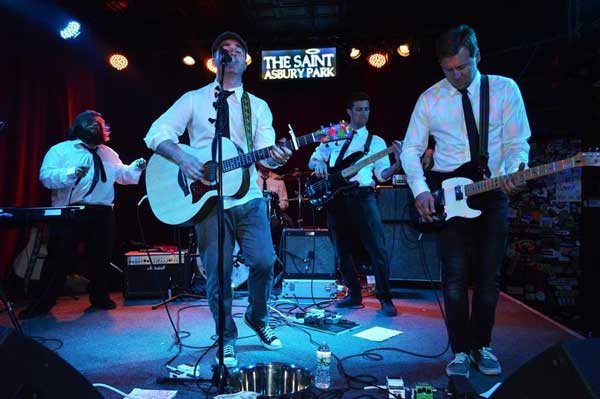 PHOTOS: (TOP) Photo by Matt Catalano
(BOTTOM) Photo by Scott Brash
---
Gary Wien has been covering the arts since 2001 and has had work published with Jersey Arts, Elmore Magazine, Princeton Magazine, Backstreets and other publications. He is a three-time winner of the Asbury Music Award for Top Music Journalist and the author of Beyond the Palace (the first book on the history of rock and roll in Asbury Park) and Are You Listening? The Top 100 Albums of 2001-2010 by New Jersey Artists. In addition, he runs New Jersey Stage and the online radio station The Penguin Rocks. He can be contacted at gary@newjerseystage.com.
---