By Gary Wien
originally published: 03/22/2016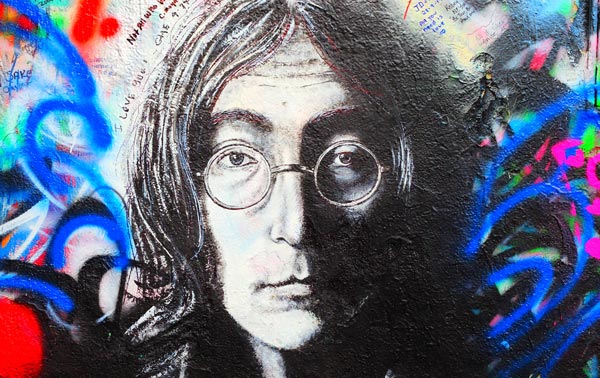 On May 11, 1972, John Lennon and his wife Yoko Ono appeared on The Dick Cavett Show and dropped a bombshell on the nation.  Lennon claimed that he was being followed and that his telephone was being tapped by the FBI.  Fans of The Beatles believed his story while millions of others thought he was crazy. Evidence would later come out which proved he was telling the truth thanks to a 14 year court battle by Jon Weiner over a Freedom of Information request for Lennon's files.  
The story was compiled by Weiner in Gimme Some Truth: The John Lennon FBI Files, a book that caught the eye of New Jersey native Mark St. Germain and led to his play, Ears On A Beatle.  The play, which premiered at the Barrington Stage Company in 2003, will be presented by Alliance Repertory Company at MONDO in Summit this April.
Ears On A Beatle covers the time period from December 1971 to December 1980.  It involves two FBI agents assigned to maintain surveillance on Lennon — Howard Ballantine, a veteran FBI agent, and Daniel McClure, a new recruit. The reasoning behind their assignment: President Nixon's concern about John Lennon and Yoko Ono's opposition to the Vietnam War and their ability to have the masses (especially the youth of America) follow them.  The end goal was to get Lennon out of the country before Nixon ran for reelection in 1972 — coincidentally, the first election in which 18 year-olds were allowed to vote.
Mark St. Germain regularly works within the realm of historical fiction.  Subjects in his some of his recent works have included F. Scott Fitzgerald and Ernest Hemingway (Scott and Hem in the Garden of Allah); Sigmund Freud (Freud's Last Session); and Dr. Ruth Westheimer (Dr. Ruth, All the Way).  The playwright, who was born in Lyndhurst and says he spent half of his life in the Garden State, spoke to New Jersey Stage about Ears on A Beatle and his use of historical fiction.  He said his works usually start off with a question.
"Who were those guys in the cab who sped away after Lennon's shooting? Why did Einstein's baby girl vanish at two years old, never to be mentioned again? (from the play Relativity, which is starting a tour this summer) Why would Thomas Edison and Henry Ford invite Warren Harding to their annual camping trip? (Camping With Henry and Tom)" were examples he provided.  "Once there's a conception to work with then it's a matter if you feel comfortable speaking through their 'voice' as you imagine it."
---
The article continues after this ad
---
---
St. Germain says he probably has always been a fan of historical fiction.  He mentions the work of Gore Vidal and William Luce's plays like Belle of Amherst and Barrymore as favorites of his.  Usually an idea for a subject reaches out to him, but "for ten that reach out, after a little thought or investigation, you're lucky you continue with one idea.  But as Shaw once said, 'There is nothing funnier than the truth!"
A fan of both The Beatles and John Lennon's solo work, St. Germain was drawn to Jon Weiner's book. During the play's initial New York City run at the DR2 Theatre, Weiner was one of several weekly speakers.  Others included Daniel Berrigan, May Pang, and Leon Wildes — Lennon and Ono's attorney when the United States was trying to throw them out of the country.
Fans across the world had heard the rumors about the FBI and Lennon, but seeing the actual transcripts still surprised many.  Count St. Germain among those who was not surprised by what he saw. "The paranoia level was very high," he recalled.  "To trail a Beatle? Yes, it's definitely J. Edgar Style.  Researching the Einstein play I just finished, I read how the FBI, suspecting him as a spy in World War II, used to pick through his garbage."
St. Germain points out the absurdity of "trailing a Beatle" yet one of the most famous footnotes in the FBI transcripts (which is used to great comedic effect in Ears On A Beatle) is the official noting that Lennon was a "former member of the Beatles" as if people did not know who he was.  At the time, he was not only one of the most famous people in the world but had one of the most recognizable faces.  Yet, the FBI agents were asked to provide a photo of the subject for identification!
The play begins with the sounds of a rally to free John Sinclair, an American writer and political activist, in Ann Arbor, Michigan. Lights then reveal Washington Square Park in New York City where the two FBI agents meet for the first time using lyrics from "I Am The Walrus" as a method of password identification.  Within an eye's view is Jerry Rubin and Abby Hoffman.   Sure enough John and Yoko soon appear and join them. Everything is noted and recorded by the agents.
"You worked the Bobby Kennedy assassination," said Daniel, the new recruit.  "Bobby Kennedy was my hero."

"That's another word I have problems with," responds Howard.  With that line a full backstory is created for the character.  Asked if a backstory is intentionally conceived to create extra depth, St. Germain said, "For me, it's never really conscious until a first draft is over and you have to craft the rewrites.  Pictures can come to you.  Sometimes the end of the play with no idea of what comes before it.  The imagined scene of Howard, disguised as a tech from the phone company, being found by Lennon in his apartment and this encounter turning into a conversation of their pain at being an absent parent moved me."
The play goes on to explore the personal relationship between the two agents in light of the changing social climate from the early seventies until Lennon's death in 1980.  As the agents' outlooks evolve, major news events of the '70s fly by, and amazing conspiracy theories bloom.  It's a fascinating story for any Beatles or Lennon fan.  
St. Germain finished his latest play a week ago.  It's a fictional work called Wednesday's Child set around the investigation of a surrogate mother's murder.  "I thought it would be interesting to examine the issue of abortion from five totally different views as detectives try to find her murderer," he explained.
As for Lennon, St. Germain still wonders what John would have created in all of this time.  Don't we all?
 Photo: Emka74 / Shutterstock.com
---
Gary Wien has been covering the arts since 2001 and has had work published with Jersey Arts, Elmore Magazine, Princeton Magazine, Backstreets and other publications. He is a three-time winner of the Asbury Music Award for Top Music Journalist and the author of Beyond the Palace (the first book on the history of rock and roll in Asbury Park) and Are You Listening? The Top 100 Albums of 2001-2010 by New Jersey Artists. In addition, he runs New Jersey Stage and the online radio station The Penguin Rocks. He can be contacted at gary@newjerseystage.com.
---