---
Have you seen our monthly magazine? It's available for free at NJArtsMag.com
---
Dreamcatcher Presents A Very Special (Holiday) Special On December 2
originally published: 11/13/2017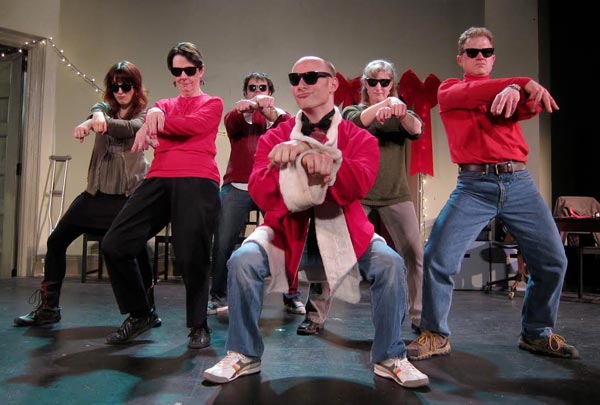 (SUMMIT, NJ) -- Kick off the holiday season with the Dreamcatcher Company with their annual irreverent spoof of the holiday specials of yesteryear. If you enjoyed the corny fun of those old-fashioned holiday variety shows starring Donny and Marie, Perry Como and The Mandrell Sisters, you'll love A Very Special (Holiday) Special at Dreamcatcher Repertory Theatre on Saturday, December 2 at 8:00pm.  Located at their home at the Oakes Center in Summit, Dreamcatcher takes a break from their mainstage schedule to perform their affectionate send-up of traditional holiday entertainment.
The Dreamcatcher Resident Acting Company will entertain with holiday songs, comic sketches and improv, and lots of good old-fashioned fun. Each year's show is original; past years' performances included an ode to binge shopping, a spoof of Hallmark Channel movies and a holiday cooking show gone bad. This year's show will include musical parodies, topical sketches, and unique silliness.  Performing in the show are Dreamcatcher Company members Clark Carmichael, Harry Patrick Christian, Laura Ekstrand, Noreen Farley, Scott McGowan, and perhaps a special guest or two.
A Very Special (Holiday) Special, a unique and hilarious way to celebrate the holiday season, will take place at Dreamcatcher on one night only: Saturday, December 2 at 8:00 p.m.  Tickets are $20 and $15 for students 25 and younger. Tickets can be purchased in advance at www.dreamcatcherrep.org, or by calling Brown Paper Tickets at 800-838-3006.
Performances are at The Oakes Center, located at 120 Morris Avenue in Summit.  Parking is available in the lot behind the theatre on Ashwood Avenue and at the Summit Recreation Center on Morris Avenue, as well as on the street.  The facility is wheelchair accessible.  To purchase tickets or for information on any of Dreamcatcher Repertory Theatre's programs, please visit www.dreamcatcherrep.org or contact Dreamcatcher Repertory Theatre at The Oakes Center, 120 Morris Avenue, Summit, NJ 07901, 908-514-9654.
---


American Poetry Theater Presents "Gun Love"
(LONG BRANCH, NJ) -- The American Poetry Theater presents Gun Love from October 5-7.  The play, written by cast and community members, runs about one hour and is a collection of monologues and a skit dealing with gun violence in America.  
---
Seuls en Scene 2018 Runs This Week At Lewis Center For The Arts
(PRINCETON, NJ) -- Princeton University's Lewis Center for the Arts, Department of French and Italian, and L'Avant-Scène will present the seventh annual Seuls en ScèneFrench Theater Festival, which will take place from September 21 to 29 at venues across the University's campus. Most performances will be in French with English subtitles; all are free and open to the public.
---
Smugbug Productions presents The Eleventh Hour! at The Raritan River Festival
(NEW BRUNSWICK, NJ) -- The Eleventh Hour!'s Chris Pasi with composer David Seamon for a night of acoustic renditions of songs from the rock musical comedy at the Raritan River Festival at Boyd Park in New Brunswick, NJ on Sunday, September 30 at 1:00pm. 
---
Lewis Center for the Arts presents a Conversation about the History of Casting
(PRINCETON, NJ) -- Associate Professor of Theater at Princeton University and performance historian Brian Herrera will lead a conversation about the history of casting in U.S. popular performance on Monday, September 24 at 4:30pm in the Wallace Theater in the Lewis Arts complex on the Princeton campus. The event is free and open to the public.
---
"Nightmare Alley: An Introduction" to debut during West End Festival of the Arts
(LONG BRANCH, NJ) -- The West End Festival of the Arts presents the World Premiere of Nightmare Alley: An Introduction - a new musical based on the 1946 novel by William Lindsay Gresham and the 1947 noir film that starred Tyrone Power. The musical stars Cole Burden, Kevyn Morrow and Lauren Zakrin and can be seen for one night only as part of the West End Festival of the Arts on Friday, September 21 at 8:00pm presented at 132 West End Avenue in Long Branch.
---


The Jersey Devil on stage: An interview with playwright Brandon Monokian
Up-and-coming New Jersey native Brandon Monokian has worked as an actor, writer, director, producer, and popcorn sample distributor. He wrote and starred in the film Happy Yummy Chicken and co-founded the production company Love Drunk Life with Katie Frazer. Together they have produced plays, films, books, and, to support their creative work financially, a product line: lovedrunklife.com. Monokian received national attention through Revolutionary Readings (his TEDx talk at Princeton Library), which was used to fight the banning of the book Revolutionary Voices from two New Jersey libraries. 
---
An Interview With Nicole Pandolfo
Nicole Pandolfo is a talented playwright from New Jersey whose work has been produced on four continents along with readings and productions throughout the Garden State. Her play, Brick City, is currently being presented at Premiere Stages at Kean University now through September 23rd. The play was commissioned and developed via the NJPAC Stage Exchange program. Premiere's production features Rafael Benoit, Jacqueline Correa, Madison Ferris and Chris Grant under the direction of Jessi D. Hill.
---
Ritz Opens Season With "Incorruptible"
Fun seems to be the operative word for "Incorruptible," the production that opens the fall season at  the Ritz Theatre Company on Thursday, September 13.
---
"Bright Star" at Surflight Theatre
Steve Martin and Edie Brickell's Broadway musical "Bright Star" has come to Surflight Theatre in Beach Haven. The comedian and the songwriter created the show after collaborating on a Grammy-winning bluegrass album called "Love Has Come For You." "Bright Star" is set in the American South in the 1920s and '40s, and it's on a similar musical wavelength. We recently spoke with Surflight's Artistic Director Steve Steiner, actor Adrianne Hick and director Elizabeth Lucas about bringing "Bright Star" to Long Beach Island.
---
"By The Water" at The Waterfront South Theatre
"By the Water," a play about a family dealing with the aftermath of 2012's Hurricane Sandy, will have its regional premiere at the Waterfront South Theatre in Camden on September 7, 2018. Written by New York City-based playwright Sharyn Rothstein, "By the Water" has been called a "Superstorm drama" by Time Out (New York), "a first-rate play" with a "bittersweet ending" by The Huffington Post, and "a solid play about a dissolving world" by The New York Times. It's part of the theatre's current Celebrating Female Playwrights season, entirely dedicated to work by women.
---
Event calendar
Thursday, Sep 20, 2018
---
MUSIC

---
---
---
---
---
---
Linda Eder

@ Count Basie Center For The Arts, Red Bank - 8:00pm
---
---
---
THEATRE

---
Souvenir

@ Surflight Theatre, Beach Haven - 2:00pm and 8:00pm
---
---
The Shuck

@ Cape May Stage, Cape May - 7:30pm
---
---
---
---
---
Brick City

@ Premiere Stages at Kean University, Union - 8:00pm
---
FILM

---
---
KIDS

---
---
View all events
---