By Gary Wien
originally published: 12/25/2019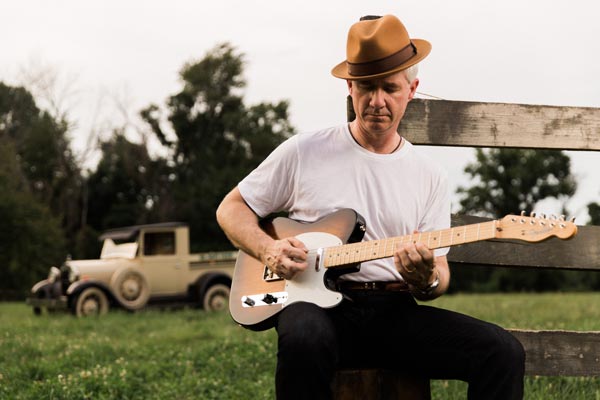 When you've been around the Jersey music scene for a while you begin to realize that nearly everyone has a backstory that might surprise you.  David Vargo certainly has one.  When he first became a professional musician after graduating from Berklee College of Music he found himself on the road more than 300 days a year touring with artists like Whitney Houston, Phoebe Snow, and Rupert Holmes. These days he's running his own successful financial services company, promoting his second solo album, and playing clubs instead of arenas.  Despite the lower profile he sounds much happier.  In fact, he thinks of his national touring days as part of his past musical life.
"One of my most memorable shows was one of the first shows with Whitney at Madison Square Garden," recalled Vargo.  "You go from a couple of months of rehearsing to one of the first spots you hit is a famous spot like that.  There's nervous energy and you go out in the dark, the lights hit and the crowd goes nuts.  It was something that's hard to appreciate if you haven't experienced it.  It makes you weak in the knees for a few minutes."
In addition to touring, Vargo did a large amount of session work years ago.  He does less today, mainly helping local artists out when they need a guitarist, but mainly focusing on his own music.  He's been playing guitar for over 40 years and only writing songs for five, but you'd never know it by listening to Spaces In Between - his second album that has been receiving critical praise across the Americana world.  
"I'm very worried about how much creative energy you have and if you use it in too many places, do you have enough left when you get to do your own stuff?  Sometimes I feel that way.  So, I kind of walked away from session work and use as much of that energy on my project," he added.
Spaces In Between is much more of a complete rock and roll album than what people might expect since Vargo often performs as a solo artist.  Vargo says many of his songs feature three to five guitar parts, creating a layered sound that's hard to replicate on stage and nearly impossible to match as a solo artist.  Lately he has been playing a few shows with a trio (guitar, bass, and drums) which offers a fuller representation of the music than his solo show and helps provides the drum beat which is very noticeable on the album.
---
The article continues after this ad
---
---
Vargo's guitar training is well versed in jazz, so it makes sense that his music features layers of sound.  Coming from the world of touring and session musicians, Vargo knows how difficult it would be for him to create and sustain a band to perform the songs as recorded.
"The hardest thing with a band is finding committed people and people willing to rehearse before you do a show," he explained.  "Locally when you do a show you don't make a lot of money doing original music.  It's hard for me to go to my session friends and say, 'Don't do a session tonight or play in the wedding band, come play with me for $50.  And, by the way, let's do a rehearsal too!'"
This is his second album in three years, following Burning Through which was released in 2016.  This time around he was able to get the album finished early enough to have copies brought with him for his annual trip in September to Americanafest in Nashville.  It's a week in which the city is full of artists, radio promoters, writers, and record labels.  He goes down there, picks up a few gigs, and hands out CDs - "it's better than handing out business cards," he says.
Even though he's firmly in the Americana genre when performing solo, his album has a subtle 80s rock feel running through it.  Vargo says he wasn't aware of those influences until people started mentioning it, but about four years ago, a duo he's in (Kim & Dave with Kim Boyko) was asked to do an 80s themed show.  They learned a complete set of 80s songs, had fun with the tunes, and he realized he did like quite a few songs.  Not surprisingly, he names The Police and Steely Dan as his favorites from the era.
Some of my favorite tracks  on Spaces In Between include "This Moment On", "This Time Around", "Battle Burns", the title track, and "Without a Fight" which was the last song written for the record and the one Vargo says was the quickest to write.
"My wife and I snuck away for a couple of days and we were up in Lenox, Massachusetts during the World Series when the Red Sox were winning," recalled Vargo.  "We rented a house and it was the first time in a long time I couldn't fast forward through commercials, so I had to watch all the political stuff - just saw the angriness and everything.  It just led to that song pretty quickly.  It just kind of fell out of me."
The East Brunswick native actually grew up in Yankees/Mets country as a Red Sox fan despite having parents who were fans of the Pittsburgh Pirates.
"I was an avid baseball player in my youth," said Vargo.  "This was during the 70s when the Red Sox had those teams you could see on the Game of the Week all of the time and in the playoffs.  I fell in love with Yastrzemski and some of the guys on that team.  Going to school in Boston just solidified it."
After touring for a few years following graduation, Vargo began working for Prudential Financial.  He was there for nearly a dozen years before launching Varbeco Wealth Management in 2001.  While many musicians wind up in trouble with finances, this is one of his skills.  He likens it to his days playing sports - some can play athletics and some cannot.  Likewise, some musicians are good at numbers while others are not.  
"I would think most musicians would be strong on the math side because it relates to the notes and where they fall — it's all kind of math based at a deep level I think," said Vargo.  "But, from a business standpoint, many musicians are not very good."
When Vargo started playing out as a solo artist about six years ago, he met Brenda Wirth early on.  She helped steer him to be part of Musicians On A Mission, an organization that uses music to raise awareness and funds for local charitable organizations.  As someone who has been involved in fundraising and the arts in the past, it was a good fit for Vargo.
Vargo may have only begun writing his own songs in the last few years, but this album has made several Top Ten lists for the year and deservedly so.  If you're a fan of classic rock or 80s rock, these songs will be right up your alley. 
Upcoming Shows for David Vargo
Sunday, December 29, 2019 7:00pm Wonder Bar, Asbury Park, NJ
Friday, January 10, 2020 at 5:30pm Tulip Tree Cafe, Freehold, NJ
Saturday, January 11, 2020 at 7:00pm Belmar Arts, Belmar, NJ
Sunday, January 26, 2020 at 1:00pm  Proprietary House Museum, Perth Amboy
---
Gary Wien has been covering the arts since 2001 and has had work published with Jersey Arts, Elmore Magazine, Princeton Magazine, Backstreets and other publications. He is a three-time winner of the Asbury Music Award for Top Music Journalist and the author of Beyond the Palace (the first book on the history of rock and roll in Asbury Park) and Are You Listening? The Top 100 Albums of 2001-2010 by New Jersey Artists. In addition, he runs New Jersey Stage and the online radio station The Penguin Rocks. He can be contacted at gary@newjerseystage.com.
---