By Gary Wien
originally published: 03/16/2020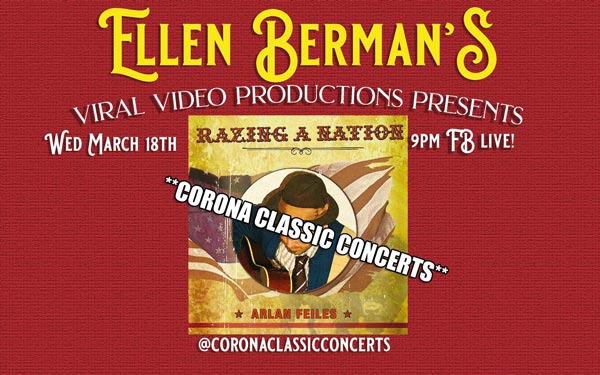 While clubs and concert halls across the country are shut down due to the COVID-19 virus, one music fan has come up with a unique way to keep live music performances going.  Ellen Berman's Viral Video Productions will host a series of Corona Concert Classics featuring artists performing live concerts on Facebook.  The series is initially scheduled to host a live concert every Wednesday from March 18 to April 15 starting with a performance by Arlan Feiles who will be perform his wonderful album, Razing A Nation, in its entirety. The stream will be available here.
"When I realized that this Coronavirus outbreak would cripple our independent music community, I knew I wanted to help," explained Berman. "This Corona Classics series is intended to keep our working musicians working and give all of us in seclusion something we can look forward to and enjoy! I decided to reach out to my good friend, the amazingly talented Arlan Feiles, to share my idea with him. As someone who personally had to cancel all of his public appearances, he had total empathy for the problems his musical friends are facing at this time, and therefore immediately agreed to help administer this effort. He named the series, and Ellen Berman Viral Video Productions was born!"
The first concert will be Arlan Feiles on March 18th at 9:00pm.  Arlan will be performing the Razing A Nation album in its entirety.  This album came in at #7 in my book Are You Listening? The 100 Top Albums of 2001-2010 from New Jersey Artists which was published in 2011.  In the book, I wrote the following about this album:
"Within a few seconds, I was hooked. Listening to this album was akin to what people must have felt when they first heard Bob Dylan come across their radio.  Arlan's voice meshed with his guitar and harmonica to form a simply amazing presence... Razing A Nation is full of beautiful songs that are perfect in a stripped-down, no nonsense recording.  It's folk music at its most powerful.  Feiles, who is equally adept at writing protest or love songs, uses the concept of folk music as a method to change the world - either via the ballot box or by finding one's soulmate."
Arlan has gone on to release six critically acclaimed albums and has established himself as one of the best songwriters in the state.  His latest release, What Kind of World, was released in January.
---
The article continues after this ad
---
---
Future performances in the Corona Classics series include Petty Chavez from Los Angeles. Simon Petty previously launched his band Minibar into the studio with legendary producer T Bone Burnett and has toured with Pete Yorn. Celia Chavez has sung with P!NK, tours as a backing vocalist for Enrique Iglesias, and also has her own solo career.
Berman is well known throughout the New Jersey music scene, but her reach in the music industry actually goes much further.  She has been supporting and promoting indie music since the mid 1990's. From Santa Monica to Brooklyn to Asbury Park, she has tried to shine a light on some of her favorite artists, including: Peter Himmelman, Arlan Feiles, Minibar, Joe Harvard, Anthony D'Amato, Remember Jones, Gingersol, The Wallflowers, Pete Yorn, Melodine, Waz, and more.
"Live performances are a snapshot in time," continued Berman. "You will never get that moment back again. For years, I was heavily involved in videotaping live recordings, and then I would post the most poignant, funny, or fabulous rendering of originals or covers to be enjoyed again and again for those who were in the room and for those whose only window into those moments was my recordings. To this day, I re-watch these favorite moments and feel grateful that I have helped preserve them for myself and others."
The live concerts will be available for free on Facebook, but music fans are encourage to donate to the cause.  For every $200 that is raised, the series will add additional artists to the  performance calendar.  Berman is currently sponsoring the shows to provide artists with stipends to help them continue to work and earn during this shutdown of face-to-face events.
New Jersey Stage will gladly promote any show presented online during this period of time.  We agree with Ellen that the arts are extremely important to the lives of many, including us.  If you are presenting arts online in any form, please email us and let us know about it.  We're all in this together...
---
Gary Wien has been covering the arts since 2001 and has had work published with Jersey Arts, Elmore Magazine, Princeton Magazine, Backstreets and other publications. He is a three-time winner of the Asbury Music Award for Top Music Journalist and the author of Beyond the Palace (the first book on the history of rock and roll in Asbury Park) and Are You Listening? The Top 100 Albums of 2001-2010 by New Jersey Artists. In addition, he runs New Jersey Stage and the online radio station The Penguin Rocks. He can be contacted at gary@newjerseystage.com.
---