By Gary Wien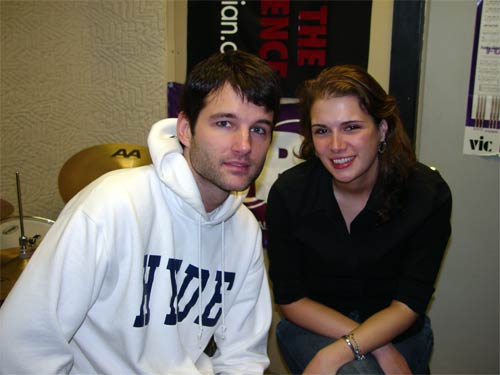 Sometimes bands in New Jersey focus too much on the local scene. They wind up playing the same clubs week after week and seem almost obsessed with the idea of being a big fish in a small pond; so much so, that they forget that the world's largest pond is just under an hour away. Not only do bands in New Jersey have music scenes to play in areas like New Brunswick and Asbury Park and Hoboken, but New York City and Philadelphia are on that list as well. Sometimes it takes a band from somewhere else to make you realize how special this area really is and today that band for me is Causeway.

Barbara Pecirep and Zach Hurd started Causeway while attending Wheaton College in Massachusetts. For a couple of years Causeway was just a duo, but lately it's starting to become a full band with the addition of long-time Jersey Shore musicians Gary Scannelli on bass and Lew Rosengrant on drums. The pair has formerly played together in bands such as The Ayes and the Mimi Cross Band and adds a different dimension to Causeway's music.

I met up with Barbara and Zach at Drummer's Alley, a music shop in Red Bank owned by Gary Scannelli. It was rather appropriate to meet there as it was Gary who really brought Causeway into the Red Bank music scene by booking them at Echo. Causeway (who is based in Middletown) really hadn't been part of the local scene before that. In fact, they've been searching for a local scene to belong to ever since graduating from college. After graduation, they both returned back home (Zach to Maine and Barbara to Connecticut) but continued on with Causeway.

"We were looking to make a move because we were doing the music as a duo from two different states," explained Barbara. "We'd have a gig and just meet somewhere. It was getting to a point where we had to make a decision... we needed to move some where and take the initiative if we were going to really go for this thing in an every day kind of way."

At the time, they had been playing a lot of shows in New York City (clubs like the Living Room, Bitter End, Crash Mansion) and when Barbara's aunt's apartment became available they decided to give it a try.

"It's only 45 minutes from the city and not that far from Philly," she said. "It was central and there was an apartment and it worked. It was something we could do and be local to a place. And it's been awesome since we moved here. We met Gary and Lew and did a lot of open mics. That's pretty much how we started meeting people and learning where you go and how you do it and just checking out the scene."

If Causeway's name doesn't instantly register with you, it's probably because they spend as much time playing in the city and at colleges throughout the country as they do in New Jersey. They've been hooked up with The College Agency for several years and have played colleges from Pennsylvania to Utah. The agency lines up the gigs and handles the price negotiations. All Causeway has to do is find a way to the show. Sometimes even that is paid for!

February will be another busy month for the band with shows in Red Bank, Basking Ridge and Princeton before the big stuff happens. On February 15th they head over to Harrisburg, Pennsylvania for the Millennium Music Conference. After that show they'll drive to Nashville where they'll take part in the NACA National Conference Showcase. That's where colleges check out the bands they can hire throughout the year. They were at the conference in Minnesota a few years back. Back in November they took part in the NACA West Conference Showcase which was for the western colleges. Looks like that conference is already paying dividends as they've got shows at Eastern Washington University and Seattle University (both in Washington state) coming up in May. In October, they were part of the NACA Central Showcase that was held in Little Rock, Arkansas.

The pair themselves have only been out of school for a few years, so playing on campus is still rather fun for them. Not to mention that college gigs pay very well.

"The great thing about the college show is that you never know what you're going to get," said Zach. "You go to a place and you could have two kids there one night and it could be a packed room of kids excited to hear the music the next."

It's easy to see why Causeway is blending well with the college crowd and the coffeehouse circuit. Zach's got a kind of quirky guitar sound, which reminds me a bit of Jack Johnson and Barbara has a beautifully soothing vocal style. Their songs are a nice blend of acoustic rock and roll and jazz and with the addition of Gary and Lew, the sound just gets bigger and sounds more complete. Causeway mixes pop, rock, folk, r&b and a little hip-hop all and somehow finds a way to blend all of those styles into one cohesive sound.

They said they always planned on having Causeway become a full band but hadn't met the right musicians until now. While the college shows will still feature Causeway as a duo, more and more of the New Jersey shows are becoming band shows and the entire band will make the trip to the Millennium Music Conference.
---
Catch Causeway Live:
January 31 @ Red, Red Bank, NJ
February 3 @ Red Oak Grille, Basking Ridge, NJ
February 10 @ Small World Coffee,Princeton, NJ
February 13 @ Echo, Red Bank, NJ
February 15 @ Millennium Music Conference
Ceoltas Irish Pub, Harrisburg, PA
http://www.causewaymusic.net

---
---
Gary Wien has been covering the arts since 2001 and has had work published with Jersey Arts, Elmore Magazine, Princeton Magazine, Backstreets and other publications. He is a three-time winner of the Asbury Music Award for Top Music Journalist and the author of Beyond the Palace (the first book on the history of rock and roll in Asbury Park) and Are You Listening? The Top 100 Albums of 2001-2010 by New Jersey Artists. In addition, he runs New Jersey Stage and the online radio station The Penguin Rocks. He can be contacted at gary@newjerseystage.com.
---