By Gary Wien
originally published: 02/26/2018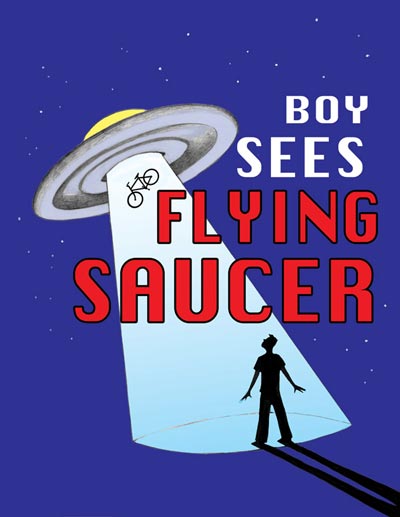 The Growing Stage presents the World Premiere of Boy Sees Flying Saucer from March 9th through March 25th. The play, written by Mike Czuba and based on the true and original story by Brian Dorscht, was the winner of the theatre's 2017 New Play-Reading Festival. The production is directed by Danny Campos, veteran actor and teaching artist at The Growing Stage.
In the play, Bobby Radcliffe is sure he has lost his brand-new bicycle. After his parents go out for the evening, he is left with his sister and instructions from his father to "make sure the bike is found and in the garage" before Bobby goes to bed. Frustrated that he can't find his bike, he returns home and decides to tell a lie to his gullible sister; "A flying saucer came down and took my bike." Half believing what he says, she asks him for details of how it happened – and a story starts to develop. The sister runs to the phone to tell her best friend what Bobby just told her. The best friend tells her father who is the town Sheriff and tells her he is coming over to the house.
Bobby has to decide to either continue the lie, or confess the truth. Surely they would know this isn't true. But, people in the neighborhood and around the City get stirred up and excited to know that a UFO landed in their city. It hits the media the next day, and for the next week the location becomes a tourist attraction with Bobby telling his story.
What he doesn't suspect is the arrival of a "mystery man" who shows up with photo books full of pictures of Martians, and moon men, and the interiors of flying saucers, who just wants to get home.
New Jersey Stage spoke with Mike Czuba, a playwright, screenwriter and acting teacher in Calgary, about the play.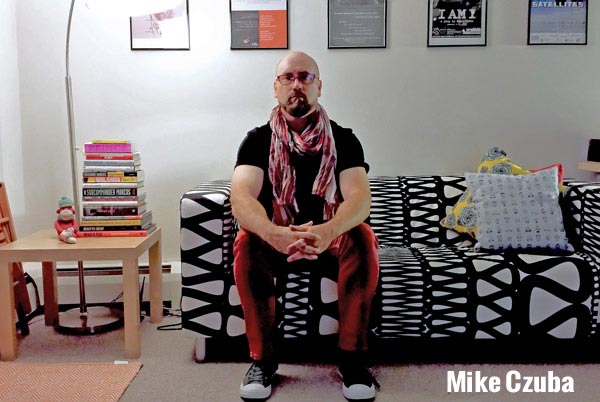 ---
The article continues after this ad
---
---
I know that Brian Dorscht also lived in Calgary. Did you know him?
Brian was originally from Ontario, then relocated to Calgary. He co-founded CYPT or Calgary Young People's Theatre in 1992, so he was involved in Theater for Youth Audiences (TYA) for most of his life. I met Brain after I finished writing another TYA show called The Adventures of Don Marcos Sebastian Guevara Fantastico in 2012 for the City of Calgary and University of Calgary's joint program called Wagon Stage. He liked how I wrote and the slightly off-centre style and he commissioned me to write this play.
What was it that interested you about turning his story into a play?
Brian was adamant that this was a true story - his story. That he, as young boy, saw a UFO, or lied about seeing one, or both. The details moved from time to time but he never wavered that this was true. I took his story, and ran with it, made it one or two steps removed from his direct story, to create something that I hope can speak to large audience. The details are the same, the container has been slightly re-shaped.
Did Brian Dorscht ever get a chance to hear or see your work with this story?
Brian passed away last year after a battle with cancer, but he did learn that the play made it into last year's semi-finals of the competition. He was thrilled. There was also an early reading of the play back in 2013 when we were still developing it. So he won't get to see his true story on the stage, but I know his family will be going to the show for the closing weekend and I think that will be quite special for them. I'm sure Brian will be watching.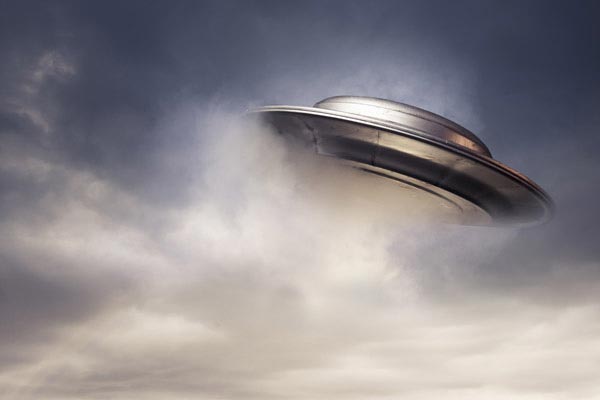 Many playwrights either write plays about adults or write plays about children, but not many cover both angles. Was this your first work for children?
I wrote Don Marcos in 2012, that was my first TYA show. That one was specifically for kids. Then I wrote a play called Hope is Dead which was geared to teenagers about identity, belonging and bullying. What I wanted to do with Boy Sees Flying Saucer was write a 'family' play. Something that both children and parents could enjoy together. It's the Pixar philosophy. Plus, much of my other work can get a little dark, so this was an opportunity to have nothing but fun. Theatre doesn't always have to be about 'Issues.' Sometimes it can just be entertaining, with a message attached.
It's kind of nice to have a play with a message like this one about lying. It's also a rather topical topic within the United States since we have a president who often has trouble with the truth.
It's funny you say that because I feel the message is quite light. or at least, not front and center and forcing itself out to the audience. I don't appreciate being bludgeoned by 'message' plays, I wanted it to be more subversive in how the message comes across.
But, yes, in today's 'alternative facts' environment, a story about telling the truth is very relevant and needed.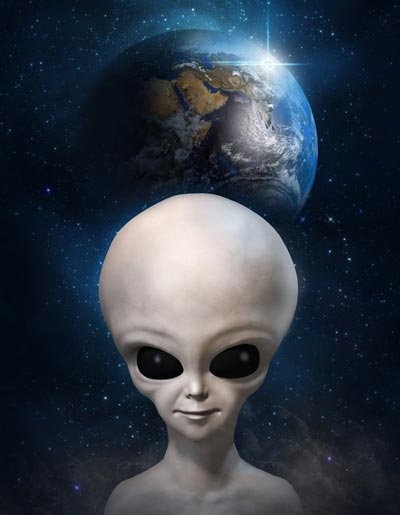 I'm always surprised that science fiction has not been presented on stage as much as it is shown in films. I saw that you had another work that involved time travel. Is science fiction a big interest of yours?
I am a fan of Sci-fi (a short film I shot called The Void was an official selection in the Philip K. Dick Science Fiction Film Festival in New York last year.) but I wouldn't say it's something that is a giant influence. Sci-fi is a great vehicle for writers to dig into big themes with a level of detachment from the reality the theme exists in. It also works best when it's used to re-imagine existing genres - Blade Runner is a film-noir, Star Wars is a western... It also allows your imagination to go anywhere it wants to because its all somewhat in the future or another world.
Dancing Monkey's piece called Humanoid - A Love Supreme is very sci-fi on the surface, but at its core is about humanity and how far we've separated ourselves from it. It's a future-jazz piece.
My play After Us The Savage God is about the avant-garde writer Alfred Jarry and his twisted creation King UBU, which is something that can tie very closely into the current political climate. This beast that was created over 100 years ago is still found in so many of our political leaders today. Jarry wrote a short piece about time travel, which was really a piece about his bike, and I took that and ran with it. Where in truth, Jarry died from illness, alcoholism and malnutrition, I surmised, after much research, that in reality, he died from time travel, trying to go backwards in time to destroy his creation UBU but ends up in the future meeting a modern day embodiment of UBU. It's a really out there play that needs to be picked up..
There are a few companies doing sci-fi theatre, but it's a genre that's hard to put on a stage with all the effects and design that is involved.
Speaking of films, I saw that a screenplay of the story is being rewritten. Are you hoping to go down that road?
That is correct, I've written the first draft of the screenplay version. I think I started writing the play with a cinematic edge to it, so it was only a matter of time before I wrote the screenplay. I've written it on spec right now, just something I wanted to do, but I will be pitching it once the play opens. I've stayed close to the arc and shape of the play, but enhanced several scenes and added a few more to allow it live in a more cinematic world.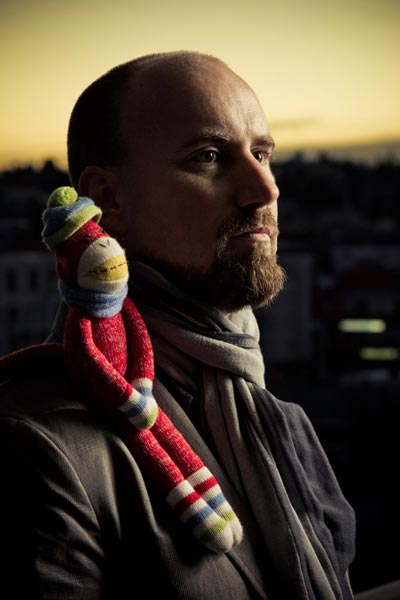 How involved have you been with the production. Did you come to New Jersey for the play reading festival? Are you involved with the rehearsals?
I'm teaching at the University of Calgary right now so I was unable to make it to New Jersey for the readings, but I am going to be there for opening night, and take part in a talk-back as well. I'm looking forward to that. I've stayed out of the production. I produce and direct my own work with Dancing Monkey so I know the focus that it requires. I didn't want to be a distraction. Danny Campos (the director) and I have been in communication, and talked about the play just before auditions were going to happen and the main thing I wanted him to relay to the actors was to 'play.' This piece is fun; it should be approached that way as well.
If I make it to NJ in time on the Thursday, I'm hoping to swing by the theatre to meet some of the cast and crew during their dress rehearsal.
Finally, tell me about Dancing Monkey Laboratories…
Dancing Monkey Laboratories is an interdisciplinary collective I founded in Montreal in 2009 to produce my play I am I. I brought the name with me to Calgary when I came to get my masters degree in playwriting, and teamed up with a choreographer/dancer Melissa Tuplin and a composer Nathaniel Schmidt. We create experiments, trying to challenge standard theatrical structures. We use what we call a 'Structural Triangle' process to create this work - where each element text, dance, music exists with equal weight within the performance. For a writer, to be able to open up what a script can mean and look like was a revelation. For Dancing Monkey the work is not only on the stage, but in short films inspired by our shows, and we're also releasing Nathaniel's scores on-line for sale (iTunes etc.) His album for our performance called Satellites is stunning and I believe its release is a first for a non-musical theatrical score in Canada. We're about to present our piece called Karl Nimeni is not Dead - I Killed Karl Nimeni in May at the Theatre Junction Grand in Calgary. It is very different than Boy Sees Flying Saucer.
---
Gary Wien has been covering the arts since 2001 and has had work published with Jersey Arts, Elmore Magazine, Princeton Magazine, Backstreets and other publications. He is a three-time winner of the Asbury Music Award for Top Music Journalist and the author of Beyond the Palace (the first book on the history of rock and roll in Asbury Park) and Are You Listening? The Top 100 Albums of 2001-2010 by New Jersey Artists. In addition, he runs New Jersey Stage and the online radio station The Penguin Rocks. He can be contacted at gary@newjerseystage.com.
---