By Gary Wien
originally published: 04/26/2017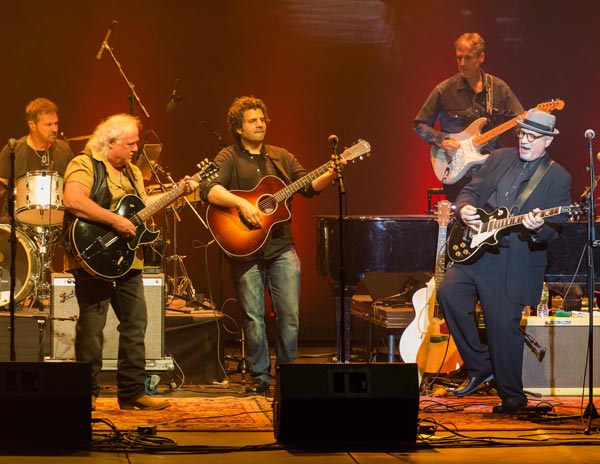 Ever since 1997, Pat Guadagno has been celebrating Bob Dylan's birthday in a grand way with BobFest.  The show returns to the Count Basie Theater in Red Bank on May 25 with this year's theme: Songs Of War & Peace. In honor of the holiday, Jersey Mike's is providing tickets for any veterans who wish to see the show.
BobFest originally began as a night of Dylan songs performed at the Downtown Cafe in Red Bank. As the show's popularity grew, it eventually moved to the Two River Theater and then on to the Count Basie Theater, where it remains one of the top events each Memorial Day Weekend.
Guadagno performs as a solo artist throughout the years, but puts together a 10 piece ensemble for BobFest.  The lineup includes Rob Paparozzi (Original Blues Brothers Band), Jeff Kazee (Southside Johnny) Steve Delopoulos (Burlap to Cashmere) Marc Muller (Shania Twain) Arne Wendt (Jon Bon Jovi ) and Joe Bellia (The Weaklings).
New Jersey Stage spoke with Pat about this year's show and how BobFest got to this point…
In recent years, the show has moved from a night of Dylan songs from throughout his catalog to spotlighting albums on major anniversaries to this year's War & Peace motif. What inspired this year's theme? Well, when the 50 year anniversaries started popping up for Bob's first albums they were all very interesting.  This year would have been John Wesley Harding and I just thought we'd done it enough.  And when he won the Nobel Prize for Literature I got to thinking that maybe we should honor the fact that he is a poet.  I put the War & Peace logo together with the book and we're promoting it that way and doing songs about war and peace, which there were quite a few.
---
The article continues after this ad
---
---
Did the theme lead you to discover songs you didn't know? It sure did.  And when I announced it, I had tons of people writing in suggesting stuff.  I found some songs I didn't even know existed.  So, we're going to go pretty deep and we're also going to stay with a couple of the pretty well known things that he's done, which I do every year.  I have to try and please everybody.  There are die-hards that come to BobFest and expect us not to do the top 20; there's a lot of people who come who don't particularly like Dylan as much as they enjoy us doing Dylan; and there are some people who come who aren't familiar at all and just know the hits. So we do a little of everything.
Bob is the perfect artist for a show like this because there are people who love Dylan's songwriting but may prefer it when done by say The Byrds or someone else. Exactly. I'll never forget the night we played down in Asbury Park at McCloone's Supper Club and Bob was playing at the Paramount Theatre.  Tim (McCloone) had asked me to do my Dylan thing down there so I brought a sort of skeleton BobFest crew.  We did our show and there were countless people coming in from the Dyland show who couldn't understand any of the words and enjoyed our show more! It was encouraging and kind of funny at the same time.  It's not a tribute band, it's a bunch of great musicians getting together and putting on a show.
As someone that usually performs as a solo artist, what's it like to work with a 10-piece band for a night? It is so wonderful.  I have found some of the best musicians.  The way I go about putting that band together is by finding people I like to work with, people whose music I appreciate, and people who can bring themselves to the show.  When we rehearse I don't say I need this line or that line; this part or that part.  I say I need you on this track.  It brings 10 individuals together and it lets them perform their magic along with helping my arrangement.
How do you decide who takes each song? I kind of delegate. I know what will work with certain people.  I can see people doing certain songs and it's always worked well.  We had Mary McCrink in the band and each year I found a song I think would be nice for her to work with, and it usually works out pretty good.  I'm usually right on the money.  And I try to share and spread the love around to give everyone a piece because I get tired of hearing myself sometimes.
You mentioned finding discovering a few songs for the theme.  Can you give me an off-the-radar track that might wind up in the show? I found a song called "Changing of the Guards" that was suggested to me.  I had never heard it before, but I really like it.  I won't know for sure if it makes the cut list until we try it as a band, but it's up there. 
I would assume something like "Masters of War" might make the list, right? Yeah, well that was kind of the impetus of the whole thing because I rediscovered that song one night playing in a bar.  It took everybody by surprise: First that I would even attempt to do it and secondly for what a wonderfully angry song it is.  It's probably the angriest song I know.
How much planning goes into the show? It starts the next day! After we do the show, I start thinking about the next one.  I would say there isn't a month that goes by where I'm not working on the show and finding music and putting the show together.  It's a whole year process.  We get together in earnest with rehearsals about two months in advance.
A lot of the stuff I'm doing is behind the scenes stuff.  We were lucky enough to have Jersey Mike's offer to buy tickets for veterans this year.  The show is on Memorial Day weekend and I always try to find some kind of tie-in with Memorial Day and our veterans.  They have purchased tickets for any veterans that want to go, which is very cool.
Bob turns 76 this year.  I remember when you used to play a song for each birthday during BobFest. I started doing that when he turned 60.  I did 60 songs and it was so much work! Then when he turned 70 we did two nights where we did 70 songs.  It was so exhausting that I think the next time I'll do it is when he turns 80.  It all started out just me and a guitar and friends coming in.  It just kind of blossomed into this pretty cool night.
How do you feel about where the show is right now? It started out in a club then moved to a bigger venue and now you're in a huge theatre. I love it.  Every step of the way has been a blast.  We had such a great time at the Downtown Cafe when we had it there for so many memorable nights.  We had equally memorable nights at the Two River Theater.  Each venue is different and this is a big undertaking in a big theater.  My whole thing is intimacy.  It took a little while to find the intimacy in such a big theater, but we found it and we nailed it, and we bring it back every year.
In between war and peace is the concept of hope.  Is there a particular song you think represents hope the best? There are quite a few of them.  I think "Blowin' In The Win" is a song about hope.  It's been about hope for years and it continues to be.  "Every Grain of Sand" is another one I love.
On several occasions you've called Dylan the Beethoven of our time; what did you think of him receiving the Nobel Prize for Literature? I did some research and found out what the Nobel Prize was all about.  I thought it was so appropriate and he was so deserving of it.  I guess throughout history and times of trouble, art and literature always seem to flourish.  It gives us something to hold on to.  It's important and I'm glad he was recognized as important and more than just a performer or a writer.  What he does is important.
I believe there will never be another Beethoven; there will never be another Dylan; never be another Shakespeare; and there will never be another Springsteen.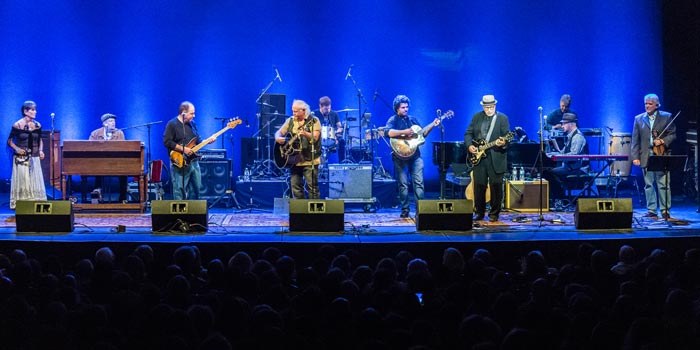 Photos by John Posada
---
Gary Wien has been covering the arts since 2001 and has had work published with Jersey Arts, Elmore Magazine, Princeton Magazine, Backstreets and other publications. He is a three-time winner of the Asbury Music Award for Top Music Journalist and the author of Beyond the Palace (the first book on the history of rock and roll in Asbury Park) and Are You Listening? The Top 100 Albums of 2001-2010 by New Jersey Artists. In addition, he runs New Jersey Stage and the online radio station The Penguin Rocks. He can be contacted at gary@newjerseystage.com.
---