By Gary Wien
originally published: 07/21/2016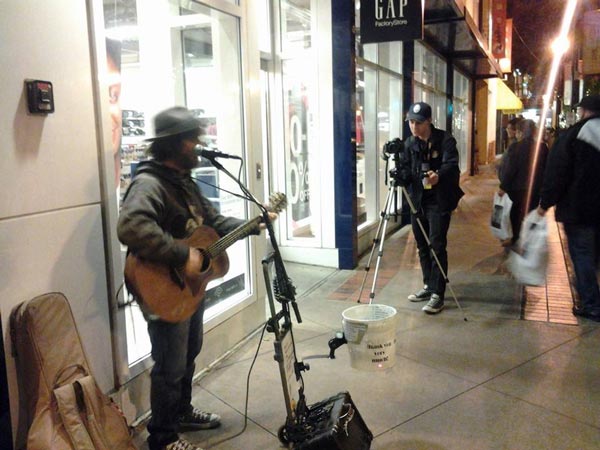 Imagine grabbing your guitar and performing on a street corner for tips day after day, year after year.  Never worrying about setting up club dates with owners or promoters who require you to bring a certain number of people to the show; being able to perform originals in front of thousands of people each week; and actually earning a living as a musician.  Sounds like a dream, right?
That's the dream long-time Jersey singer-songwriter Bobby Strange is living these days.
Strange and his wife Joyce, moved to California two years ago.  They were looking for a change, sort of a reboot to life, and ultimately settled in Burbank.  One of the first things they did out there was go to the movie theater, one of the biggest theaters in the area which draws people from all over the valley.
"So, we're in Burbank and it's an outdoor mall," recalled Strange.  "You can see palm trees and mountains.  I took a picture of that spot and I wrote on Facebook, 'We're not in Kansas anymore.' A week later we were there and a violin player, who became one of my best friends out here, was standing there playing at the same spot that we first went to.  I looked at Joyce and said, 'This looks interesting.'"
The idea of performing on the street interested Strange.  He had done it once, many years ago, while on tour in England.  A few weeks after meeting the violinist he decided to give busking a try and he's been at it almost every day since.
---
The article continues after this ad
---
---
"There's a lot of buskers out here and a lot of competition, but you can pretty much go out every day and get paid in the music business, which is unheard of," explained Strange.  "Back east it would be comparable to performing in the subways."
Many of the nearby towns, including Burbank, do not require permits for busking.  Performers are allowed to set up shop as long as you aren't on private property and there aren't complaints from businesses.
Strange treats this as a business.  He created a system where he has a small PA (public address system) on wheels and everything is tied together right down to his guitar cable.  This allows him to be able to move around and play anywhere at any time at a moment's notice.  He doesn't even have to unplug or turn his equipment off, he can just walk the hand cart to a new location if needed.
"Buskers come and go for the most part," explained Strange.  "I'm the only real full-time busker in the area where I am.  Most of the full-timers are down on the beach in Santa Monica.  So, I'm kind of like a mentor to the new buskers and the young ones that come in.  They'll ask me how to do it, where the places are, and how to deal with people.  There are all kinds of little tricks of finding spots, knowing what times certain spots are open, and where the best spots are when the movies are letting out. It's almost like a chess game, which makes it fun."
The world of busking is fascinating.  There is a woman who tips Bobby $5 a day just to stand by the side of her candy store.  It adds up to $150 a month because she knows that when he is performing he's drawing attention to the area and to her store. Restaurants provide buskers with free food and water for the same reason and to keep the homeless away from setting up shop outside their door.  In addition, since Burbank is home to several television studios (Warner Brothers, NBC Studios, Disney), many celebrities have become fans of his.  He's had guys like Keanu Reeves and Jay Leno hang out with him, along with virtually everyone from the cast of Days of Our Lives — his favorite soap opera.  One cast member (Vivian Jovanni) got Bobby on SoapShows.com while another (Kassie Depaiva) has come by and sung with Strange a few times.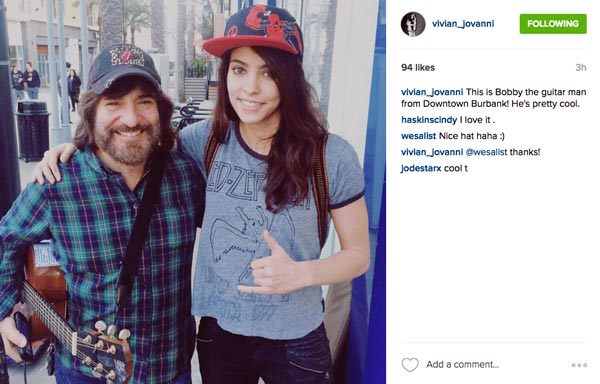 Bobby himself admits to being something of a C List celebrity himself out west.  Everybody knows him in Burbank and thousands see him every week.  He's even had people come up to him at Disneyland saying they knew him from Burbank (an hour away).  He doesn't have a menu item named after him (something on his resume from Red Bank, NJ) but he's working on it.
He's also met some amazing musicians who perform with him when Strange does a traditional club show.  These musicians include Steve Reid, a percussionist who won a Grammy for his work with Miles Davis, and John Cartwright who played upright bass for Harry Belafonte for 35 years.  Reid has been recording Strange, so we may see a new album yet.  Strange, who has shared stages with the biggest names in New Jersey (Bruce Springsteen, Jon Bon Jovi, and Southside Johnny) hopes so, because he believes busking has helped him become a better musician overall.
"Two years, playing pretty much 7 days a week over 20 hours a week is thousands of hours playing your own stuff," said Strange.  "Playing live in front of people with just your guitar and microphone has been the most incredible woodshedding for getting better and stronger.  I feel I'm so much more comfortable and proud of my work now - both singing and playing — because no matter how old you are, when you come out here you just keep fine tuning and fine tuning.  There's nothing like repetition.  Aside from the first time in a musician's life actually earning an income that you're sure of each week, you're honing your craft and there's nothing better."
"The thing I like better out here and what I don't miss is that unless you had a hit record it was difficult to make a living back in Jersey," he added.  "Out here, the busking thing is like a musician's miracle.  To be able to make a living and not have to worry about getting another job, and to be able to play your own originals is just a miracle. I would tell any young kid what a great experience busking is — it's the best way to play live.  When you're a busker, you are your own agent, your own everything, and you can just go out on the street and do it.  It's a control over your career, which you've never had before.  It's just cool."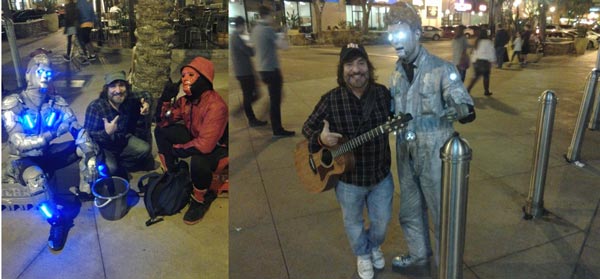 Bobby Strange's Tips For Buskers


It's best to be at least 50 feet away from the nearest busker so you don't annoy them.


Keep your best busking locations a secret.


If you have a good day, be sure to tip fellow buskers and the homeless.


Get to know some regulars and acknowledge them on the microphone — people love to be acknowledged.


Older people are more likely to tip you. Kids will come up to talk to you, but rarely tip.


Have a few popular covers you can throw out for large groups to get them interested in you, then hit them with your originals.


Busking every day is like going to the gym, pace yourself.


---
Gary Wien has been covering the arts since 2001 and has had work published with Jersey Arts, Elmore Magazine, Princeton Magazine, Backstreets and other publications. He is a three-time winner of the Asbury Music Award for Top Music Journalist and the author of Beyond the Palace (the first book on the history of rock and roll in Asbury Park) and Are You Listening? The Top 100 Albums of 2001-2010 by New Jersey Artists. In addition, he runs New Jersey Stage and the online radio station The Penguin Rocks. He can be contacted at gary@newjerseystage.com.
---