---
Did you know NJ Stage offers FREE Event Listings? Nearly 100,000 listings were viewed in January. Be sure to add your events to our calendar and get your shows noticed!
---
Bob DeBenedette Trio to Perform At June 24th New Jersey Jazz Society Social
originally published: 06/13/2018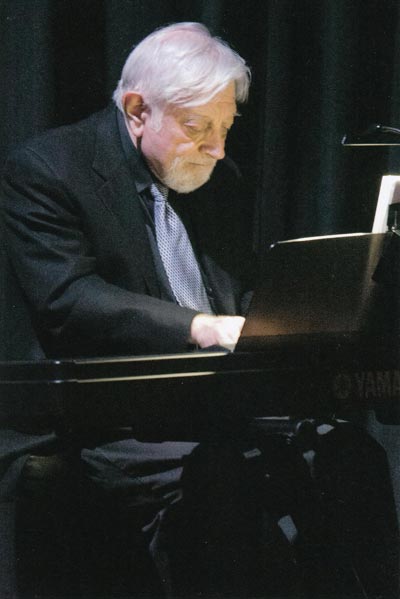 (MADISON, NJ) -- Pianist Bob DeBenedette has played with the Tommy Dorsey and Harry James orchestras and has accompanied vocalists Marlene VerPlanck and Connie Francis. On Sunday, June 24, he will be the headliner at the New Jersey Jazz Society's monthly jazz social.
DeBenedette will be joined by bassist Gary Mazzaroppi and drummer Rick Visone. Mazzaroppi once toured with the Lionel Hampton Orchestra and has performed with such jazz legends as tenor saxophonist Stan Getz, drummer Buddy Rich, and trumpeter Clark Terry. Visone, who studied under drummers Mel Lewis and Joe Morello, now leads the Rick Visone Big Band.
Admission to the socials is free for New Jersey Jazz Society members and is $10 for non-members. There is also a $10 food/beverage minimum. Shanghai Jazz is located at 24 Main St. in Madison. Doors open at 3:00pm, and the music is performed from 3:30pm-5:30pm, with one short intermission. 
Funding for the New Jersey Jazz Society socials has been made possible in part by Morris Arts through the N.J. State Council on the Arts/Department of State, a partner agency of the National Endowment for the Arts.
---


An Evening with Johnny Irion & Pat Sansone of Wilco At Hopewell Theater
(HOPEWELL, NJ) -- Hopewell Theater presents American folk rock favorite, Johnny Irion, who will be joined by Wilco's Pat Sansone in a special acoustic show on Saturday, November 10 at 8:00pm. This concert brings together two of folk-rock's acclaimed musicians for a one-night only performance.
---
South Jersey Pops Lauds Nautical Exploration in "Sail Away"
(CHERRY HILL, NJ) -- The South Jersey Pops, the area's own non-profit orchestra, raises the curtain on a 2018-2019 season that will include four themed concerts appealing to a variety of tastes and incorporating many touchstones of popular culture.  A pair of acclaimed guest vocalists will get the season off on a winning note with "Sail Away: Exploring the Sea," November 4, 2018, at Burlington County Institute of Technology's Medford Campus Performing Arts Center.
---
Rock Of Jersey Featuring The B Street Band & Slippery When Wet At iPlay America
(FREEHOLD, NJ) -- The B Street Band and Slippery When Wet come together at iPlay America, celebrating the music of two of New Jersey's favorite sons, on November 11th. Doors open at 5:00pm, and the show starts at 6:00pm.
---
Three Dog Night To Perform In Newton
(NEWTON, NJ) -- Legendary music icons, Three Dog Night, are celebrating their 4th decade bringing with them some of the most astonishing statistics in popular music. In the years 1969 through 1974, no other group achieved more top 10 hits, moved more records or sold more concert tickets than Three Dog Night. The celebration comes to The Newton Theatre on Sunday, February 10, 2019 at 8:00pm.
---
Seton Hall University Chorus Launches Season With: A Concert For Hope
(SOUTH ORANGE, NJ) -- To launch its 2018-19 season, the Seton Hall University Chorus, within the College of Communication and the Arts and its Arts Council, will perform "Et In Terra Pax: A Concert for Hope" alongside the Mid-Atlantic Symphony Orchestra on Sunday, October 28, 2018 at 7:00pm at Saint Bartholomew's Church in New York, N.Y.
---


Whitney Houston Exhibit Opens at The GRAMMY Museum Experience Prudential Center
Interviews with Pat Houston, President of The Estate of Whitney E. Houston and Bob Santelli, Founding Executive Director of the Grammy Museum
---
"Very Happy!" The Buckinghams and Cowsills Star in Cousin Brucie's Rock and Roll Yearbook Vol. 2 LIVE!
Fall is in the air at Homdel, NJ's PNC Bank Arts Center this Friday, September 28, 2018 evening as thousands of '60s music lovers ready themselves forCousin Brucie's Rock and Roll Yearbook Vol. 2! The show — produced by Cousin Brucie, along with Rob Albanese and the Garden State Arts Center Foundation — features four fab acts from the 1960s: The Buckinghams, The Cowsills, Freddy "Boom Boom" Cannon, and The Orlons!
---
"Brilliant!" The Young Dubliners LIVE! at Toms River's Grunin Center
It's a mild Saturday, September 29, 2019 evening as fans of Celtic rock are streaming into Toms River, NJ's Grunin Center of the Arts for a concert by The Young Dubliners.
---
A Tribute to Roy Orbison, The Beach Boys, and Frankie Valli at the PNC Bank Arts Center
A huge crowd is gathered here on this beautiful September 27, 2018 afternoon at Holmdel, NJ's PNC Bank Arts Center today for a live concert tribute to the music of Roy Orbison, The Beach Boys, and Frankie Valli and the Four Seasons.
---
An Interview with Rusty Young of POCO
Steel pedal guitarist Rusty Young is celebrating the 50th anniversary of the country rock band he helped to create, Poco.
---
Event calendar
Thursday, Oct 18, 2018
---
MUSIC

---
---
---
Rio Mira

@ Hopewell Theater, Hopewell - 7:30pm
---
---
THEATRE

---
The Shuck

@ Cape May Stage, Cape May - 7:30pm
---
---
---
Almost, Maine

@ Jay & Linda Grunin Center For The Arts At Ocean County College, Toms River - 7:30pm
---
Black Tom Island

@ The 1882 Carriage House, Liberty Hall Museum, Union - 10:30am
---
---
---
KIDS

---
---
POETRY

---
---
View all events
---