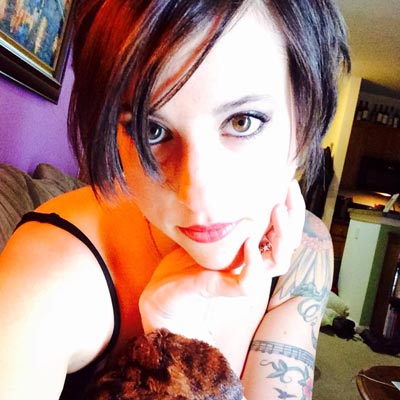 (BELMAR, NJ) -- The Belmar Arts Center presents a solo exhibit by Brittany James titled "Escapism"  from November 24 through December 14.  The exhibit is a a showcase of oil paintings completed by James in the past 3 years. The gallery is open Wednesday through Saturday from 1:00pm-5:00pm.
Brittany James lives and makes her art on Cookman Avenue in Downtown Asbury Park. She has been the resident art teacher at art629 gallery for the past 3 years where she teaches both oil and acrylic painting classes. She also oversees the open studio sessions hosted by the gallery which are open to the public, and teaches at Inspired Minds Fine Art School in Lincroft.
James graduated from Montclair State University with a BFA degree concentrated in oil painting in 2009 and has been a fulltime artist and muralist ever since. As a Jersey Shore native, James began painting in Island Heights and was inspired by the beauty of her surroundings. Nature has always been a big influence in her work. All of James' paintings are derived from a combination of photo references and imagined scenes to create the images she paints today. Most of her paintings are of surreal or fantasylike subject matter. In addition to painting, James is experienced in oil painting, acrylic murals, performance art, charcoal drawing, pastel, life drawing, printmaking, and sculpture.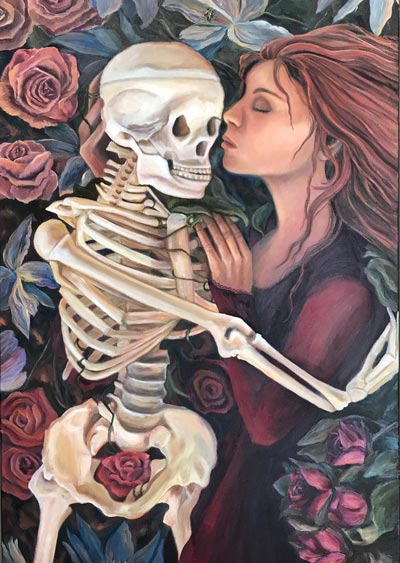 "Painting is my way of escaping reality," explained James.  "With a brush in my hand all of my surroundings and thoughts disappear, and my mind enters a new world within the canvas. For those hours that I am painting, I am temporarily existing in a dreamlike state. I often paint my dreams and am inspired by imagery that evokes emotions. The purpose of my paintings is to make the viewers feel as if they are escaping by looking at my art, the same way I feel while creating it. This has been my source of inspiration for over the past decade. I have represented the theme of escapism in forms of flying, floating, sleeping, dying, dreaming, disappearing, and being born. I enjoy making art that tells a story, and I especially like when that story can be interpreted in different ways by each viewer."
She has painted live on stage at the State Theater in New Brunswick and the Paramount Theater in Asbury Park during Glen Burtnik's British Invasion shows, and was part of a performance art piece during the Summer of Love concert at Count Basie Theater in Red Bank. She has been a muralist and featured artist for the Asbury Underground Art & Music Crawl, and has shown her work in several New Jersey galleries including Torche Gallery in Belmar, Art629 Gallery in Asbury Park, and George Segal Gallery in Montclair. She was recently commissioned to paint a very large mural in Keansburg New Jersey, which can be seen on Main Street.

"Artists are seekers, always trying to understand the underlying, hidden truths," continued James. "Nothing is exactly as it seems and reality is often hidden behind illusions. I am currently focused on the struggle some women face trying to find the delicate balance between wanting to be feminine and domestic, versus wild and free, and trying to be both at the same time. This is some of the most surrealistic work I have created so far in my ever evolving artistic career."
---
The article continues after this ad
---
---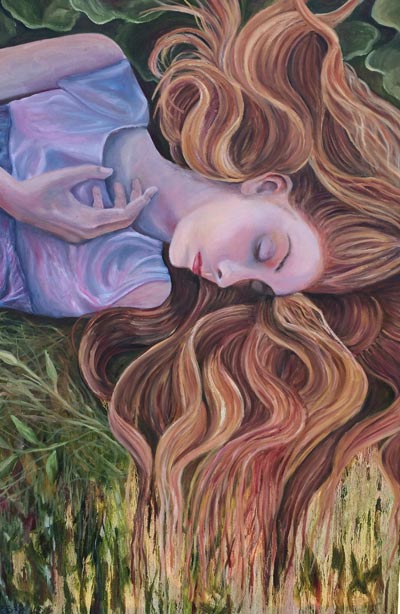 On Saturday evening, November 25, Belmar Arts Council will host an opening reception featuring the work of local artist Brittany James. James will be in attendance, and this event is free and open to the public.
"The healing therapy of art-making and self-expression has been very important to me throughout my life as well, and is something I continue to share with others through painting," said James. "I could not be who I am today without the ability and freedom to channel my thoughts onto a canvas. Whether it be through creating or teaching, I want to continue to make an impact on others lives through art. That makes me feel like I am doing my job as an artist."
Belmar Arts Center is located at 608 River Rd, Belmar NJ. The Belmar Arts Council was founded in 2004 as a non-profit organization that is dedicated to improving the quality of life for residents, visitors and neighbors by helping the arts to flourish. They offer diverse and exciting experiences in both the visual and performing arts for people of all ages, year-round; and promote public participation in and support for the arts. The Belmar Arts Mission is to bring people together to discover, create, learn and celebrate the arts.