By Gary Wien
originally published: 09/21/2015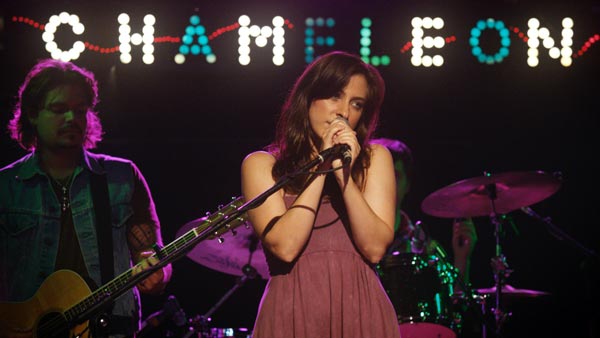 Marina Donahue is a mother of two who lives in Summit, NJ.  Her first feature film is All in Time, which she co-wrote and co-directed with Chris Fetchko.  The film is currently making the rounds at film festivals, including screenings at the New Jersey Film Festival in New Brunswick on September 20 and the Long Beach International Film Festival (NY) on September 26.  

New Jersey Stage spoke to her about the film.

Tell me about All In Time.

Our movie is set in the 1990's and tells the story of Charlie, a 30-year-old banker in New York City who decides to quit his job and move home to follow his dream of managing his favorite rock band, The Damnsels.  The Damnsels had some success in Charlie's youth but recently have been experiencing a downturn in their career.  Charlie believes he can rekindle the band's glory days so he moves home to Wilkes-Barre, Pennsylvania where his long-time girlfriend, Rachel, also lives. Everything goes well until struggles with the band's guitar player threaten the band's existence and puts pressure on Charlie's relationship with his girlfriend. Eventually Charlie loses everything:  the girl, the band, and his dream.  Enter his elderly next door neighbor, Mrs. Joshman, beautifully played by Lynn Cohen, who intervenes and motivates Charlie to get back on his path.  Charlie sets off to win back his girlfriend and to revive his career, but is it too late?  And if he can only have one or the other, what will he choose, love or career?  The movie is essentially about the price of following a dream, and finding out what is most important to us, and how sometimes we realize what is most important to us when it's too late.  

This is your first feature film. Have you always wanted to make movies?

I grew up in a family that loved movies.  We went to the Drive-In every Friday night, and were always the first ones in line for big movie openings like Star Wars or Raiders of the Lost Ark.  Everyone has their "happy place."  Mine has always been sitting in a movie theater with a big screen and surround sound, losing myself in stories that take me to another place and time.  Eventually I wanted to learn how these films were made and became fascinated by all the various talents that come together to make a movie.  I longed to be on a set so I could watch every aspect of a production and find out what each person in the crew did. I didn't pursue film in college – I studied history, which makes sense because I love story telling and history is exactly that – but later on in life I did work for a short time at National Geographic Television before I left to have a family.  Perhaps I willed it, but my daughter also developed a passion for film and theater at an early age.  One summer she signed up for a filmmaking "camp" put on by PeachCraft Actors Studio in our hometown of Summit.   It was only for high school students, but I wanted to take it too!  So I volunteered to help and ended up spending the month learning all about writing a script, casting, location scouting, wardrobe, props, directing, and acting. It was there that I met Tony Jannelli, the director of that program and a prolific cinematographer and filmmaker. I told him I'd love to get involved in a feature film, and he introduced me to his friend Chris Fetchko who had just written a script. I read it and had some ideas – especially for the female characters and the villain. Chris liked my ideas and that started a six-year-long collaboration and practical film school for me. Chris had made two films before and was an excellent and patient teacher.  I had always wanted to attend film school, but instead I did it this way!

What did you learn during the making of this film?

When I was writing, I would get very attached to specific dialogue.  And each scene in the script seemed indispensable.  On set, I felt like we had to shoot it all exactly the way we wrote it or the film would fail. We did allow the actors to improvise, but only after we had several good takes in the can.  In the editing room, however, you learn that less is more -- that taking away dialogue or scenes you had thought were so crucial actually serves the film better.  They say a picture tells a thousand words, and that is very true.  An actor's expression is much more powerful than spoken dialogue. I knew this when we were writing, but not the full extent of it.  We could have written a much sparser script and spent a lot less money on production if we had known this in advance!  A lot of what we shot ended up on the cutting room floor. And that hurts when a lot of the money for those scenes came from my dear friends and family.

Chris Fetchko took the lead in directing on set and you took the lead in the editing room.  Were you both worried about the possibility of the film going in two different directions?

No, not at all. Each night before we shot we went through each scene and discussed exactly what we wanted to achieve and get from our actors.  Chris's job was to deliver the direction to the actors and mine was to watch from the monitor to make sure we got what we wanted, and if not, to help Chris tweak the direction until we did.  It's very confusing for actors to get direction from two directors, so I tried to stay quiet.  Every now and then, though, I did whisper a little something into an actor's ear – especially our female leads, since I had the female perspective on their story arcs.   The editing room was a similar situation.  Editors don't like to work with two people in the editing room.  We tried it at first and it was a disaster.  So I went in to lead that effort, but always showed Chris what we were doing so he could add his input.

When the first cut of the film wasn't what you two wanted, rewrites took place.  Was the process of rewriting and getting the story the way you wanted what took so long to get the film finished? Or was it other things like money problems, scheduling, or personalities? A combination of situations?



---
The article continues after this ad
---
---
Since this is a multiple choice question, I choose D.  All of the above. I can laugh about it now but those years were painful.  In 2011 we shot, edited, and started testing the film but nobody liked it.  We soon realized that it needed a major restructuring and additional scenes, but Chris and I didn't agree on how to do that. We ended up with two different drafts and two different ideas on how to write, shoot, edit, and finance the new scenes.  This stalemate lasted for nearly two years and we both became very despondent, thinking that our film would never be finished. But then an outside film producer came along and offered us $400,000 to finish the film, but only if Chris and I split up.  Time was money, and he didn't want to waste any time on the two of us collaborating on set.  He wanted Chris to direct and wanted me banned from set and the editing room.  He offered to send his personal security guard to keep me away. I agreed because finishing the film was more important to me, but Chris was insulted and refused the offer.  That experience ignited a passion in us to get our act together. We integrated the best parts from each of our scripts, made a deal with our Executive Producer to secure the financing, and shot additional scenes three years after our original shoot.  We hired a new editor and invested in a top notch sound team to help us edit in new dialogue to change existing scenes that needed help.  We gave our "villain" a completely new story arc, shot a new beginning to the film, and added a few inspiring lines of dialogue that are now being quoted in social media!
Since the original story was largely inspired by Fetchko's own life, was one of your roles as co-writer to convince him that some parts of the story were not as important as others? Did you help create fictitious parts or characters to help move the story forward?

Chris was definitely working through some personal issues in his first draft of the script.  The movie tells Chris's true-life story of him quitting his job in New York to move home to Pennsylvania to follow his dream of managing his favorite rock band. Well, his experience with his favorite rock band included a lot of turmoil generated by one particular band member.  This guy had tormented Chris to such a degree that when I came on board, Chris had written him a fiery death in a car crash half way though the script.  I had to convince Chris that the villain needed to have a proper story arc and be redeemed at the end.  That took some doing. I also wanted to add some complexity to the female lead's storyline, so I gave her motivations, fear, pain, and goals that I drew upon from my own life experiences at her age.  I also invented a new twist for one of the characters – it's one of the film's many secrets, and isn't revealed until the very end!  We pack a lot of surprises in this film. Get ready for a real rollercoaster ride!
Music is such an important part of this film.  Were you ever worried that people might not fall for the music as much as needed to make the film work?

Nope.  Never!  We had several fundraising parties where the musicians played for the guests, and people just got out their checkbooks.  Without even reading the script, they were "in" just based on the quality and potential of these amazing musicians. Now audiences are downloading the music from the film as they are leaving the theater.  The music is very accessible to a wide demographic – everyone is loving The Badlees and Laura Shay, the bands featured in our film.
I thought the relationship between Charlie and his girlfriend was very well done — especially in the way the film portrayed the dreams both had.   Do you think having a male / female writing team helped make this more realistic?

Definitely!  We would laugh when we were writing, because we each had to share our gender-specific secrets and insecurities with each other so we could make our characters real.  We alternated between being embarrassed and fascinated.  Chris would say, "I never knew girls thought that way," and then he would just have to take a leap of faith that we really do!  I also had to allow him to defend some of the stuff Charlie said or did, because it was the male perspective that I didn't organically know about.  So our collaboration enriched each character beyond what we could have written on our own.
The film was once called "Trust Me."  How difficult was it to change the title?

It was very difficult for Chris to change it, because he felt a personal connection to the idea of asking people to trust him.  It was how he defended himself against people who questioned the way he was leading his life.  When he quit a good job in New York to manage a band, his family thought he was crazy.  He had to ask them to trust him that he was doing the right thing.  When he decided to make a movie about his time managing a band (instead of getting a steady job) he had to ask his family to trust him.  "Trust me," he would say, "I know what I'm doing."  You have to say this when you're broke and you're following your dream because it's not the logical way to conduct your life!  But last year another film came out called "Trust Me," so we had to find a new name.
All in Time has a mantra that bad things, or detours in life, can sometimes turn out to the best things for someone.  Have you had any such detours in your life?

Sure, everyone has!  I think that's why so many people are finding our film inspirational.  Everyone can relate to it on some level, and seeing how our characters deal with pain and change gives people strength to do the same in their own lives.  When I was the age of our heroine in our movie (for me it was in the 80's), one of the worst things that happened to me was losing the love, commitment, and promise of a future with someone I loved.  I also felt the pressures of society bearing down on me….we females were valued and judged by whether or not someone would ask us to marry them.  I definitely got sucked into that mindset, and felt weak and ashamed when I ended up single.  But then I got angry that I had let myself be dependent on someone else for my happiness.  I reached down inside to find my strength, find my own passions and interests, and turned all the pain into energy to better myself.  Because at the end of the day, we are all we have.  Ourselves. And in the future if we meet someone and fall in love, we have much more to offer to that person, and we know we have the strength to deal with it if it doesn't work out.  Had all the "worst things" never happened to me, I wouldn't be who I am.  I'm thankful for all of my detours.  They led me exactly to where I am today.
Marina runs a production company called Corner Bar Pictures which has two shorts and a web series in production, including two that are placed in Summit.  "The Velvet Underground Played at My High School," is an animated short that tells the story of the band's first concert performance in 1965 in the auditorium of Summit High School.  The web series, "Drama," is a comedy about a college student returning home to Summit with some unfortunate news for her parents.
---
Gary Wien has been covering the arts since 2001 and has had work published with Jersey Arts, Elmore Magazine, Princeton Magazine, Backstreets and other publications. He is a three-time winner of the Asbury Music Award for Top Music Journalist and the author of Beyond the Palace (the first book on the history of rock and roll in Asbury Park) and Are You Listening? The Top 100 Albums of 2001-2010 by New Jersey Artists. In addition, he runs New Jersey Stage and the online radio station The Penguin Rocks. He can be contacted at gary@newjerseystage.com.
---