By Sarah Sullivan
originally published: 09/21/2017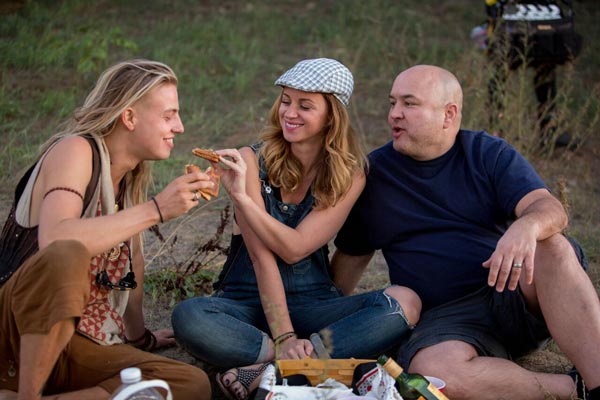 Director Elena Beuca's feature-length drama "D-love" will be screening at the Rahway Film Festival's James Ward Mansion on Saturday, September 23rd at 8:00pm.  The film—which is based on a real-life encounter experienced by Bueca and her husband, New Jersey native Dave Rogers-- tells the story of a couple who is approached at the Los Angeles airport by a Danish vagabond, who asks them for a ride out of the area. The wife wants nothing to do with the wanderer but her husband--much to his wife's horror-- offers to bring this stranger to their home. 
I talked with Elena about the story behind the film, along with the fascinating cast decisions and camera choices.
Q. IS D-love BASED ON REAL LIFE EVENTS?
A:  Yes, my husband, Dave and I met a young man named Ditlev Dharmakaya at the LAX airport in 2012, on one of those days when everything that could go wrong, did go wrong and more!"
---
The article continues after this ad
---
---
"We were in the middle of LAX chaos, dealing with a stolen car, a stolen wallet, lost luggage and a plane delayed for more than 10 hours.  Ditlev (who looked homeless to me) stops me and asks if I can give him a ride to the freeway." 
"Obviously, this was not the right time to approach me, because I wasn't in a good mood and he seemed to be adding to our problems."
"My husband convinced me to help him. We soon realized that Ditlev was a beautiful soul, sweetly goofy, with a childlike innocence.  We decided to take him to a restaurant to get him something to eat and he ended up staying with us for 5 days." 
"This young man came into our life at the right time; definitely not at the best time, but at the time that we needed him and he helped us switch our perspective, the way we look at things, the way we look at life and the way we looked at each other.  Without being aware of it, Ditlev helped us see something we forgotten about."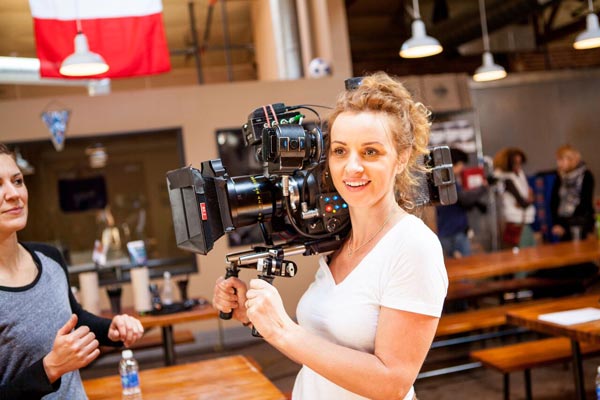 Q: SO HOW DID THIS EXPERIENCE TURN INTO A MOVIE?
A: "A few years later, I was looking for a story that I could direct as my first feature film. One night when I was cleaning my computer files, I came across a short script that I wrote a couple years before called "D-love" which was based on our earlier meeting with Ditlev. I wrote it to capture the feeling and impression that Ditlev left on my husband and myself. The moment I re-read it, I just knew I wanted to make it into a film." 
"Dave and I started to work on creating a story; one thing that we debated was whose point of view the story should be told from.  Should we tell it from the wife's point of view, from the husband's or maybe from all three characters'? After playing around with different ideas and scenarios, we decided that the story would be best told through the woman's eyes and that's when we started shaping the story and adding layers." 
"We wanted to make sure that we created characters that are compelling and real and that people can actually relate to them."  
"In real life, I'm nothing like my Stefania character; she is very closed off.  I want to believe that I am much more open and friendly. I would say I'm much more like Dan (the husband )  than  the character I actually play."
Q. SO YOU CONVINCED THE REAL DITLEV TO PLAY HIMSELF IN THE MOVIE, AND YOU AND YOUR HUSBAND DAVE ALSO PLAY YOURSELVES. HOW DID THIS INTERESTING CASTING DECISION COME ABOUT? 
A: "Dave and I wanted to cast the real Ditlev to play D-love, which initially wasn't seen as a good idea. Everyone we spoke with felt that a first-time director, working with a first-time actor would not end well. But we knew in our hearts that Ditlev was the best choice."
"When we first met Ditlev, he did not have a computer or cell phone but he did have a Facebook account. So every time he would have access to the internet he would text us through Facebook Messenger.  That was the only way we stayed in contact."  
"In 2015, we contacted Ditlev who was now living in Copenhagen and told him that we wanted him to come to America and play himself in a movie about our past encounter.  He was delighted and said he was coincidentally planning on being in America for three months, but the only time he was available to act was the end of October."
"So, if we wanted to make this movie we had to start principal photography in less than 2 months - and that's when the sleepless nights started." 
"Once we committed to have Ditlev play himself, we realized that based on the time constraint, Dave and I would also have to play ourselves, which neither of us wanted to do." 
 "But we knew that Ditlev wouldn't be comfortable on set with someone that he didn't' know- and that would make my life harder as a director.  So I committed to playing Stefania, but it wasn't easy."
Q. HOW AND WHERE WAS D-love SHOT?

A. "We shot "D-love" in 12 days. The majority of the film was shot at our home in Los Angeles, and the remainder was shot at the Burbank Airport, on a plane at Air Mock, at Union Station (downtown Los Angeles), Car Masters in Santa  Monica, and in offices in Century City."
"I shot the childhood flashbacks in Transylvania, Romania, on my iPhone with a Super 8 lens. Members of my real family appeared in the flashbacks."  
 "We were able to make "D-love" with the help of Panavision and their program for first-time filmmakers.  Although we had lots of lenses from Panavision to choose from, pretty much the entire movie was shot with one single lens- the 35mm prime Panavision Primo, except for the flashbacks shot in Romania, which were shot on my iPhone using a Super 8 lens. We wanted the camera to become an observer, and wanted to shoot the movie in the most natural and real way possible."