By Gary Wien
originally published: 01/23/2018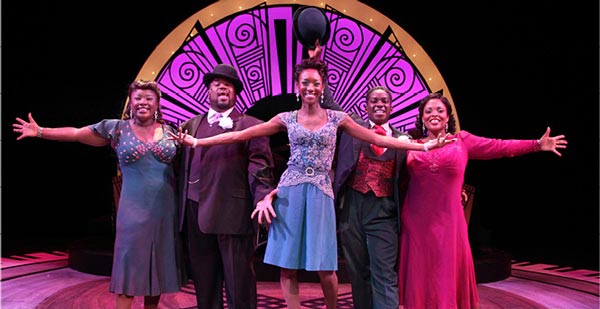 The arts community throughout New Jersey has been buzzing with anticipation ever since the New Brunswick Performing Arts Center project was first announced.  It will be a facility to rival any in Central New Jersey and one that will be home to many arts organizations.  
Unfortunately, that meant George Street Playhouse and Crossroads Theatre Company both needed to find accommodations for the season.  The former found a temporary home, while Crossroads Theatre Company is producing three shows in three different venues this year.  
Up next is Ain't Misbehavin' which will be presented at New Jersey Performing Arts Center (NJPAC) in its Victoria Theater February 1-4.
Ain't Misbehavin' takes place during the Harlem Renaissance. Set in a smoky jazz club of the '20s and '30s, the musical features a cast of five singer-dancers who unroll back-to-back blues, soul and honky-tonk numbers by stride pianist Thomas Wright "Fats" Waller and other composers of the era. In addition to the title tune, the score includes "Black and Blue," "Honeysuckle Rose," "Ladies Who Sing with the Band" and "The Viper's Drag" (The Reefer Song), the last being De Shields' mesmerizing reptilian solo, inspired by Eastern dance. TV viewers of the Seventies are likely to recall commercials of the effervescent, late Nell Carter belting "The Joint Is Jumpin'," the Act One closer.
For Crossroads, this is a return to one of their most popular productions and an excellent opportunity to grow their audience.
---
The article continues after this ad
---
---
"When we closed last season, I came up with my Top Ten list," explained Marshall Jones III, the artistic director at Crossroads Theatre Company.  "It was my tenth year and the list was just my ten most memorable experiences - not necessarily just shows.  I didn't rank it, but one of the shows I was most proud of was our production of Ain't Misbehavin'."
Jones knew the company was going to be on the road for the season and began talking with NJPAC.  The Victoria Theater has roughly 500 seats to fill, so Jones wanted something big like a musical.  He thought about when they last did Ain't Misbehavin'.  It was six years ago. They had previously brought back Fly - a play about the Tuskegee Airmen - in 2016 seven years after it was on stage at Crossroads, so he thought the timing was right.
But he needed André.
André De Shields is a two-time Tony nominee who was in the original cast of Ain't Misbehavin'.  He also directed the acclaimed production at Crossroads back in 2011.
"I wouldn't have done it without him," stated Jones.  "He is perhaps the most uniquely qualified person on this planet to artistically guide this show.  Not only does he understand the show because he was a part of it from beginning to middle to end, but he also has a very keen understanding of the culture of the Harlem Renaissance - including its history and politics.  He knows all of those dances and his choreography and specifically addresses certain dances of that time.  There's the "Spank the Baby" and "Cradle and Walk" - he's incorporating them to not only capture historically that time period, but to also accentuate the songs.  No way would I have done this without him."
The cast includes Johmaalya Adelekan (Ragtime), Rheaume Crenshaw (Groundhog Day), David Samuel (Ruined, Arena Stage), Zurin Villanueva (Mean Girls; Shuffle Along), and Borris York (Holiday Inn; Love Never Dies, US tour).  Together they will bring the sounds of jazz to a city that once was one of the great jazz cities in the country. And they will be reviving a show that already has fans excited.  
"I'm seeing posts on Facebook and lots of people are saying they saw it in high school or their mothers saw it," said Jones.  "They're saying they want to bring their kids and things like that.  It's wonderful!"
Ain't Misbehavin' features a book by Murray Horwitz and Richard Maltby, Jr., and music by various composers and lyricists as arranged and orchestrated by Luther Henderson.  Its name comes from the Fats Waller song of the same name.  The original production opened in February 1978 with a cast that included Irene Cara, Nell Carter, Armelia McQueen, Ken Page, and André DeShields.  It was nominated for five Tony Awards and won Best Musical, Best Direction of a Musical (Richard Maltby, Jr.) and Best Performance by a Featured Actress in a Musical (Nell Carter). 
It was also turned into a TV movie in 1982.  
Jones believes one of the reasons the play remains so popular is the music and the crazy, playful, and rather sexy lyrics.
"At rehearsal yesterday, I'm listening to these lyrics and they kind of drip of sexual innuendo, but that's the beauty of it," he explained.  "They don't just come right out and say, 'drop your panties, I want to grind' or whatever; there's a pace to it.  There's a poetry to it.  There's a wink wink, nod nod to it, which is great.  You not only have that poetic, double entendre innuendo, but you also have great songs."
Crossroads Theatre Company performed The Mecca Tales at Middlesex County College in Edison for their first play of the season and will perform Back to the Real literally around the corner from their home in New Brunswick this May.  For Ain't Misbehavin', the goal is to wow their long-time fans, while gaining more along the way.
"I knew we needed to provide something with commercial appeal," said Jones. "I'm just not interested in doing a show that's going to sell tickets, I also want to do a show where the commercial appeal is surpassed by the artistic vision. My hope is to use the power of storytelling and theatre and people's lives unfolding right in front of your eyes to be able to recognize that we have way more in common than we have our differences."
---
Gary Wien has been covering the arts since 2001 and has had work published with Jersey Arts, Elmore Magazine, Princeton Magazine, Backstreets and other publications. He is a three-time winner of the Asbury Music Award for Top Music Journalist and the author of Beyond the Palace (the first book on the history of rock and roll in Asbury Park) and Are You Listening? The Top 100 Albums of 2001-2010 by New Jersey Artists. In addition, he runs New Jersey Stage and the online radio station The Penguin Rocks. He can be contacted at gary@newjerseystage.com.
---