By Gary Wien
originally published: 07/18/2015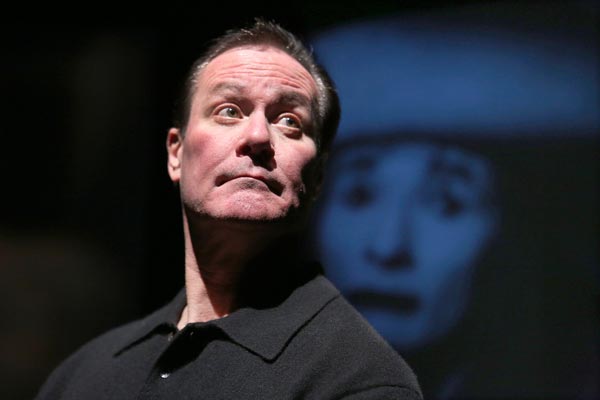 "All my life, the one question I was asked was, 'What was it like to be Jack Lemmon's Son?'" explained Chris Lemmon.  "It's taken me a lifetime to finally find that answer."
Chris Lemmon shares stories about his father, Hollywood, and their life together in his one-man play, A Twist of Lemmon.  His father is generally recognized as one of the best actors of all time with two Oscars (one for Mister Roberts as Best Supporting Actor and one for Save the Tiger as Best Actor) but he had his share of personal issues too; from alcoholism to divorce to largely being as an absentee father.  The play is a tale of a father and son coming together over huge odds to become best friends.  Chris brings the play to the

Morris Museum in Morristown August 19-30.
In 2006, Chris Lemmon's book, A Twist of Lemmon: A Tribute To My Father, was published by Algonquin Books.  Chris says that the idea for the play largely came from seeing the reactions to people during his book tour.
"People were deeply affected by this piece," recalled Chris.  "They would talk to me afterwards and I realized the book was helping people to repair relationships.  My father always said to me, 'If you can touch just one person you've done your job.'  And that quote always stuck with me.
"I've long wanted to do something that I felt would be definitive for me and my career," he continued.  "I've had a good career, but I've never done that one project I could point at and say 'I did that.'  So, I started experimenting around and turned it into a performance piece. It was good, but it was still me — it was like the book done in my voice.  I realized there was just no way it could be a valid piece of theatre if I was doing it like that because no matter how well you do it, it is what it is.  It's just me up on stage being me and that's not acting.  That's when it hit me, it had to be Pop.  I had to become him and do it in his voice.  If I did that and was able to do that successfully, it could be theatre."
---
The article continues after this ad
---
---
A Twist of Lemmon is filled with dozens of stories of movie stars and directors who were his father's close friends like Gregory Peck, Marilyn Monroe, Jimmy Cagney, JFK,  and his best friend Walter Mathau.  Through it all, Chris voices the people as they would have sounded coming from his father's voice and performs his own original score of some of his father's favorite Gershwin songs.  He also reenacts several scenes from his father's most popular films throughout the 90-minute performance.  Chris describes the experience as channeling his father and allowing his father to inhabit his body.  
The play's audience often includes people from several different generations; some who were fans of his father, some who know his later work (films like Grumpy Old Men), and some who were born long after his acting roles ended.  Chris estimates that half of his audience may not even know who his father was.  Whether or not people know these legendary actors from Hollywood's Golden Age does not matter because, in the end, the play is simply a unique take on the universal relationship between a father and son.
"It's a deeply, tragic story at its core," explained Chris.  "We were father and son, and then divorce, second marriages, and the fact that he was an actor of that generation.  He loved me very much, but his career came first and that's the way it was.  For all those different reasons, we were pulled apart and stayed that way for quite a while.  Slowly but surely, we started to come back together and it was a conscious effort on both of our parts.  We chose not to give up on it, which happens so often.  I've had so many people come up to me and say I'm still estranged from my parents.  The first thing I tell them is to give it a second thought because you don't know what you've got until its gone.  And once they're gone, there's nothing you can do about it.  So, go give them a hug and say, 'let's make up' because it's the best way to go."
Chris and his father began by playing golf and going fishing together.  The two discovered they truly enjoyed each other's company and had much in common, including a love of music.  While Jack Lemmon was known for his acting, he was quite an accomplished pianist as well.  He began teaching his son piano at an early age and as Chris got older, the two would jam together.
"We just adored to play the blues," said Chris.  "We could sit and play the blues all night long.  I've never known anybody else I could do that with."
Chris would go on to study at the California Institute of the Arts and earn degrees in classical piano and composition, and in theater.  His own career would include numerous films and television shows, including three films with his father (Airport '77, That's Life! and Dad).  He is especially proud to be able to incorporate music into A Twist of Lemon — something that serves as the perfect blend of his acting and musical careers and which serves as the ultimate tribute to his father.
"Music was the final catalyst that brought us back together," he explained.  "It is a deeply tragic, unique yet universal father and son story, but it's couched in the lore of the Golden Age of Hollywood so there's this marvelous romp going on all around us."
The book was originally written as a form of catharsis for Chris.  When his father passed away, he lost both his father and his best friend, and he was not handling it well.  So he began writing down his memories of being with him.  He soon realized he was writing a story about a father and a son.  In the end, it was the father/son relationship that got the book published — not the fact that it was the memoirs of a star's son.  Chris says that his own father could not find a publisher for his biography and other stars like Gregory Peck (who was seeking a publisher at the same time) found themselves in the same situation.
In his career, Chris has been able to portray dozens of characters, but portraying his father is special.  He spent a year preparing for the role, studying him closely as an actor.  On stage, he gets to be reunited with his father for the night.
"I don't think any of us get over losing someone that close," noted Chris.  "I still have those dreams, like we all do, that he's back and all that stuff.  But for 90 minutes a night I get to be with him again! That's exactly what it feels like.  I walk out on that stage as me.  I give my opening mission statement for about a minute and then I become him right in front of the audience.  It's a wonderful moment; the audiences love it and I love it too.  Then I'm there with him until those final minutes when I become myself again and give my closing statement.

"It's a wonderful feeling because it's like he's there with me," continued Chris.  "And yes indeed, before I go on for every single show I do look up at the heavens and say, 'It's magic time!' which was his quote of course.  Then I go out and for 90 minutes I get to be with him.  It's enormously rewarding for me, not just as an artist but also as a person and as a son."
During the performance, the play goes into the good times and the bad. Chris believes it is his duty as the narrator to include all of the bumps in the road. For example, he gets into the time when his father first announced he was an alcoholic during a taping of Inside The Actor's Studio show with James Lipton.  It was done during a period of time when such revelations were paramount with career suicide. The admission took the world — and the Lemmon family — by surprise as they did not know he planned on announcing it.  And Chris remains proud of his father for never having another drink after making that choice.
"It's my obligation to make you laugh and cry at the same time as my father did and as he strove to do in every performance," said Chris.  "It's one thing to get the big laughs because there is some very funny stuff, but there are silences too.  There are some of those moments where you can hear a pin drop.  It's absolutely fascinating."
---
Gary Wien has been covering the arts since 2001 and has had work published with Jersey Arts, Elmore Magazine, Princeton Magazine, Backstreets and other publications. He is a three-time winner of the Asbury Music Award for Top Music Journalist and the author of Beyond the Palace (the first book on the history of rock and roll in Asbury Park) and Are You Listening? The Top 100 Albums of 2001-2010 by New Jersey Artists. In addition, he runs New Jersey Stage and the online radio station The Penguin Rocks. He can be contacted at gary@newjerseystage.com.
---