originally published: 12/22/2016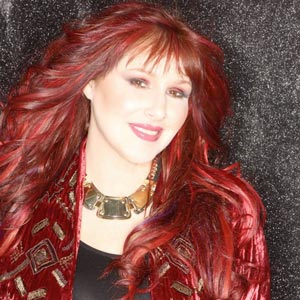 New Jersey Stage is fortunate to have many writers contributing to the magazine and our daily site.  Among them, one of the hardest working writers is Danny Coleman who writes "Rock On! This Week's Sound Bites" - a weekly column found on the website.  Danny is known throughout the New Jersey music community for his weekly radio show and recently added a video talk show as well.  While those shows largely promote independent artists from the tri-state area, his weekly column promotes local artists as well as national ones.
Here is a look back at a few interviews by Danny over the last half of 2016.  Be sure to check out his column every Thursday at NewJerseyStage.com!
Tiffany - published in September 2016
"I was 14 when my first album came out and then I turned 18 and wanted to do things differently and nobody knew what to do," said '80s pop icon Tiffany as she elaborated on her career then and now. "It was scary but I learned a lesson; do what you love."
Born Tiffany Renee Darwish in Norwalk, CA, this soon to be 45 year old singer, songwriter, actress and entrepreneur has had a tumultuous career. Launching herself into music by learning the words to Helen Reddy's "Delta Dawn" at the tender age of four, she went on to make her debut in a country and western bar in Chino, CA by the age of 10.
While singing in a venue in Northern Hollywood, Tiffany was discovered by a gentleman named Hoyt Axton, whose mother Mae, arranged for the young sensation to accompany her to Nashville, TN where she performed on a long running local TV program. By 1982, she had done a minor several city tour of Alaska and managed to share a bill with the likes of country greats George Jones and Jerry Lee Lewis.
---
The article continues after this ad
---
---
An appearance on Ed McMahon's "Star Search," where she placed second, helped catapult her to signing with MCA Records and a debut album, "Tiffany" was released in 1987. The first single released off of this effort went fairly unnoticed but it was her remake of the Tommy James & the Shondells' classic, "I Think We're Alone Now" which made the pop music world stand up and take notice. "People are surprised that I still do 'I Think We're Alone Now,'" she said with a slight chuckle. "I think that I owe it to my fans, especially the ones who have stood by me to play that; don't you think? I'm proud that they've stood by me for all of these years. I never understand the bands that perform but do only their new or most recent music. Fans expect to hear the material that they loved, which made you successful in the first place; so I try and do many of my most popular songs."
But life is not without turmoil and as her career blossomed, so did her troubles. Tiffany's then manager became entangled in a battle with her mother and stepfather over the rights to her career; which in turn caused her grandmother to become her legal guardian. A nasty court battle ensued and all of this took place at the worst possible time; while she was reaching the zenith of her popularity. Pushing through the distractions, she released her second album, 1988's "Hold An Old Friend's Hand," which instantly went platinum and spawned a Top Ten Hit "All This Time."
The times, like so much else, change and Tiffany attempted to change with them but her "Urban" album, although doing well in Japan, received mixed reviews in the U.S. A harder edge and different vocal style, designed to allow her a smooth transition from teen pop star to a more mature artist didn't wow her fans who felt it was a bit too "Sultry" for their tastes and the record did rather poorly.
Always evolving, Tiffany married in 1992 and had a son, Elijah Garcia. Content to fade into the shadows of the music biz and raise her son out of the prying eye of the public; Tiffany continued to write and soon became part of the Nashville songwriting community, where she had relocated to in 2008. In 2011, "Rose Tattoo," was released, a product of her self imposed hiatus and signaled a return to her country and western roots. When asked, she readily admits that this was something which she enjoyed as it enabled her to relay the beginnings of her music career and revisit a very exciting time in her life."I've had lots and lots of good things happening since that album was released," she said. "I just returned from six weeks in England, I've been blending 28 types of music, doing a country album; I'm having fun again. My new album shows me once again as a vocalist but it also shows my songwriting and my ability as a producer as well; it shows how I've matured."
"A Million Miles," released in March 2016, is a side of Tiffany which she has wanted to expose since her last effort in 2011. "I've been writing since my son was born," she explained."I love singing this material. I pride myself as a performer and I would perform and I'd get the same compliment, "I didn't know you could sing like that" and I thought; hmm it's time to do an album."
A spokesperson for The American Heart Association and heavily involved with her local Humane Society; Tiffany stays active in her community and says that this album is "real life."
"As much as I am so excited about this record, it is also part of a healing process for me," she stated with tempered enthusiasm. "I've lost loved ones to cancer and addiction and some of the material reflects that but I feel good about it and I'm very proud of what I've accomplished here."
The current leg of this "A Million Miles - A Dynamic Acoustic Tour" just kicked off on August 24 in Nashville. Then it's off to Michigan for a couple of performances, then over to New York City followed by two local stops; one in NJ at The Wonder Bar in Asbury Park on September 8 and one in New Hope, PA at Havana on September 10. The tour has very little down time, often performing on consecutive nights; something Tiffany doesn't seem to mind.
"This tour will be good for me," she said with confidence. "I love getting out there and working and being interactive with the audiences; and my band is great to tour with and a lot of fun as well as so supportive; I couldn't ask for more."
A huge difference between her debut and now is the presence of social media; something she finds to be a blessing and mildly "intrusive." "Social media? It's great, I mean you just push a button and you are instantly in touch with millions of people around the world but yet; there's no place to hide either. I love talking with my fans though, so I think the good definitely outweighs the bad. The music business has gotten hard on so many levels now and now that I own my own production company, I'm more business now. I've discovered that you really have to love music to stay in it. I love the challenges that I face and I love where I'm at now."
From teen pop star to mature songstress and business woman; Tiffany has not backed down from any challenges and has managed to stay in the public eye just enough to stay on the media radar. Appearances on multiple reality TV shows such as, "Rachel Ray VS Guy: Celebrity Cook Off," "Celebrity Wife Swap," "Celebrity Fit Club," "Celebrity Ghost Stories" and "Food Network Food Challenge," as well as roles in the SyFy Channel's, "Mega Piranah" and "Mega Python vs Gatoroid;" the latter featuring an intriguing, knock'em down, drag'em out brawl with rival pop star Debbie Gibson have managed to give us just enough Tiffany to pique our interest.
So what does the future hold for the now veteran performer? "I'm on the road until February," she said enthusiastically. "I'm putting together a collection of holiday music, have some studio work to do and some international touring too."
---
Danny Coleman is a veteran musician and writer from central New Jersey. He hosts a weekly radio program entitled "Rock On Radio" airing Sunday evenings at 7 p.m. EST on multiple internet radio outlets where he features indie/original bands and solo artists.
---