By Gary Wien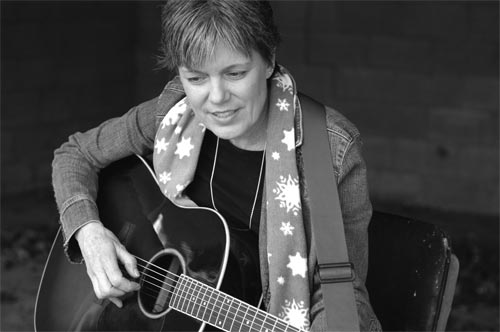 Janey Todd is proof that you should never give up on your dreams. The singer-songwriter, who is a veteran of Jersey Shore clubs and coffeehouses, recently released her long-awaited debut CD entitled "Rusty Water." The disc is a mesmerizing blend of hauntingly beautiful folk rock tunes that showcase Todd's witty and often acerbic lyrics. The end result is a piece of art reminiscent of the best work by Michelle Shocked in the late 1980s.

The CD was recorded at Retromedia Sound Studios under the guidance of John Noll. According to Janey, the project would never have seen the light of day without his help.

"I was just bowled over that anybody would do anything with me," said Janey Todd. "I knew it wasn't going to happen on my own. I was not going to be able to come up with the money to do this kind of thing so I was pretty happy for anything he was going to do. I just got lucky that he was able to see what I like and what would make me happy. He was able to tune into that really well and had similiar views. I think he's got a similar outlook on life and music.

"A number of people who know me very well have said that they were afraid he was going to obscure me and he didn't do that... he enhanced me."

Although she had recorded some demos several years back, only one song of hers was ever made available - a tune called "Barcelona" that was part of an Indigo Coffeehouse compiliation of New Jersey artists. Janey says she always wanted to put her songs on a CD, but never thought it was actually going to happen.

"It's kind of one of those paradoxes like when you fall in love with somebody and in your heart you know you're going to be with them but part of you still thinks it's never going to happen," she explained. "Or like when you're a kid and it's the day before Christmas and you know it's coming the next day but you feel like it's never going to come. It's kind of like that. I always knew it was going to happen, but, at the same time, I didn't see any reason to believe it was going to happen."

Not only did she wind up releasing her first CD, but John Noll assembled an impressive array of musicians to play alongside her. The main band was comprised of Tom Bruno on drums, Dave Rosen on lead guitar, and Adam Vaccarelli on bass. Guest performers included Nicole Atkins (signed to Capitol Records), Kevin Kavanaugh (formerly with Southside Johnny & the Asbury Jukes), PK Lavengood (from John Eddie's band), Ken Sorenson, and John Francis.

The record has been getting airplay on several radio stations and a video is currently in the works for the song "Serpentine."

A couple of shows are currently being scheduled. Nothing was confirmed as of press time, but shows are expected to be added for April and May. Janey, who has performed as a solo artist for years, will be backed on stage by Adam and Bob Vaccarelli plus John Noll and various special guests.

Hearing Janey Todd with a full band after seeing her solo shows for years was a pleasant surprise. The album is rather unique in that it both sounds like something fans of hers would expect and also sounding completely different from what you'd imagine. The difference comes from the backing vocals, extra instrumentation and sound effects. Together they help flesh out the music without losing its raw, honest, and soulful core. Instead of burying the lyrics, it makes the lyrics stand out even more.

"Most of the songs really are conceived as writing experiences with me just trying to do the best I possibly can," said Janey. "To me, writing a song is almost like a prayer. It's like you're asking God to help you say something meaningful and not sound like you're full of shit; something that will hopefully make you feel good and hopefully will help other people at the same time - to me, that's the most important thing."

Janey Todd has become something of an overnight sensation with a recent cover story in The Rag and article in The Aquarian. When asked how it feels to suddenly be in the spotlight she admits to enjoying it but downplays it on the whole.

"In the daily course of my life I really don't think about it too much because I still have to get up and haul my ass to work!" she said. "But it's really nice. The main thing I'm hoping for is that John makes his money back!"

This record is the culmination of years of effort for her. She didn't start playing in public until she was in her thirties and offers the following advice to other would-be artists - it's never too late.

"I was always ashamed of myself that I wasn't a musician," she explained. "Because I knew in my heart that I really wanted to be one. I would see other people play and as much as I would enjoy them I would go home feeling shitty about myself because I wasn't doing it and I knew I really wanted to. I would say two things: It's never too late, the joy is always there waiting for you; and, from a negative aspect, you're never going to stop being ashamed of yourself so just fuckin' do it! Maybe you won't be a great musician but at least you won't have to live with that shame every day!"

And dreams can come true at any age...

---
Gary Wien has been covering the arts since 2001 and has had work published with Jersey Arts, Elmore Magazine, Princeton Magazine, Backstreets and other publications. He is a three-time winner of the Asbury Music Award for Top Music Journalist and the author of Beyond the Palace (the first book on the history of rock and roll in Asbury Park) and Are You Listening? The Top 100 Albums of 2001-2010 by New Jersey Artists. In addition, he runs New Jersey Stage and the online radio station The Penguin Rocks. He can be contacted at gary@newjerseystage.com.
---