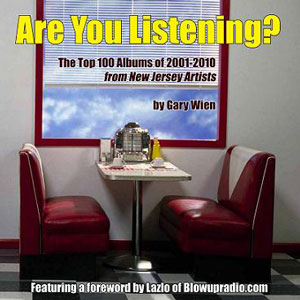 At a time when most punk bands have long since packed it up, The Bouncing Souls released The Gold Record, another amazing album from start to finish.  Full of incredibly catchy tunes featuring punk and pop/rock styles, the release saw the band venturing slightly away from its punk origins.
In interviews, the band often lamented the idea of labeling styles of music and The Gold Record is hard to define.  Is it a punk rock album? Classic rock? Pop?  It's actually a little of all of those things.  Amazingly, the band pulls off each style with ease and radio-friendly hits.  The title is a bit ironic when one thinks that despite 20 years of great music, gold records have alluded the band.
Somewhere around the middle of the decade, The Bouncing Souls moved from New Brunswick to Asbury Park where they became a regular within the local clubs.  The song "So Jersey" pays tribute to their new hometown and its musical legacy.
Stepping out of Asbury Lanes

In a midnight snow

The skeleton of this old town

Feels like it's coming alive

Riots and corruption, beaches and Bruce

These songs were the keys to the engines

Of our growing up
And we wanna say thanks

To the music in our lives

Forgive ourselves for all those lies

Send some love to all the lonely

Don't forget we're all one family

Thanks to the music in our lives

For helping us to survive

Lost in one lonely dream,

Born to run and live free

-- "So Jersey"
Highlights include "The Gold Song," "So Jersey," "Sound Of The City," "Sarah Saturday," and "Lean On Sheena."
---
From the book
Are You Listening? The Top 100 Albums of 2001-2010 by New Jersey Artists
by Gary Wien
---
---