originally published: 08/06/2017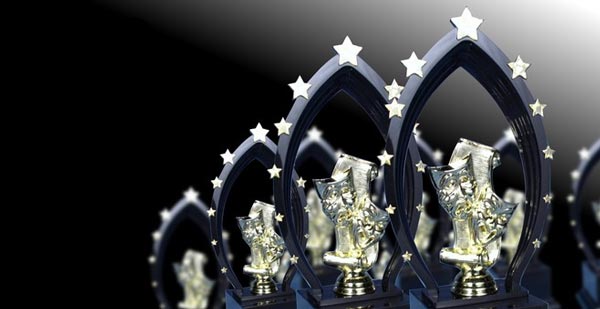 (RAHWAY, NJ) -- The NJACT Perry Awards are given for outstanding achievements in New Jersey Community Theater. At the beginning of each season, NJACT Member Theaters submit their shows for award consideration. Two NJACT Reviewers attend each production, evaluate all on-stage aspects of the performance, and provide separate numerical scores for over 50 different criteria across 10 different review categories. More than 200 shows produced by theater companies around the state are submitted each year, which require over 400 reviews by trained NJACT volunteers.
The 44th Annual Perry Awards will be presented at the Union County Performing Arts Center (UCPAC) in Rahway on Sunday, September 17, 2017.
Here is the list of nominees for 2017.

Outstanding Direction of a Play
Raymond Yucis TIME STANDS STILL Bergen County Players
Kyrus Keenan Westcott VENUS IN FUR Fearless Productions
Tom Frascatore MOON OVER BUFFALO Chatham Community Players
Michael Muller THE GAMES AFOOT or HOLMES FOR THE HOLIDAYS Somerset Valley Players
Margaret Leone RASHEEDA SPEAKING interAct Theater
Lou Stalsworth GOD OF CARNAGE PinnWorth Productions
Alan Van Antwerp, Megan Ferentinos PETER AND THE STAR CATCHER Chester Theater Group
---
Outstanding Direction of a Musical
Kyrus Keenan Westcott IN THE HEIGHTS Pennington Players
Lou Stalsworth/Koren Zander MISS SAIGON PinnWorth Productions
Khy Garner ALTER BOYZ Villagers Theatre
Jen Alagana/Amy Levine THE PIRATES OF PENZANCE Mighty Oak Players
Frank Ferrara BIG FISH Playful Theater Productions
Bryan Pitt CHICAGO The Levoy Theatre Company
John Zimmerman, Lou Woodruff THE BOY FROM OZ Forte' Dramatic Productions/Pierrot Productions
---
Outstanding Stage Management of a Musical
Vicki Kaiser IN THE HEIGHTS Pennington Players
Dennis Tolentino BILLY ELLIOT Axelrod Performing Arts
Jennifer Robinson NEXT TO NORMAL Circle Players
Kathy Wall NUNSENSE St. Philips Players
Zach Berman I DO LOVE THE HOLIDAYS…SOMETIMES Center Players
Jennifer Moffett THE DROWSEY CHAPERONE East Brunswick Community Theater @ Playhouse 22
Annette Tabbachino INTO THE WOODS Park Players Productions
---
---
The article continues after this ad
---
---
Outstanding Stage Management of a Play
Sara Viniar THE PILLOWMAN Haddonfield Plays and Players
Shannen Rivers THE GAMES AFOOT or HOLMES FOR THE HOLIDAYS Somerset Valley Players
Samantha Silver JAKE'S WOMEN Studio Players
Dawn Noonan BLITHE SPIRIT Cranford Dramatic Club
Vicki Kaiser UNNECESSARY FARCE Pennington Players
Anita Esteve ONE FLEW OVER THE CUCKOO'S NEST Westfield Community Players
Vicki Kaiser THE GLASS MENAGERIE Maurer Productions OnStage
Katie McDonald RUMORS Somerset Valley Players
---
Outstanding Lighting Design of a Play
M. Kitty Getlik THE GLASS MENAGERIE Maurer Productions OnStage
Allan Seaward TIME STANDS STILL Bergen County Players
Richard Hennessy TALK RADIO Chatham Community Players
Nik Marmo PETER AND THE STAR CATCHER Chester Theater Group
Ellen Fraker-Glasscok THE TRIP TO BOUNTIFUL Chester Theater Group
Brian Remo, Josh Cote SEMINAR Fearless Productions
Paul Carver OUTSIDE MULLINGAR Circle Players
---
Outstanding Lighting Design of a Musical
Larry Pelham AVENUE Q Dover Little Theater
Caitlin DuBois TOMMY The Off-Broadstreet Theatre
Bill Simonelli THE LITTLE MERMAID Brick Children's Community Theater
Julian Denison/Joan Chavez HAIRSPRAY Showkids Invitational Theater
Ray Poquette CABARET Bergen County Players
Star McCloud IN THE HEIGHTS Pennington Players
Dan Schulze ALTER BOYZ Villagers Theatre
Scott Monsees THE BOY FROM OZ Forte' Dramatic Productions/Pierrot Productions
---
Outstanding Sound Design of a Play
Michael Holak THE GLASS MENAGERIE Players Guild of Leonia
Joe DeVico TALK RADIO Chatham Community Players
Tim Larsen TIME STANDS STILL Bergen Community Players
Jeff Knapp PETER AND THE STAR CATCHER Chester Theater Group
John P. Dowgin OUTSIDE MULLINGAR Circle Players
Dominick Abbatiello IT'S A WONDERFUL LIFE, RADIO PLAY Somerset Valley Players
Monica Alia DEATH OF A SALESMAN East Brunswick Community Theater at Playhouse 22
---
Outstanding Sound Design of a Musical
Drew Villafuerte YOU'RE A GOOD MAN CHARLIE BROWN New Vision Players
Melissa Kramer/Amith Alicea HAIRSPRAY Showkids Invitational Theater
Jack Bozzuffi CHICAGO The Levoy Theatre Company
Andy Gordinier ALTER BOYZ Villagers Theatre
Brielle McArdle AVENUE Q Dover Little Theater
Bobby Deverona/Tim James CARRIE Mystic Vision Players
Pat DiFusco THE LITTLE MERMAID Haddonfield Plays and Players
---
Outstanding Costume Design of a Play
Fran Harrison THE TRIP TO BOUNTIFUL Chester Theater Group
Laurie Wood RUMORS Somerset Valley Players
Gayle Hendrix PETER AND THE STAR CATCHER Chester Theater Group
Katie Lupfer THE LAST NIGHT OF BALLYHOO Bergen County Players
Cat Urban MOON OVER BUFFALO Studio Players
Bamby BREAKFAST AT TIFFANYS Somerset Valley Players
Dianne Arabella/Laurette Miller THE GLASS MENAGERIE Players Guild of Leonia
---
Outstanding Costume Design of a Musical
Kate Pinner/Koren Zander MISS SAIGON PinnWorth Productions
Lynne Lewis ONCE UPON A MATTRESS interAct Productions
Donna Gigante/Joanne DeLuca ONCE UPON A MATTRESS Rising Stars Youth Performing Arts
Lorainne Brown/Kathy Mulvaney THE LITTLE MERMAID Brick Children's Community Theater
Jacquie Revier/Erin Barcheck/Kelsey Hogan THE LITTLE MERMAID The Off-Broadstreet Theatre
Anthony Remer THE BOY FROM OZ Forte' Dramatic Productions/Pierrot Productions
Ruth Morley/Bunny Matoesian CABARET Bergen County Players
---
Outstanding Properties in a Play
Ellie Sroczynski CLYBOURNE PARK Circle Players
Cathy Forbes/Emily Windus/Paula Windus THE GAMES AFOOT or HOLMES FOR THE HOLIDAYS Somerset Valley Players
Deb Mitchell BRIGHTON BEACH MEMOIRS Haddonfield Plays and Players
Laura Byrne-Cristiano MOON OVER BUFFALO Studio Players
Adam Neary DEATH OF A SALESMAN East Brunswick Community Theater at Playhouse 22
Crystal Coddington RUMORS Somerset Valley Players
Tish Lum MOON OVER BUFFALO Chatham Community Players
---
Outstanding Properties in a Musical
Jim Petro/Evan Griner MISS SAIGON PinnWorth Productions
Jennifer Carll-Simon/Megan Devich THE LITTLE MERMAID The Off-Broadstreet Theatre
Anna Diaczynshy BEAUTY AND THE BEAST Sketch Club Players
Rich Ciero/Christine François CABARET Bergen County Players
Turner Striffler INTO THE WOODS St. Catherine's Performing Arts Guild
Laura Iacometta YOU'RE A GOOD MAN CHARLIE BROWN New Vision Players
Denise Laltier MARY POPPINS The Road Company
---
Outstanding Scenic Design of a Play
Keveron Cameron/Stephen Cantrow THE TRIP TO BOUNTIFUL Chester Theatre Group
Ray Parnese THE SUNSHINE BOYS Center Players
Bob Lucasik/Roy Pancirov MOON OVER BUFFALO Chatham Community Players
Crystal Coddington, Joa n Diaz, CJ Miller RUMORS Somerset Valley Players
Joe Vinciguerra/Frank Bergson INHERIT THE WIND Readington Community Theater
Dorothy Bitetto DEATH OF A SALESMAN East Brunswick Community Theater at Playhouse 22
James Kenna THE ODD COUPLE, FEMALE VERSION Yardley Players
Rov Pancirov SEE HOW THEY RUN Summit Playhouse
---
Outstanding Scenic Design of a Musical
Ian Kerns THE LITTLE MERMAID Brick Children's Community theater
Bree Guell ALTER BOYZ Villagers Theatre
Paula Farrar/Laurie Hudson AMERICAN IDIOT The Road Company
Barry DeVersterre/Aaron Willsey/Amy Whitmore
Fred Sorrentino ONCE UPON A MATTRESS Rising Stars Youth Performing Arts
Roy Pancirov VIOLET Summit Players
Nicholas Clarey ONCE UPON A MATTRESS interAct Productions
---
Outstanding Choreography
Koren Zander THE BOY FROM OZ Forte' Dramatic Productions/Pierrot Productions
Raven Dunbar GREASE East Brunswick Community Theater at Playhouse 22
Angela Cusumano ALTER BOYZ Villagers Theatre
Rachel Tovar IN THE HEIGHTS Pennington Players
Liz Piccoli BILLY ELLIOT Axelrod Performing Arts
Koren Zander MISS SAIGON PinnWorth Productions
John T. Stephan THE LITTLE MERMAID The Off-Broadstreet Theatre
---
Outstanding Music Direction
Ruslan Odintsov NEXT TO NORMAL The Road Company
Jen Alagana/Michael Bond THE PIRATES OF PENZANCE Mighty Oak Players
Aimee Robideaux THE BOY FROM OZ Forte' Dramatic Productions/Pierrot Productions
Françios Suhr MISS SAIGON PinnWorth Productions
Jeff Reim THE LITTLE MERMAID The Off-Broadstreet Theatre
Khy Garner ALTAR BOYZ Villagers Theatre
Jack Bender ASSASSINS Cranford Dramatic Club
---
Outstanding Lead Actor in a Play
Sean Lough ONE FLEW OVER THE CUCKOO'S NEST Westfield Community Players
David Romarkow MOON OVER BUFFALO Chatham Community Players
Fred Dennehy AND THEN THERE WERE NONE Westfield Community Players
Anthony Ventola TIME STAND STILL Bergen County Players
John Thompson OUTSIDE MULLINGAR Circle Players
John Kunka INHERIT THE WIND Readington Community Theater
Sean Lough VENUS IN FUR Fearless Productions
---
Outstanding Lead Actor in a Musical
Tim Reily NEXT TO NORMAL The Road Company
Andrew Ruggieri THE BOY FROM OZ Forte' Dramatic Productions/Pierrot Productions
Michael Schumio MISS SAIGON PinnWorth Productions
Michael Scibillia MISS SAIGON PinnWorth Productions
Keith S. White ASSASSINS Cranford Dramatic Club
Jimmy Vinetti CABARET Bergen County Players
Matthew Haines ASSASSINS Old Library Theatre
---
Outstanding Lead Actress in a Play
Juliana Valente VENUS IN FUR Fearless Productions
Stacey Petricha MOON OVER BUFFALO Chatham Community Players
Terri Sturtevant THE TRIP TO BOUNTIFUL Chester Theatre Group
Bobbie Kukal AUGUST: OSAGE COUNTY Cumberland Players
Allie Aquafreda PETER AND THE STAR CATCHER Chester Theatre Group
Leslie Darcey TIME STANDS STILL Bergen County Players
Dawn Lanoue OUTSIDE MULLINGAR Circle Players
---
Outstanding Lead Actress in a Musical
Lianah Sta. Ana MISS SAIGON PinnWorth Productions
Christina Kosyla THE BOY FROM OZ Forte' Dramatic Productions/Pierrot Productions
Ali Gleason NEXT TO NORMAL Circle Players
Karly Lynne Jeffers BEAUTY AND THE BEAST Sketch Club Players
Kelly Rosado CHICAGO The Levoy Theatre Company
Karly Lynne Jeffers CHICAGO The Levoy Theatre Company
Lauren Groff-Tisza OLIVER Old Library Theatre
---
Outstanding Supporting Actor in a Play
Brendan Scullin MOON OVER BUFFALO Chatham Community Players
Michael Patierno PETER AND THE STAR CATCHER Chester Theatre Group
Malik Abdul Khaaliq TO KILL A MOCKINGBIRD Theater To Go
E. Dale Smith-Gallo MOON OVER BUFFALO Studio Players
Adam Ziering ONE FLEW OVER THE CUCKOO"S NEST Westfield Community Players
Dan Mazelis INHERIT THE WIND Readington Community Players
Fred Dennehy OUTSIDE MULLINGAR Circle Players
---
Outstanding Supporting Actor in a Musical
Rico Santiago AMERICAN IDIOT The Road Company
Deontez Locket HAIR Sketch Club Players
Jason Mangano BEAUTY AND THE BEAST Sketch Club Players
Michael Zweig MISS SAIGON PinnWorth Productions
Shane Long ASSASSINS Cranford Dramatic Club
Kevin Albanese ALTAR BOYZ Villagers Theatre
Ben Frost AVENUE Q Cumberland Community College
Dan Keyser ALTER BOYZ Villagers Theatre
---
Outstanding Supporting Actress in a Play
Tess Ammerman SPIKE HEELS Circle Players
Jean Karas AND THEN THERE WERE NONE Westfield Community Players
Laura Bongovanni PLAY ON Sketch Club Players
Tracey Fama RUMORS Somerset Valley Players
Adriana Spizuoco CLYBOURNE PARK Circle Players
Roberta Steve BREAKFAST AT TIFFANY'S Somerset Valley Players
Kelly Maizenaski EXTREMITIES Main Street Theater Company
---
Outstanding Supporting Actress in a Musical
Amanda Spivack SISTER ACT The Road Company
Gina Whalen THE BOY FROM OZ Forte' Dramatic Productions/Pierrot Productions
Jasmine Monet Walker HAIR Sketch Club Players
Kristen Umansky THE SECRET GARDEN Main Street Theater Company
Robin Peck CABARET Bergen County Players
Nancy Dickenson BEAUTY AND THE BEAST Sketch Club Players
Crystal Bennett CARRIE Mystic Vision Players
Loraine C. Perri IN THE HEIGHTS Pennington Players
---
Outstanding Featured Actor in a Play
Derek Egidio THE PASSION OF DRACULA Dover Little Theatre
Joe Leo ONE FLEW OVER THE CUCKOO's NEST Westfield Community Players
Rupert Ravens DEATH OF A SALESMAN East Brunswick Community Theater at Playhouse 22
Drew Cyburt FILLING IN THE BLANKS Villagers Theatre
Christian Frazier TALK RADIO Chatham Community Players
Richard Butler FILLING IN THE BLANKS Villagers Theatre
Patrick Carty ALL MJY RAISINS IN THE SON 1st Avenue Playhouse
Gil Lawley INHERIT THE WIND Readington Community Players
---
Outstanding Featured Actor in a Musical
Matthew Layton AVENUE Q Cumberland Community College
Adam Stallworth-Giltz BIG FISH Playful Theatre Company
Dana Orange AMERICAN IDIOT The Road Company
Zachary Wisely CHICAGO The Levoy Theatre Company
Rocco Barbera THE LITTLE MERMAID The Off-Broadstreet Theatre
John Rattacasa THE LITTLE MERMAID The Off-Broadstreet Theatre
Richard Colonna ASSASSINS Cranford Dramatic Club
---
Outstanding Featured Actress in a Play
Jenna Zielinski FILLING IN THE BLANKS Villagers Theatre
Lynne Cefalo THE IMPORTANCE OF BEING EARNEST Magic Carpet Productions
Shawna Lagan THE GAMES AFOOR or HOLMES FOR THE HOLIDAYS Somerset Valley Players
Sherry Lillenfeld THE TRIANGLE FACTORY FIRE PROJECT Fearless Productions
Tracey Fama FILLING IN THE BLANKS Villagers Theatre
Cindy Rea JAKE'S WOMEN Studio Players
Cynthia Smith Barry THE BEST MAN Old Library Theatre
---
Outstanding Featured Actress in a Musical
Laura Whittenberger HAIR Sketch Club Players
Jill Bradshaw TOMMY The Off-Broadstreet Players
Katie Elizabeth Hughes SWEENEY TOOD Cumberland Players
Nicole Mangano BEAUTY AND THE BEAST Sketch Club Players
Maria Aromando TITANIC Villagers Theatre
Laura Fortgang VIOLET Summit Players
Monique Bosrock THE SECRET GARDEN Hexagon Players
---
Outstanding Youth Actor in a Play
Dylan Corbett BRIGHTON BEACH MEMOIRS Haddonfield Plays and Players
Drew Lotter INHERIT THE WIND Readington Community Theater
Shane Howell TO KILL A MOCKINGBIRD Theater To Go
Evan Chartock TO KILL A MOCKINGBIRD Theater To Go
Spencer Budris THE ASSEMBLED PARTIES Studio Players
Jacob Hall RICHARD III Circle Players
Arden Henley THE MIRACLE WORKER Dover Little Theater
---
Outstanding Youth Actor in a Musical
Braden Allen King BILLY ELLIOT Axelrod Performing Arts
Bobby Axelrod THE SECRET GARDEN Hexagon Players
John Dennis TOMMY The Off-Broadstreet Theatre
Scott Banerbo 13 Sketch Club Players
JC DeMaria GREASE East Brunswick Community Theater at Playhouse 22
Jonah Lione HAIRSPRAY Showkids Invitational Theater
Jack Cecilio BEAUTY AND THE BEAST Sketch Club Players
---
Outstanding Youth Actress in a Play
Gabriella Crocco THE LAST TYCOON West Milford Players
Sera Scherz THE PILLOWMAN Haddonfield Plays and Players
Meghan Janis BRIGHTON BEACH MEMOIRS Haddonfield Plays and Players
Caroline Ritacco JAKE's WOMEN Studio Players
Maddie Barkocy THE MIRACLE WORKER Dover Little Theater
Maddie Barkocy THE TRIANGLE FACTORY FIRE PROJECT Fearless Productions
Makenna Katz JAKE'S WOMEN Maurer Productions OnStage
---
Outstanding Youth Actress in a Musical
Vanessa Sierra CARRIE Mystic Vision Players
Victoria Mozitis SISTER ACT The Off-Broadstreet Theatre
Courtney Bulger THE WEDDING SINGER Aspire Performing Arts Company
Samantha Anzalone THE PIRATES OF PENZANCE Mighty Oak Players
Jillian Coleman CABARTE Porch Light Productions
Alysa Van Veldheuisen HAIRSPRAY Showkids Invitational Theater
Casey Gorab YOU'RE A GOOD MAN CHARLIE BROWN Aspire Performing Arts Company
Victoria Mozitis THE LITTLE MERMAID The Off-Broadstreet Theatre
---
Outstanding Original Play
STOCKS AND BLONDES
Dave McGrath- Producer/Director, Joe Simonelli- Author
1st Avenue Playhouse
6th ANNUAL ONE ACT PLAY FESTIVAL
Sheryl Heffeman/Linda Wielkotz- Producers, Dwayne Yancey, Donna Hoke, Phil Way, Brianna Keller, David MacGregor- Authors, Rachel Lichter, Bill Kaufman, Matthew Cavallo, Megan Milko- Directors

Old Library Theatre
NEW PLAYWRIGHTS FESTIVAL
????- Producer, Mike Sockol, Lisa Black, Jonathan Cook, Allison Ognibene, Fredrick Dennehy- Authors, Fredrick Dennehy, Lisa Black, Rose Zisa, Frank Borrelli, Zach Mazouat- Directors
Defining Moments Theatre Company
22ND ANNUAL JERSEY VOICES
Bob Denmark- Producer, Bill Kovacsik, Ralph Greco Jr., Chip Bolcik, Michael Weems, Jeanne Johnston, Joann Scanlon, Gary Shaffer- Authors, Joann Scanlon, Kevern Cameron, George Seylaz, Lynn Polan, Robert Lucasik, Jessica Phelan, Arnold Buchiane- Directors
Chatham Community Players
FILLING IN THE BLANKS
Linda Giordano-Producer, Khy Garner Author/Director
Villagers Theatre
SHORT PLAY FESTIVAL
Tom Timbrook- Producer, Buddy Mantia, Kristine Munchkin, Ralph Greco, Jerry Sappwestein, Mary Flaherty, Lawrence Francis, Lona Alpert- Authors, Buddy Mantia, Debra Carozza, Lawrence Francis, - Directors
Darress Theatre
---
Outstanding Original Musical
SHADOW KIDS Jeffery E. Milstein- Producer, Keith E. Brown- Director/Author, Chris Rich- Composer Lost In The Fields Productions
SOCIAL STUDIES Ryan Pifher, Jenn Pifher- Producers, Ryan Pifher- Author/Director, Jon Provan- Music & Lyrics Porch Light Productions
CRACKED! Ryan Pifher, Jenn Pifher- Producers, Ryan Pifher- Director, Jon Provan- Author, Jon Provan- Music & Lyrics Porch Light Productions
THEY CALL IT GRAVY, WE CALL IT SAUCE Lenny Gatto- Producer, Thomas Ryan Ward- Director, Lenny Gatto- Author/Composer
OUR TIME Craig Tiede- Producer/Director Old Library Theatre
---
Outstanding Production of a Play
MOON OVER BUFFALO Joe DeVico- Producer, Tom Frascatore- Director Chatham Community Players
VENUS IN FUR Kristin Barber, Jared Kelner- Producers, Kyrus Keenan Westcott- Director Fearless Productions
DEATH OF A SALESMAN Adam Neary- Producer, Jon Heron- Director East Brunswick Community Theater at Playhouse 22
PETER AND THE STAR CATCHER Clifford Parrish- Producer, Alan Van Antwerp, Megan Ferentinos- Director Chester Theatre Group
THE TRIP TO BOUNTIFUL Roxanna Wagner- Producer, Kevern Cameron- Director Chester Theatre Group
RUMORS Crystal Coddington- Producer, Todd Bennington- Director Somerset Valley Players
BRIGHTON BEACH MEMOIRS Megan Knowlton Balne- Producer, Matthew Weil- Director Haddonfield Plays and Players
---
Outstanding Production of a Musical
IN THE HEIGHTS Judi Parrish/Vicki Kaiser- Producers, Kyrus Keenan Westcott- Director Pennington Players
ALTAR BOYZ Marie Fiorello/Roz Wroblewski/Angela Green- Producers, Khy Garner- Director Villagers Theatre
BEAUTY AND THE BEAST Pat Mangano- Producer/Director Sketch Club Players
THE LITTLE MERMAID ?? Producer, John T. Stephan- Director The Off-Broadstreet Theatre Company
THE BOY FROM OZ John Demeter, Stephanie Zimmerman, Pete LaBriola- Producers, John Zimmerman- Director Forte' Dramatic Productions/Pierrot Productions
MISS SAIGON Kate Pinner/Lou Stalsworth- Producers, Lou Stalsworth/Koren Zander- Directors Pinnworth Productions
ASSASSINS Liz Howard- Producer, Alan Van Antwerp- Director Cranford Dramatic Club
---
Hall Of Fame Inductees
Maria Mantak- Choreographer
Richard Hennessy- Lighting Designer
Donna Kimberlin- Producer
Steve Lemenille- Director
Jessica O'Brien- Choreographer
Ryan PJ Mulholland- Costumer
The Union County Performing Arts Center is located at 1601 Irving Street in Rahway, New Jersey. For more information on the Perry Awards visit njact.org