---
Tune into Radio Jersey with Lee Mrowicki every Monday through Friday from 6pm to 8pm
Broadcast on Asbury Music!
---
2017 Montclair Film Festival Awards
originally published: 05/08/2017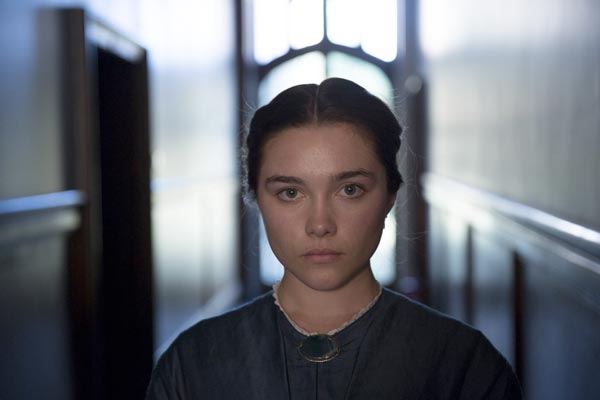 (MONTCLAIR, NJ) -- The Montclair Film Festival (MFF) announced the winners of the 2017 film competitions at a ceremony held on Saturday, May 6th at the MFF's new home, The Investors Bank Film & Media Center. This year's festival featured four competitive categories with five films in each: Fiction, Documentary, Future/ Now, and New Jersey Filmmaking. The 2017 festival featured over 150 feature and short films screened over ten days.
LADY MACBETH, directed by William Oldroyd, was awarded the festival's Fiction Feature Prize with the actor Florence Pugh receiving a Special Jury Prize for her performance in LADY MACBETH.
STRONG ISLAND, directed by Yance Ford, took home the Bruce Sinofsky Award in the festival's Documentary Feature competition. This award was established in memory of Bruce Sinofsky and was presented by Mr. Sinofsky's daughter, Claire Sinofsky. A Special Jury Prize for Direction was awarded to Matthew Heineman for CITY OF GHOSTS.
BEACH RATS, directed by Eliza Hittman, was awarded the Future/Now prize, honoring emerging low-budget American independent filmmaking, and SWIM TEAM, directed by Lara Stolman, took home the New Jersey Films Award, which honors a select group of films made by New Jersey artists, and an American Truth Seeker Award given by the jury to Reuben Atlas and Samuel D. Pollard for the film ACORN & THE FIRESTORM.
THE REAGAN SHOW, directed by Sierra Pettengill and Pacho Velez took home the 3rd Annual David Carr Award for Truth in Non-Fiction Filmmaking, which honors a filmmaker, selected by the festival, who utilizes journalistic techniques to explore important contemporary subjects and is presented in honor of Mr. Carr's commitment to reporting on the media. The award was presented by Mr. Carr's daughter, the filmmaker Erin Lee Carr.
---
The article continues after this ad
---
---
The Montclair Film Festival also announced the winners of the 2017 Audience Awards. The awards are voted upon by audiences in four categories with MAUDIE, directed by Aisling Walsh in Fiction, DOLORES, directed by Peter Bratt in Documentary, CLASH, directed by Mohamed Diab in the World Cinema category, and EDITH + EDDIE, directed by Laura Checkoway in the Short Film category taking home top honors.
The festival also features a Junior Jury, made up of fifteen area High School students representing twelve area schools. The Junior Jury awarded a Special Jury Prize for Innovative Filmmaking to Kitty Green for her film CASTING JONBENET and awarded the top prize to ELIÁN, directed by Tim Golden.
"This year's films represent a vast range of ideas, artistic approaches, and cinematic points of view,"said Montclair Film Executive Director Tom Hall. "We are honored to be able to share these films with our audiences, and congratulate all of our filmmakers on their outstanding work."
Congratulations to the 2017 winners of The Montclair Film Festival Awards:
Fiction Feature Competition Winner
LADY MACBETH
Directed by William Oldroyd
Fiction Feature Competition
Special Jury Prize for Extraordinary Performance
Florence Pugh for LADY MACBETH
Bruce Sinofsky Prize for Documentary Feature Competition Winner
Documentary Feature Competition
Special Jury Prize for Direction
Matthew Heinemann, CITY OF GHOSTS
Directed by Eliza Hittman
New Jersey Films Competition Winner
New Jersey Films Competition
American Truth Seeker Award
Directed by Reuben Atlas and Samuel D. Pollard
Audience Award For Fiction
Directed by Aisling Walsh
Audience Award For Documentary
Audience Award For World Cinema
Audience Award For Short Film
Directed by Laura Checkoway
Directed by Tim Golden & Ross McDonnell
Junior Jury Special Jury Prize For Innovative Filmmaking
The Films & Jurors of the 2017 Montclair Film Festival Competitions
Documentary Feature Competition
CASTING JONBENET directed by Kitty Green
CITY OF GHOSTS directed by Matthew Heineman
FOR AHKEEM directed by Jeremy S. Levine and Landon Van Zoest
THE REAGAN SHOW directed by Sierra Pettengill and Pacho Velez
STRONG ISLAND directed by Yance Ford
Dan O'Meara, VP, Special Projects & Documentary, NEON
Rosie Wong, Sundance Film Festival
Joe McGovern, Journalist, Entertainment Weekly
Fiction Feature Competition
AFTERIMAGE directed by Andrzej Wajda
CLASH directed by Mohamed Diab
THE COMMUNE directed by Thomas Vinterberg
LADY MACBETH directed by William Oldroyd
GOOK directed by Justin Chon
Arianna Bocco, EVP, Acquisitions & Productions, IFC Films
Ashley Clark, Journalist, The Guardian
Robert Eggers, Director, THE WITCH
BEACH RATS directed by Eliza Hittman
FITS & STARTS directed by Laura Terruso
MENASHE directed by Joshua Z. Weinstein
PERSON TO PERSON directed by Dustin Guy Defa
THE STRANGE ONES directed by Lauren Wolkstein, Christopher Radcliff
Holly Herrick, Head of Film & Creative Media, Austin Film Society
Dan Nuxoll, Artistic Director, Rooftop Films
Eliza Berman, Deputy Culture Editor, TIME
New Jersey Films Competition
ACORN AND THE FIRESTORM directed by Reuben Atlas and Samuel D. Pollard
ALL WE NEED IS ANOTHER CHANCE directed by Corbett Jones
HELLO HELLO HELLO: LEE RANALDO: ELECTRIC TRIM directed by Fred Riedel
SUPERGIRL directed by Jessie Auritt
SWIM TEAM directed by Laura Stolman
Charles Poekel, Director, CHRISTMAS, AGAIN
Tom Roston, Journalist and Author, I Lost It At The Video Store
Raphaela Neihausen, Executive Director, DOC NYC
Montclair Film, a non-profit, tax-exempt 501(c)(3) organization, nurtures and showcases the talents of filmmakers from around the region and world. Montclair Film unites, empowers, educates, and celebrates our region's diverse cultural heritage and robust artistic community by presenting engaging programs and events all year long. The sixth annual Montclair Film Festival will take place from April 28 through May 7, 2017. MFF 2017 is made possible through generous support from Investors Bank; Audible; Hackensack Meridian Health; the Horizon Foundation for New Jersey; Ashenfelter, Slous, McDonough, Golia & Trevenen, LLP; Chubb; Coldwell Banker Residential Brokerage; and William H. Connolly & Co., and others. Our programs are made possible in part by funds from the New Jersey Department of State, Division of Travel and Tourism and New Jersey State Council on the Arts. For information about Montclair Film, visit www.montclairfilmfest.org


2018 Westfield International Film Festival To Take Place September 20-23
(WESTFIELD, NJ) -- Anybody can go to a movie theater to watch a film, but the Westfield International Film Festival is bringing movies to the mansion with its sixth season at the James Ward Mansion in downtown Westfield from September 20 - 23, 2018!  The festival will span a four day weekend and will include Q&A sessions with actors and filmmakers, networking opportunities, and red carpet parties.
---
JCTC FILM Premiers DEKA-LOG, New Series Depicting Contemporary Urban Life
(JERSEY CITY, NJ) -- A new anthology web-series by an up and coming, Jersey City-based filmmaker, premiers at Merseles Studios on August 23rd when Jersey City Theater Center presents DEKA-LOG: a Finding Me story.  Doors are at 6:30pm, screening at 7:00pm.  Admission is $10.
---
​​​​​​​The Newton Theatre Presents a Silent Film Halloween With A Live Orchestra
(NEWTON, NJ) -- The Newton Theatre presents a trio of ghostly silent films paired with the original historic orchestral scores on Saturday, October 27 at 3:00pm. Travel back to the early 1900s to cheer and hiss with Buster Keaton in The Haunted House (1921), Laurel and Hardy in Habeus Corpus (1928), and Charlie Chaplin in One A.M. (1916). Between the films, enjoy the rollicking rhythms of the early 20th century as played by The Peacherine Ragtime Orchestra, featuring favorites by Scott Joplin, Irving Berlin, and more! Fun for the whole family!
---
A Look At New Jersey Film Festival's Fall 2018 Lineup
(NEW BRUNSWICK, NJ) -- The 36th Bi-annual New Jersey Film Festival Fall 2018 will take place at Rutgers University in New Brunswick from September 14 - October 26.  The festival showcases new international films, American independent features, animation, experimental and short subjects, and cutting-edge documentaries through over 30 film screenings. The Festival will run on select Thursday, Friday, Saturday, and Sunday evenings. The festival is presented by Rutgers Film Co-op/New Jersey Media Arts Center, in association with the Rutgers University Program In Cinema Studies.
---
​​​​​​​Montclair Film and Hackensack Meridian Health Mountainside Medical Center To Hold Free Screening of "MILK"
(MONTCLAIR, NJ) -- Montclair Film and Hackensack Meridian Health Mountainside Medical Center will present a free screening of MILK (2015) on Wednesday, August 29th at 10:30am at Montclair Film's Cinema505. The screening, presented in celebration of World Breastfeeding Month, seeks to educate and promote breastfeeding among nursing and expecting mothers.
---


Newark Black Film Festival
​​​​​​​Richard Wesley is a playwright, screenwriter, and professor of Dramatic Writing at the Tisch School of the Arts at New York University, and has been involved with the Newark Black Film Festival for well over three decades. A Newark native, he's currently the Chairperson of the festival's Selection Committee. The NBFF is currently in full swing, with a screening of Cadillac Records tomorrow, and the biennial Paul Robeson Awards for young filmmakers taking place on Wednesday, August 8. This season's program also features the films Selma, I Called Him Morgan, The Art of the Journey, Coco, and Hidden Figures. We recently spoke with Wesley about the history and mission of the Newark Black Film Festival, the role it plays in the lives of young filmmakers, and a chance encounter with Sidney Poitier that launched him into the film industry.
---
REVIEW: "Skyscraper"
Over the last half century, the concept of blockbuster spectacle has flipped on its head. In the 1960s, big budget spectacle meant Steve McQueen jumping over a barbed wire fence on a motorcycle without the aid of a stunt double, or Julie Andrews screaming her lungs out on a Swiss mountainside. Science fiction was relegated to Saturday morning screenings of b-movies, which parents would use to relieve themselves of their tykes while they went shopping. George Lucas  changed all that a decade later, and now sci-fi and fantasy dominates the multiplex, while the only movies featuring practical stunts are those low budget straight to VOD action movies designed to showcase the athleticism of former MMA fighters.
---
REVIEW: "BlacKkKlansman"
Spike Lee's BlacKkKlansman isn't a remake of Ted V. Mikels' infamous 1966 grindhouse staple. Rather it's based on true events ("Dis joint is based on some fo' real, fo' real shit," reads the title card, because Lee is apparently a 12-year-old boy), the story of how rookie cop Ron Stallworth (played here in a star-making turn from John David Washington, son of Denzel) became a member of the Ku Klux Klan in 1978, despite being an African-American.
---
REVIEW: "When I Sing"
Most of the world learned of Linda Chorney in 2012 when her name was listed as one of the Grammy nominees for Best Americana Album. Her film, When I Sing, not only follows her rise from obscurity to the Grammy Awards, it goes much further.  It's a love story between a die hard Red Sox fan and a Yankees fan; a spotlight on how indie artists survive on the road; and a deeply, revealing portrait of how the media and the music industry turned what could have been a wonderful Cinderella story into a very hurtful experience.
---
REVIEW: "Jurassic World: Fallen Kingdom"
I recall hearing an anecdote concerning a society of pranksters in 1970s London who would take trips en masse to the cinema, only to walk out when or if the title of the movie in question was spoken by a character. That lot would get their money's worth with Jurassic World: Fallen Kingdom, as it's not until the closing minutes that a returning original cast member (in a blink and you'll miss it cameo) informs us that we're now living in a "Jurassic World." It's the sort of cringeworthy moment that would normally cause me to groan, but I was so broken down by the laziness and ineptitude of this fifth installment in the franchise that I couldn't even muster a sigh by that late point.
---